Original URL: http://www.theregister.co.uk/2008/03/18/review_amd_780g/
AMD 780G integrated DirectX10.1 chipset
Leaves Nvidia and Intel standing?
Posted in Personal Tech, 18th March 2008 13:29 GMT
Review AMD's 700-series chipsets covers all the motherboard options that a gamer could require for the quad-core Phenom processor. There's the 790FX with support for CrossFireX to handle three or four graphics cards, the 790X that does CrossFire with two cards, and the 770 that combines Phenom with a single PCI Express (PCIe) 2.0 slot.
And now for those members of the buying public who don't play games all the time there's the new 780G. The G suffix indicates that this chipset includes an integrated graphics core, though it has a PCIe 2.0 slot too.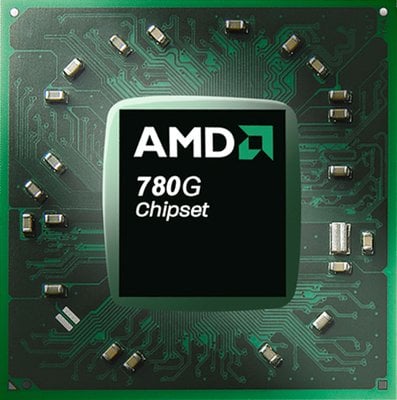 AMD's 780G: integrated graphics to beat Intel and Nvidia?
The 780G's integrated GPU is called the Radeon HD 3200. There's a cut-down version of the 780G called the 780V that has a Radeon HD 3100 IGP. The 3200 runs faster than the 3100 but its main advantage is that it supports Hybrid Graphics. In the past, when you plugged a graphics card into a motherboard with integrated graphics, the IGP was disabled. With Hybrid graphics, the IGP works co-operatively with the graphics card, CrossFire-style.
Clearly, it makes little sense to 'assist' an HD 3850 or 3870 with the integrated HD 3200 but when you use a £29 Radeon HD 3450 graphics card the effect can be seen quite clearly. An HD 3450 runs its 40 unified shaders at 600MHz, while the 256MB of local memory has an effective speed of 1000MHz. That's similar to the 780G's spec except that the clock speeds are faster and the memory is on board.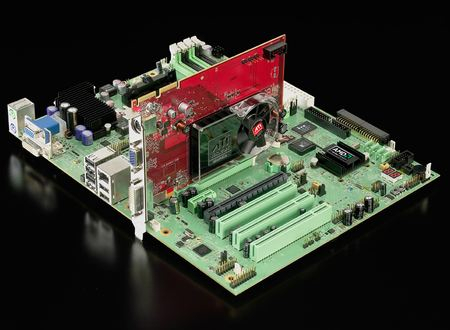 GPU + IGP = Hybrid Graphics
Run 3DMark06 on the 780G IGP and you'll get a score of 1100 which rises to 1500 marks on the HD 3450. That's with AMD Catalyst 8.2 driver package, which disables the IGP when you use an add-in graphics card. The latest version of the software, Catalyst 8.3, allows you to run the two graphics chips together in CrossFire or, if you prefer, you might use the two chips to control as many as four displays.
With Hybrid graphics enabled the HD 3450 combines with the 780G to increase the 3DMark06 score to a hair below 2000 marks. There's no denying that Hybrid graphics works as advertised but it's hard to see why you'd bother increasing graphics performance by a relatively small margin. There's a back-handed compliment hidden in there as this is the first time we've ever seen a situation where you'd consider using the integrated graphics when you have the option of using a passively cooled and silent graphics card.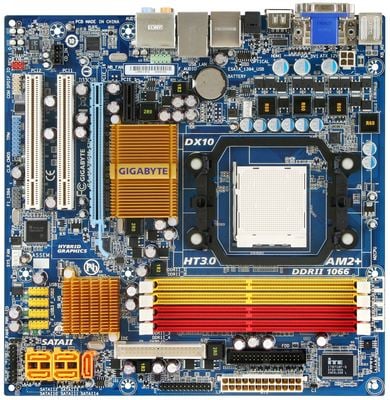 Gigabyte's 780G-based MA78GM-S2H: runs cool, not warm
You'll see from the test results that 780G eclipses the Radeon X1250 graphics in AMD's older 690 chipset. More importantly, the Universal Video Decoder (UVD) chip in the 780G will handle Blu-ray playback with the minimum of fuss and a CPU load in the range of 20-30 per cent from upwards of 90 per cent - not that it dropped any frames, mind. For the record, this was Casino Royale on a Pioneer BDC-S02 Blu-ray drive with CyberLink PowerDVD 7.3 software running under Windows Vista Ultimate 32-bit.
You may be wondering about the Athlon X2 BE-2400 processor that we used to test the 780G as AMD tells us that it is a "new addition to the AMD line of 45W dual-core desktop CPUs [that includes the] Athlon X2 BE-2300, BE-2350 and BE-2400. At 2.5GHz, it's quite an able CPU for such a low power threshold".
The inclusion of this processor in the review kit along with a £65 Gigabyte GA-MA78GM-S2H motherboard and 2GB of relatively slow Corsair CM2X1024-6400C4 memory also tells a tale. AMD is putting the emphasis on the performance of the 780G without a hefty processor to drive it along.


Blu-ray playback CPU usage: AMD 780G (top) and AMD 690G (bottom)
AMD also supplied reams of information about the need to ensure Cool'n'Quiet is enabled. It quite correctly makes the point that most BIOS settings disable C'n'Q it by default, and that you shouldn't monkey around with the power management scheme in Vista. Neither should you manually set the CPU multiplier or frequency as that locks the CPU frequency, which will over ride C'n'Q's attempts to vary CPU speed the better to keep the fan speed down - and thus generate less noise.
The 780G performed its duties on a veritable trickle of electricity. We used an Athlon 64 X2 5000+ which has a TDP of 110W to test the AMD 690 so it's no great surprise that the older test system had a higher power draw than the new 780G system but even so the numbers bear some study. Using the HD 3200 IGP, the system has an idle power draw of 55W which only rises to 75W during Blu-ray playback. That figure could easily be reduced as we used a 620W Enermax power supply which is ridiculously over-specified for the job in hand.
PCMark05 Results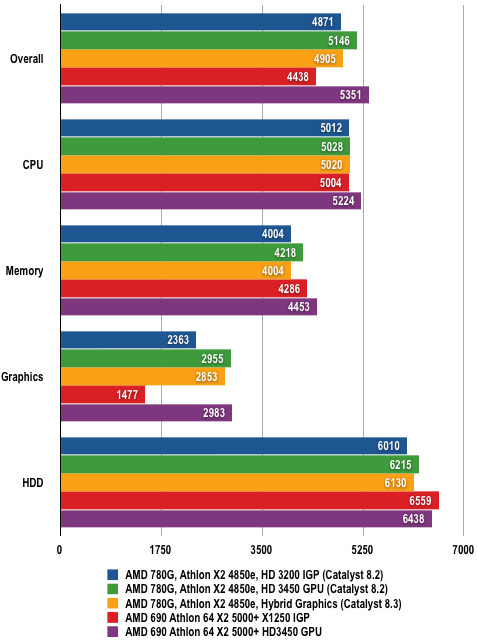 Longer bars are better
The Gigabyte GA-MA78GM-S2H is passively cooled, as is the HD 3450 graphics card, and the whole bang shoot remains cool to the touch at all times. Not warm, cool.
3DMark06 Results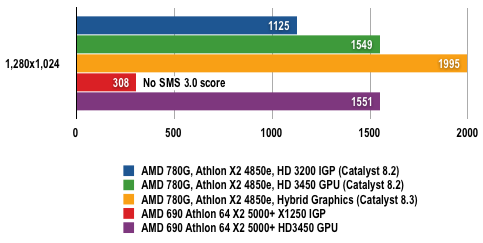 Longer bars are better
We were very impressed by 780G and whole heartedly recommend it for anyone who is building a Media Centre PC. Having said that, we do have some thoughts that aren't exactly reservations but which make us wonder a bit. Hybrid graphics sound great but the idea of plugging in a £29 graphics card to increase 3DMark06 from 1100 marks to 2000 seems a bit futile. It's not going to have a huge effect on even a basic game, and if you plug in a more serious graphics card such as an HD 3850 then the IGP will only play a tiny part in the proceedings. Hybrid graphics works but it seems rather pointless.
Blu-ray Playback CPU Utilisation Results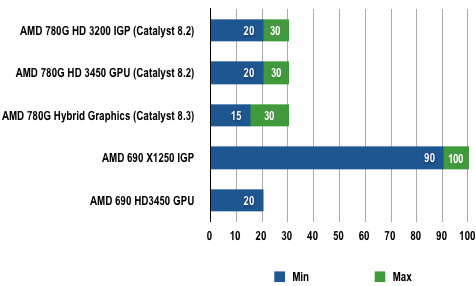 Shorter bars are better
It's a similar story with the DirectX 10.1 support. Tick on the box, extra feature, no harm in having it but honestly, can you imagine playing a DirectX 10 or 10.1 game on 780G? Not a chance.
Power Draw Results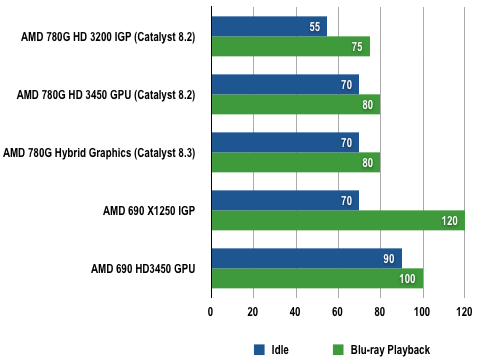 Power draw in Watts (W)
And then there's the spanking new SB700 southbridge chip, which has been in the works for ages and which finally makes its debut with 780G. It seems to work well enough but USB and SATA performance barely merit a mention with this chipset and that's all the new southbridge brings to the party.
Verdict
Would we recommend the 780G? Provided you don't want to play games then the answer is a big 'Yes'. If your gaming requirements are modest, the answer is less clear as you'll need a graphics card and there's nothing to stop you plugging an HD 3450, 3650 or 3850 into a cheap Core 2 Duo PC. Still, for integrated graphics performance, neither Intel nor Nvidia come close.