Original URL: http://www.theregister.co.uk/2008/03/17/review_lg_kf600/
LG KF600 dual-display sliderphone
Two screens are better than one
Posted in Personal Tech, 17th March 2008 16:05 GMT
Review LG has dreamed up a novel twist on the touchscreen concept that adds a dash of Viewty and a splash of Chocolate to create an original look that combines two front-panel displays: a touchscreen and a standard display.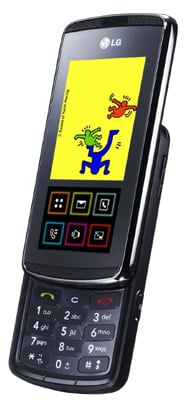 KF600: are two screens better than one?
The lower, touch-sensitive screen - LG calls it the "InteractPad" - displays context-dependent buttons that control functions displayed on the other display. Fire up the MP3 player, for example, and the InteractPad becomes a set of music player controls. Hit the camera button and it switches function and orientation to offer camera control keys. As you zip through the phone's features, the touchpad adapts to suit what you're doing and the options available.
LG has chosen to debut its InteractPad control system on a non-3G phone, providing tri-band GRSM/GPRS/Edge connectivity rather than higher speed data options. There's no Wi-Fi either, so it's evident this device isn't going head-to-head with high-end, multimedia-rich smartphones.
With no visible controls on the front panel, the KF600 is a slick-looking handset. Chrome trims enliven the otherwise black and reflective body, giving the phone a smooth, refined appearance.
The numberpad uses a solidly built, yet smoothly sprung slider mechanism that adds to the quality feel. The keys, though flush against the black plastic surface, are large and sufficiently separated to make text-tapping and number-input a breeze. The whole phone measures a medium-sized 101.2 x 50.7 x 14.1mm, and weighs in at a respectable 107g.
However, the touchscreen is where most fingers will be pointing with this mobile. The InteractPad user interface does feel distinctively different to anything else around at the moment - at least until Samsung's soul arrives. At the same time, it has plenty of reference points to 'normal' mobile navigation conventions so it feels familiar and intuitive. It provides 'haptic' vibration feedback to let you know you've pressed a button properly, which is reassuring on a touchphone.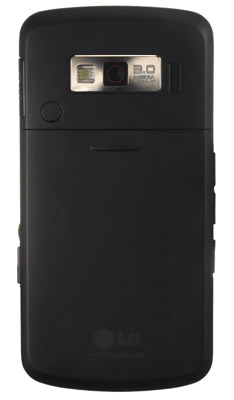 Comfortable to carry
Of course, you'll probably need to play around a bit to get the feel of the menu system, but LG has reproduced its regular menu format on the upper display.
The top screen is a 2in, 240 x 320, 262,000-colour display, while the touchpad beneath is a 1.5in panel offering the same resolution and colour depth. Once the keypad is unlocked, the InteractPad lower screen shows a six-icon set of shortcut keys.
This also brings into play another aspect of the KF600's unusual visual display. The screens work in tandem to show off the animated wallpapers as if the displays are connected. To make the most of this effect, LG has included a bunch of themes based on Keith Haring artwork. These colourfully distinctive graphics are bound to grab attention and comments as they move from one display to the other, and add colour to the InteractPad buttons.
Once you get into the main menu, you get a better of idea of how the InteractPad interface works. When you navigate around the menus, the Pad presents direction arrows, and OK and 'back' buttons. To select an option, you simply scroll as you would using a standard five-way nav-pad. Alternatively, you can select options quickly by pressing the number displayed next to the option, just as you can on most other LG phones.
The responsiveness of touchscreen controls is always a concern. If they're too sensitive, you get annoying key-pressing mistakes. If they're not responsive enough, they can be frustratingly slow to use. While the InteractPad system may not be as fast to react as a standard physical nav-pad, or the iPhone's smooth performance, it is reasonably responsive.
Then there's the question of where you press. Having only one of the two screens touch-sensitive can initially be odd, particularly if you're used to using touchscreen devices. At first, we instinctively found ourselves tapping the options on the display-only screen, though this habit wore off after a while.
As well as providing a virtual navigation pad, the InteractPad system offers some uniquely touch elements. You can use gestures to move swiftly through lists of contacts, tunes, images, and so on. Handwriting recognition is an option for text and message entry. It's easy enough to write with your finger, though some of the accompanying virtual control buttons are far too tiny for this large-fingered writer.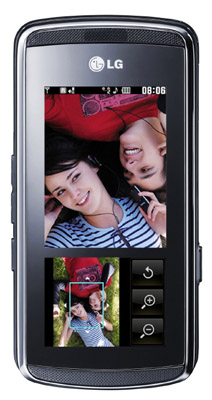 Both displays work together
Turn on the KF600's three-megapixel camera, and the displays switch automatically to landscape mode. There's a capture button on screen, but it's easier to use the regular key on the side. As well as 'brightness' and 'back' buttons, there's a menu key that pulls up a range of settings on the larger display, which also acts as the viewfinder. This is all straightforward to use, though it's a bit difficult to make adjustments quickly when bright light is reflecting on the display.
There are plenty of options to override the auto-metering facilities. You can alter exposure shot modes, change white balance to suit various indoors or outdoors lighting conditions, and tweak both the resolution and the compression level of pictures. There are even portrait enhancer and shake-reduction options.
But most welcome is the autofocus system and macro facility, giving you flexibility for sharp shooting even up close. It's a two-step process, enabling you to first focus on a subject and then move the camera for a better composition or exposure level.
There's an LED light too, although it's manually activated, not automatic. The camera is capable of capturing some finely detailed shots, with quite vibrant colour rendition. Its automatic metering system adjusts quickly to changing lighting conditions and exposure is generally good. In low light levels, the performance isn't quite so good, and the flash option could be better – it is bright for short-range shots, but doesn't illuminate with much finesse.
Once snapped, images can be viewed using a clever combination of the InteractPad and main screen. You can target the area for zooming and panning using the touchpad, while viewing the zoomed picture on the main screen. You can tilt and expand your pictures to create full two-screen wallpapers, which is a nice addition.
Video is captured in a similar way to still photos, although the resolution is limited to 320 x 240 (QVGA), so playback quality is fairly average. It's not up to the Viewty's performance.
The music player has a dedicated button on the side of the phone. Press it and a basic and unpromising list of three options - All Songs, Playlists and Settings - appears. But select a track, and the front of the phone is transformed into a snazzy looking music player.
The main display shows track details and album cover art, while the InteractPad provides play controls and a progress bar that allows you to move back and forwards quickly through songs.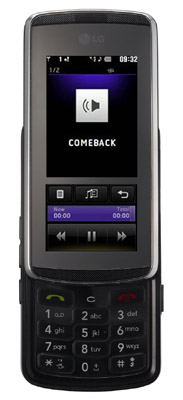 A snazzy-looking music player
You can get tracks onto the phone in the usual ways: using LG's PC Suite sync software connected to a PC using a USB cable, by using the phone in mass-storage mode and dragging tracks across from a PC, or by Bluetooth.
You'll need a memory card to store more than the handful of songs the KF600's 25MB of internal memory has room for. The Micro SD card slot on this handset is placed under the battery, so you have to power down to swap cards. Cards of up to 2GB are supported.
The music player's audio performance is reasonable through the average-quality earphones supplied. A nice touch is that LG's in-box set are a two-piece affair, with a standard 3.5mm headphone socket adaptor mid-way into which you can plug in any set of regular headphones.
With our Sennheiser reference headphones, the KF600's sound quality improved significantly – we'd recommend upgrading if you want the best music experience. Bluetooth cans are supported as well. The FM radio interface on the KF600 looks good too, and puts in a steady performance.
The web browser is standard-issue mid-range phone fare, offering a reasonable mobile internet experience, with the ability to view full web pages. Without 3G, complicated pages aren't rendered too quickly.
Yahoo! Go 2.0 software comes pre-loaded, providing a widgets-style option for getting web-sourced updates, information, news, email, and mapping from one application. The InteractPad adopts another navigation pad-style configuration for this too, and the application works well on this phone.

Nice'n'slim, Jim
LG has included email support, including a document viewer for standard Microsoft Office attachments, and the usual selection of personal information tools.
Making voice calls on the LG KF600 doesn't necessitate any touch trickery. The solid numberpad works well, though you can flick your finger on the InteractPad to whizz through contacts. Call quality was consistently high, with clear and problem-free audio at all times.
With two screens on the go, we were keen to establish whether battery life was an issue here. LG quotes up to three hours' talk-time, and a standby duration of up to 300 hours, which isn't the longest projected running time for a non-3G phone. We found that with our average use we had to recharge the battery every two days, so two screens are here no more of a battery drain than one would be.
Verdict
With its InteractPad system, the KF600 pulls together elements from both touchscreen and physical controls in a functional way. It's certainly not trying to be an iPhone or a Viewty. The context-sensitive controls of the InteractPad do what a traditional phone nav-pad and soft-menu keys do, but in a visually attractive way.
It may not be everyone's cup of tea – don't expect a pure touchscreen experience - but nonetheless the KF600 is an interesting device that brings some fresh thinking to how you interact with a phone - without overturning conventions completely.