Original URL: https://www.theregister.co.uk/2008/03/13/review_sony_ericsson_w890i/
Sony Ericsson Walkman W890i mobile phone
Skinny perfection
Posted in Personal Tech, 13th March 2008 12:31 GMT
Review Sony Ericsson turned heads last year with its ultra-slim Walkman W880i. Now its successor, the W890i, aims to play to an even wider audience with improved handling and upgraded features.
The W880i was a breathtaking switch into ultra-slim mode for Sony Ericsson's Walkman phone range. It was admired not only for its bold design, but also for the relatively few compromises it made on functionality, despite being a 3G handset.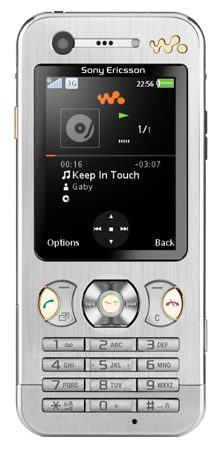 Sony Ericsson's W890i: just like the W880i, only better
The W890i reprises much of the swagger of the W880i while adding a few welcome changes. The W890i once again offers 3G connectivity, but this time with HSDPA for higher-speed data downloading and web browsing, although Wi-Fi is still not an option. The camera has been upgraded to a 3.2-megapixel snapper, but it's not one of Cyber-shot quality and it doesn't have a flash or auto-focus built in.
Of course, music rather than pictures is the Walkman buyer magnet. Sony Ericsson has included the latest Walkman Player 3.0 software in this device, and includes a hefty 2GB Memory Stick Micro (M2) card as part of the in-box package.
Sony Ericsson has certainly softened the sharp lines of the W880i, with the W890i sporting rounder curves. Along with a reconfigured keypad – using large, rectangular number buttons rather than the W880i's super-slender, tricky-to-use ones – this gives the W890i a less edgy appearance than its predecessor.
Not that the W890i is a conventional looker. It has an elegant brushed metal casing all round, with its slim 10mm depth belying a remarkably solid handset. Its overall 104 x 47 x 10mm, 78g body weighs nicely in the hand. Available in silver, brown or black finishes, the W890i is more subtly stylish than fashionably flashy, lacking the garish orange Walkman detailing seen on previous models. More mature, if you like.
Some people complained that the tiny, narrow numberpad keys on the W880i made for tricky pressing, particularly when texting. The W890i's keys are well spaced and finger-friendly and could hardly be more responsive and comfortable. Spot on.
The 3.2-megapixel snapper lacks a flash and autofocus
The look of the circular control-key array under the display has been maintained, though buttons have been subtly rationalised to make operation simpler and more straightforward for newcomers. The regular call and end keys appear on either side of the control keys, arranged into circles with a further pair of soft-menu keys, a clear button and an Activity menu key. The music player controls are etched on to central the nav-pad.
Above the control pads, the display is a 2in, 240 x 320 screen capable of showing 262,000-colours. While it's not the largest display around, it is sufficiently bright and clear for viewing content. As a fully-fledged 3G phone, the W890i also packs a secondary video-call camera above the display.
On one side of the phone, Sony Ericsson has deployed a camera button and volume/zoom keys, while on the other there's a Walkman key and a regulation Sony Ericsson connector socket. This is where the chunky headphone connector fits, albeit with an adaptor mid-way along the lead for 'phones with a standard 3.5mm jack. The position of the connector makes it awkward to stick the W890i in your pocket when you're playing music, and it's a shame Sony Ericsson didn't take the chance to shift the connector to either end of the phone. The slot for swappable M2 cards is now on the side, under the back panel rather than under a rubber bung.
The user interface on the W890i has been upgraded in line with recent Sony Ericsson Walkman models. A tap of central menu key takes you to a 12-icon main menu grid under which the W890i's rich variety of features are categorised.
Alternatively, the nav-pad provides quick access to four user-definable features, while the Activity button handily whips you straight into a collection of shortcuts and folders for key features that are useful to have at your fingertips, such as Bluetooth, TrackID and the phone's version of the Google Maps app.
Music is naturally the chart-topping feature on this Walkman phone. Tap the side button and your tunes appear in the snappy Walkman Player 3.0 user interface. Its look and feel extends to other media, presenting videos and photos in a similarly pleasing way.

Camera and volume/zoom controls ready for snapping
Slick, stylish graphics are layered to make choosing and playing tracks a breeze. Tunes are arranged by a number of categories, including artists, albums, tracks, playlists, genre, year, audiobooks and podcasts.
These categories are assigned if you sync up the phone using Sony Ericsson's Media Manager software, part of its PC Suite, and the supplied USB cable. You can drag and drop tracks to the phone too - a less sophisticated alternative.
With high-speed 3G HSDPA on board, the W890i enables fairly fast downloads of songs and videos over the air from mobile network operators' own-brand music services. The phone has built-in links to Sony Ericsson's m-buzz and PlayNow services for streaming and downloading content.
Anyone pocketing a Walkman phone expects a high-quality mobile music phone, and the W890i delivers a fine all-round audio performance. The supplied two-piece earphones are of a higher quality than you'd expect for a mobile phone, are a selection of rubber sleeves are provided to ensure a comfortable in-ear fit. Sound quality is impressive: it's well balanced, with plenty of bass and high-end detail. Plug a pair of higher quality headphones in the mid-cable 3.5mm socket and you get top-notch music player performance.
Equaliser settings can be tweaked to your tonal desires – you can set Sony's Mega Bass option to rumble in the background if added bass is required. Of course, stereo Bluetooth headphones and speakers work with the W890i, too. There is a loudspeaker, but the harsh quality of the sound is horribly at odds with the rest of the thumbs-up audio performance.
An RDS-enabled FM radio has been added to the W890i's spec, while Sony Ericsson's name-that-tune TrackID software – which identifies songs by listening to what's being played around you – is included too.
While Sony Ericsson has added more megapixels with the W890i, limitations present on the W880i – including the lack of a flash and an autofocus facility – are carried over into the new model's 3.2-megapixel camera. Having said that, we were pleasantly surprised, within those limitations, at the phone's imaging performance. Colour presentation was excellent in decent lighting conditions, and it captured a good degree of detail.

Sony Ericsson's connector is still in the wrong place
The automatic metering system handles exposure pretty well, allowing you take some presentable and printable snaps without tweaking the settings. Inevitably when lighting conditions are poor, the picture quality drops significantly, with more noise creeping in. And with no macro mode, getting in-focus close-in shots isn't possible.
There are only a limited number of settings you can adjust, including the camera's white balance, how it operates in multi-shot and panoramic modes, and to add colour effects. It's not on a par with Sony Ericsson's 3.2-megapixel Cyber-shot cameraphones.
Video recording has been improved a little over the W880i's basic 176 x 144 performance, but the maximum 320 x 240(QVGA) resolution footage won't make you dump your video camera any time soon. Picture quality is middling. As with other recent Sony Ericsson models, you can upload images or video clips straight to online Blogger accounts.
Sony Ericsson has refined the general web experience given by the phone. The Access NetFront full web browser is set up with Google search at the top of its options, with a web address bar and RSS web feeds options directly underneath – a simple, practical and user-friendly layout.
HSDPA makes web pages appear more quickly, and the browser makes it easy to move around web pages, with a cursor to help. You can get a full-page view you can scroll around, or a reformatted scroll-down "Smart-Fit" version tailored for the phone's narrow display.
The W890i comes pre-loaded with Google Maps, tucked away under a Location Services sub-menu in the entertainment section. Even without an on-board GPS receiver Google Maps can provide a rough estimate of your position using phone base-stations for reference. Accuracy depends on the proximity and density of cell masts, so you're likely to get a more accurate reading in urban areas than the open countryside. You can enhance the accuracy by linking up the phone to a standalone GPS receiver, if you have one.
You can get regular maps and satellite views of areas sent and refreshed over the data link in moments, and receive local searches and direction finding too. This is a neat feature to have to hand, enabling you to get to grip with unfamiliar locales.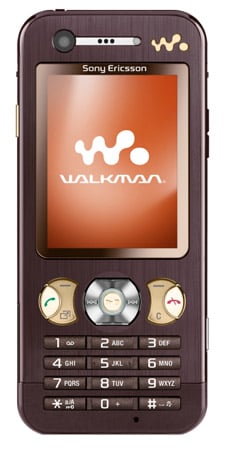 Also available in brown or black
Other bases covered on the W890i include email – there's a simple set-up wizard to help enter your existing accounts – and the usual range of organiser functions. It also has a facility for secreting PIN codes and passwords. Other functions include a voice recorder and a Bluetooth remote control function.
The music theme is continued with Music Mate 4, a Java application that offers musical guides for piano and guitar, plus some beats to key/strum along to. Non-musical users will more likely seek out entertainment in the games: Lumines Block Challenge, The SIMS 2 and Tennis Multiplay.
On any richly featured 3G mobile, sufficient battery life is a key requirement. Sony Ericsson claims a talk-time of 9.5 hours on GSM/Edge networks, while standby is quoted at up to 360 hours. Similarly, on 3G networks, it offers a talk-time of up to 4.5 hours, and 310 hours on standby. In flight mode, the Walkman can keep on for 20 hours between charges.
While the quoted standby figures are less than the one claimed for the W880i - 425 hours - we found that figure optimistic anyway. In our usage tests, without pushing the music player excessively, we found ourselves reaching for the charger every two to three days. Anyone hitting the Walkman button regularly during the day will probably have to top up on a more regular basis.
Call quality on the W890i was excellent, with reliable clarity on both ends of voice calls and dependable signal handling.
Verdict
The W890i isn't trying to be a top-of-the-range smartphone that does everything. There's no Wi-Fi, Qwerty keyboard, touchscreen operation or GPS receiver. Instead, this device, with its sophisticated appearance and fine line-up of user-friendly functionality, has been designed for widespread appeal.
The camera could be improved, but its high-speed 3G HSDPA connectivity, good spread of multimedia features and an excellent Walkman music player package make for a very polished performer. Another huge hit for Sony Ericsson.