Original URL: http://www.theregister.co.uk/2008/03/11/review_archos_tv_plus/
Archos TV+ 250GB streaming media player
Very, very disappointing
Posted in Personal Tech, 11th March 2008 12:02 GMT
Review On paper, Archos' TV+ looks like a very exciting product, combining a media streamer, a digital video recorder and the ability to display content from the internet on your TV. In theory, it's everything you could want from a set-top box.
The reality, however, is somewhat different. The first and perhaps biggest problem with the TV+ is that it doesn't support HD. That's right, a product that's supposedly the cutting edge of TV technology and the best it can do is plain old standard definition (SD). The inclusion of HDMI and component-video ports are completely wasted, and you might as well just hook it up to your TV via Scart. It won't even play any content that's bigger than standard definition, let alone downscale it.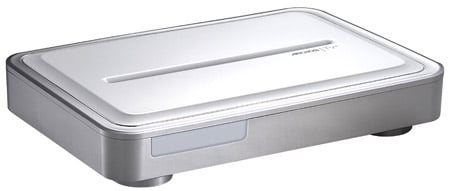 Archos' TV+: everything you could want from a set-top box - in theory...
Unfortunately, it doesn't have any Scart connectors. Instead, you have to use two supplied adaptor cables to hook the box's 12 RCA connectors to a Scart port. While that's a pain, it's nothing compared to the horror of trying to get the TV+ set up to record TV shows.
The second shocking omission for a product released in 2008 is the lack of an internal digital tuner. Instead, you have to hook it up to a separate set-top box if you want to be able to record programmes. When Tivo launched eight years ago, this was acceptable, but now it's unheard of.
Like the Slingbox, the Archos does have an infrared transmitter so it can control other boxes as if it were a remote control unit. The only problem is, the transmitter doesn't come at the end of cable as the Slingbox's is. No, it's mounted into the front of the TV+. So unless you arrange all your boxes in a circle facing each other then it's going to have a hard time switching channels.
In fact, to enable the TV+ to reliably change channel on a Freeview box, it was necessary to angle both devices so they where pointing straight towards each other - hardly the sort of set-up you'd want permanently in your living room.
Even the process of setting up the TV+ to work with your digital receiver is long-winded and convoluted. First, you have to search through a list of manufacturers to find your box. Even though the remote control has a Qwerty keyboard on it, you can't, for example, press S to skip to Sony. Instead, you have to use the left and right arrows to scroll through all the entries one by one. Then you have to conduct a series of tests to find the correct code for your box. If a code doesn't work, you're never sure if it's the code that's a problem or the position of the boxes.
Once you've got that all working, you're stil not done. You can't just fire up the electronic programme guide (EPG) and get watching - that would be too simple. Instead, you have to hook the TV+ up to your PC - which no doubt means disconnecting it from the telly, unplugging the power and then moving it to another room where you computer is - and then register on the Archos website, download an application and then run that while the TV+ is connected to the computer.
This is hardly a consumer-friendly process. Subsequent updates can, thankfully, be acquired over the Wi-Fi or wired network connections the box features.

HDMI (and other) portage, no HD compatibility
When you've got the EPG installed, you still have to go in and manually change some settings - for example, to deselect all but one of the 16 ITV regions that for some reason were displayed by default. There doesn't appear to be a way to record all the episodes of a series, other than by scheduling a recording to repeat at the same time every day or week, which isn't exactly a sophisticated approach given that the programme data is there.
Even with everything finally set up and your digibox and TV+ awkwardly pointing at each other, the Archos still had problems making recordings reliably. In one instance, the Freeview box was off, and the TV+ failed to switch it on, resulting in a black screen. Another time, it didn't change channels successfully so it recorded the wrong show.
The TV+ can also stream video content from PCs connected to the network, though out of the box it's limited to just MPEG 4 and WMV formats - and both only at standard definition. It can also handle H.264 and MPEG 2 content, but you'll need to splash out a further 15 quid each for these two plug-ins. As a result, it's pretty limited in what it can play compared, for example, to the Netgear EVA8000 - reviewed here. With both plug-ins installed, it only managed to successfully play the SD Divx, Xvid and DVD MPEG 2 files from our standard set of tests.
The TV+ also fails to use the entire screen for playback, presenting an annoying black border at the top and left hand side. There didn't appear to be a way to adjust this.
The TV+ provides a link to Archos' own content portal, although again you need to register the device by connecting it to a PC before you can access the site. Once in, you can purchase movies to download from Vizumi, or view free content from Euronews or DailyMotion.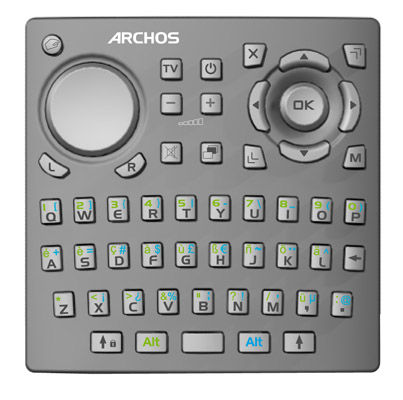 What, no play or rewind buttons?
You can also browse the web, but that'll cost you an additional £30 to buy the web browser plug-in, which is a little steep, especially given that the browsing experience isn't that great anyway and pages are quite slow to render.
The interface works, but it's very basic and fairly unintuitive to use - a task not made any easier by the remote control. The remote does feature a Qwerty keyboard, which is handy for typing in URLs and emails, but misses out on basic buttons such as play or rewind. There doesn't appear to be a quick way to get back to the home screen, and the X button sometimes goes back one step and at other times dumps you back at the main menu. There's also a big mouse joypad that occupies a large proportion of the top left corner, but it seems to only ever be used for the web browser.
We guess Archos reckons the TV+ is an Apple TV killer, but that box at least does HD and has both a splendid UI and, in iTunes, an easy content management app. Its more limited than the TV+ when it comes to the number of content formats supported, but then it's not trying to be a PVR too.
Verdict
Archos' TV+ probably would have been something to shout about a couple of years ago, but its lack of HD support, absent digital TV tuner and poor video format support mean it's outclassed by the competition. Add on the fact that the plug-ins will cost you an additional £60, and it's not exactly a cheap proposition, either.