Original URL: https://www.theregister.co.uk/2008/03/11/kissphone_handset/
Pay lip service to loved ones with the KissPhone
Gene Simmons' favourite blower?
Posted in Personal Tech, 11th March 2008 13:58 GMT
One Register Hardware staffer has admitted giving their beloved iPhone a peck now and then, but puckering up with a mobile phone in order to convey your love to another person is another thing altogether.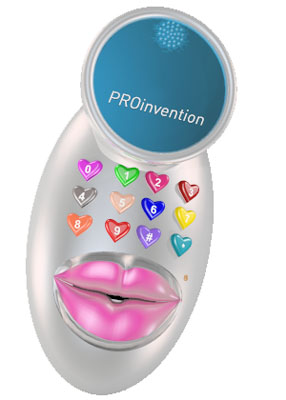 Koussouros' KissPhone: makes and receives cellular kisses
However, self-styled "freelance inventor" Georges Koussouros has proposed a handset, dubbed the KissPhone, that will do just that.
Two people must have one handset each for the kiss to work, but the basic idea is that you kiss your phone's lips, dial the recipient's number and the then other person is kissed by their own handset's lips on your behalf.
Koussouros claims the phone detects "percussion speed, pressure, temperature and sucking force of the lips, when you kiss it", and that the lips then reproduce the same effect on the other user's KissPhone. There's no mention of tongues...
Users, he suggests, could leave kisses in someone's voicemail or receive kisses from a "Kiss Bank", where the kisses of superstars, such as Angelina Jolie, Mick Jagger or Gene Simmons, would be reproduced.
It's all at the concept stage, of course, and we trust you'll understand why we didn't call Koussouros for the details...