Original URL: https://www.theregister.co.uk/2008/03/11/cassini_enceladus_flyby/
Cassini to surf Enceladus's icy plumes
'In your face' flyby of Saturnian moon
Posted in Science, 11th March 2008 09:52 GMT
NASA's Cassini spacecraft will tomorrow do an "in your face" flyby of diminutive Saturnian moon Enceladus, passing as close as 50km (30 miles) above the surface in an attempt to gain valuable data on geysers spewing water vapour and other matter from giant fractures at the body's south pole.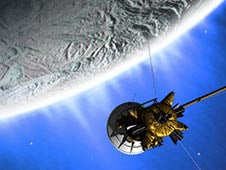 Cassini discovered the geysers on the 500km (310 mile) diameter body back in 2005, prompting speculation it might have "vast stores" of liquid water. The geysers are throwing out material at 400 metres per second (800mph) to a distance of three times Enceladus's radius and creating "an enormous halo of fine ice dust" around the moon, some of which which supplies Saturn's E-ring.
Cassini will pass through the edge of the geysers' "plumes" at a height of 200 kilometers (120 miles) for a "sniff and taste" of the "density, size, composition and speed" of the gas and dust particles they contain.
Sascha Kempf, deputy principal investigator for Cassini's Cosmic Dust Analyser at the Max Planck Institute for Nuclear Physics in Heidelberg, explained: "There are two types of particles coming from Enceladus, one pure water-ice, the other water-ice mixed with other stuff. We think the clean water-ice particles are being bounced off the surface and the dirty water-ice particles are coming from inside the moon. This flyby will show us whether this concept is right or wrong."
Hunter Waite, principal investigator for Cassini's Ion and Neutral Mass Spectrometer at the Southwest Research Institute, San Antonio, added: "We want to know if there is a difference in composition of gases coming from the plume versus the material surrounding the moon. This may help answer the question of how the plume formed."
According to NASA, the risk to Cassini from the plumes is minimal since the particle size is small. The main weight of the mission falls on Cassini's particle analysers, and the onboard cameras will capture images only on the approach and departure when the analysers aren't doing their sniffing and tasting.
Tomorrow's flyby is one of four Enceladus-Cassini rendevous planned for this year, and NASA concludes that "if this encounter proves safe, future passes may bring the spacecraft even closer than this one". ®