Original URL: http://www.theregister.co.uk/2008/03/10/review_hp_compaq_2710p/
HP Compaq 2710p tablet PC
Could be a contender
Posted in Personal Tech, 10th March 2008 12:02 GMT
Review The tablet PC may never have come close to achieving the success Microsoft hoped for when it launched the concept a few years back, but these transforming laptops have won a solid audience.
Unfortunately, with many tablet PCs the inclusion of a screen that can be operated with a stylus but not a finger hasn't done anything for usability, and the bid to keep the machines light enough to balance on a scrawny arm often leads to a big compromise in other areas.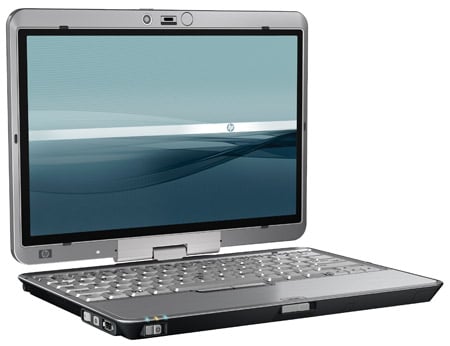 HP's Compaq 2710p: excellent mix of comfort, style and build quality?
The latest tablet to come to market, HP's Compaq 2710p, may change this, offering as it does an excellent mix of comfort, style and build quality, along with its digitised screen.
The display measures 12.1in, and has a matte finish that's great for use on the road. It doesn't show up reflections or grubby fingerprints easily, yet it still offers sharp and vivid images. There's a slight haze to it, as with all such panels, but it doesn't affect colour reproduction.
The screen has a resolution of 1280 x 800, which is standard for a laptop of this size. There's plenty of space to open a couple of windows side by side, and the screen also looks particularly crisp when viewed in portrait orientation. It's easy to view from angles other than head-on, which is a bonus when doing presentations in tablet mode.
Corporate users may be unhappy to see the presence of Windows Vista, but if its inclusion is frustrating for slowing the system down, it's definitely welcome for the pre-installed handwriting recognition software. There's a learning function that allows the software to pick up your style of handwriting, but even with this turned off we found it recognised our scruffiest scribbles most of the time. Microsoft's OneNote is included as standard, and it's more than adequate for adding text or notes to documents, the job it was designed to do.
Perhaps importantly for an OS that still suffers from instability, tablet use is improved by the inclusion of a dedicated Ctrl-Alt-Del button. This allows you to start Windows' Task Manager without having to swivel the display, and close any programs that fail to respond.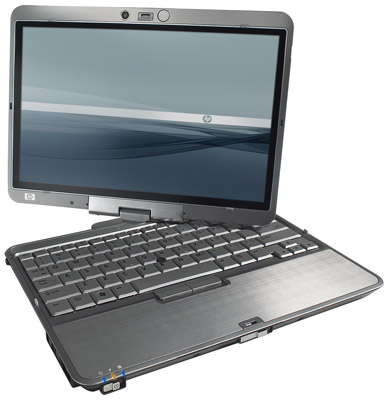 The 12in display doesn't show up reflections or grubby fingerprints
The pen is housed in the side of the machine, and can be knocked out a little too easily for our liking. It can be tethered to the laptop, which makes the machine look slightly toy-like but reduces the likelihood of it being lost. The pen itself has a pleasing heavyweight feel, and has a right-click button on the side. There's a clip on the top, allowing you to attach the stylus to one of your pockets, but there's a good chance you'll resemble a school teacher if you do.
One of the most impressive things about this machine is the fact that its tablet capabilities haven't compromised it when it comes to general use as a laptop. The keyboard is a good size, and the responsive and firmly attached keys make it a pleasure to type on. However, it's a shame navigation is restricted to a pointing stick rather than a touchpad.
Build quality is excellent, with a mixture of brushed aluminium-magnesium alloy and tough plastics used in the construction. The bottom of the HP features a rubber-like coating, making it easy to hold without worrying it will slip from your hands. Although you can lock the display for tablet use, there's nothing apart from the hinge to hold it properly in place when open, so it can swivel accidentally.
Apart from the use of lightweight materials, HP has attempted to keep the weight down by leaving out an optical drive. This won't please everybody, but it does make it a lot easier to balance the device on one arm while you write with the other. That said, at 1.8kg it still had a habit of making our arm go dead when you hold it for long periods of time.

HP has kept the weight down by leaving out an optical drive
One of the things that sets this machine apart from its rivals is the attention to detail. Apart from the impressive quality, the 2710p is crammed with neat touches, such as the keyboard light that pops out from above the screen. There's also a pull-out telescopic antenna for an optional 3G HSDPA module.
When it comes to ports, the HP is fairly standard. You'll find USB 2.0 and mini Firewire connectors; headphone and microphone sockets; and a Kensington lock on the right side of the chassis. There's also an SD card reader and a second USB socket on the left side, along with an ExpressCard 54 slot.
Wireless connections – the 2710p features 802.11a/b/g Wi-Fi – can be activated by a physical button, and there's a switch to launch HP's Info Centre, which lets you get system information. The rear of the machine presents a Gigabit Ethernet, 56Kb/s modem and VGA ports. Digital video connections are not supported, alas.
A proprietary connector on the bottom of the chassis lets you hook up a docking station. There's also a socket to connect a six-cell slimline battery, which HP claims can boost battery life up to 11 hours between charges. With the standard battery in place, we struggled to better four hours, so those wanting all-day power will definitely need to invest in an additional power source.
It's bad news when it comes to performance. The 1710p's graphics are handled by an integrated Intel GMA X3100 GPU. It's a relatively new graphics chip, but its 3D capabilities are poor and you can forget any notion of playing anything other than solitaire in your spare time. This was borne out by a 3DMark 06 score of just 262.
PCMark05 Results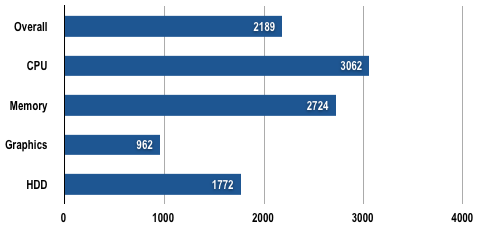 Longer bars are better
A mixture of an ultra-low voltage 1.2GHz Intel Core 2 Duo U7600 processor, 1GB of memory and Windows Vista contrive to make this an annoyingly slow laptop on initial start-up. A good chunk of the performance deficit is caused by the huge amount of pre-installed applications, most of which are trial-only.
Once we disabled or uninstalled the erroneous programs, the 2710p was noticeably quicker, and a lot more suited for day-to-day use. We'd recommend upgrading to 2GB of memory as well - it helps applications to run far more smoothly.
Verdict
It's not cheap, but when it comes to usability the Compaq 2710p is first class, with loads of thoughtful touches making it a pleasure to use. The compact display offers a great compromise between colour reproduction and a reflection-free finish, and the extra screen size makes it a lot more practical than UMPC rivals. The keyboard is also excellent.
However, the ULV processor and choice of operating system has affected performance, and you'll have to uninstall a lot of the standard applications to get the best out of it. The omission of an optical drive and high price will also put many users off.