Original URL: https://www.theregister.co.uk/2008/03/09/hplabs_tour_march_2008/
What survived the axe at HP Labs
Will Hurd face new boardroom lie detector?
Posted in Personal Tech, 9th March 2008 23:25 GMT
Last week we reported that Hewlett-Packard's research arm, HP Labs, has undergone a restructuring process to better make a buck from its technology developments.
Along with the announcement, HP Labs erected some booths to let press and analysts ogle select projects that emphasize its newly-discovered bottom line.
Let's take a look.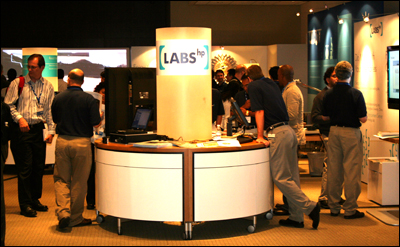 Facebubble: Have you seen this boy?
Our first booth at HP Labs is Facebubble, a facial recognition application developed to help organize family photography. The stand-alone app catalogs images based on the people contained in them.
After analyzing the photographs stored on a PC, a person who appears in multiple images is automatically assigned a button in the main menu. The more photographs that contain a particular person, the more prominently that button is shown. Clicking on the person serves up all the photos in which they are featured.
For instance, if we needed some photographs of baby Jeffery, stat: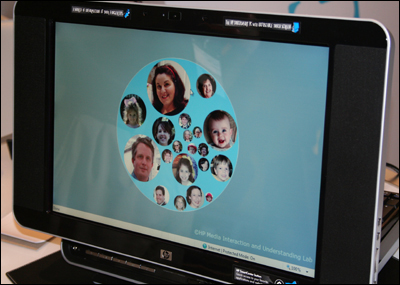 Clicking on the tot's grinning visage brings up all the photos the application recognizes him in.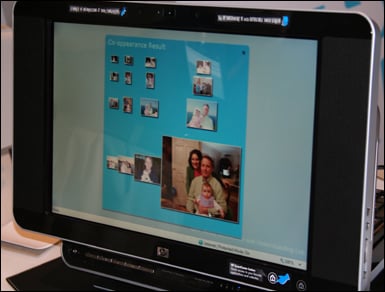 Ta-da. Ask me about my grandchildren 2.0.
HP admits the technology isn't perfect yet. Various forms of headgear can still fool the application, and getting the software to reliably recognize a person's appearance over several decades proves elusive.
The researchers also envision the application as a useful tool for online social networking. One day it could be easier than ever for a prospective employer to find photographs of you shirtless and drunk. Huzzah!
HP BookPrep: to serve man
A few other vendors have on-demand book publishing projects in the works, but the HP Lab angle is more about converting out of print books into a digital format.
BookPrep uses HP Labs imaging technology to take scans of old books and automatically clean up the image. Scanned text is flattened, and pages are tidied and brightened for consistent coloration.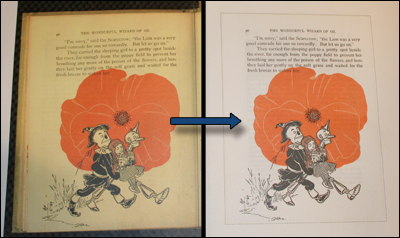 HP Labs says the platform would let publishers put books of yesteryear back into print with a greatly reduced upfront investment. And on-demand publication means vendors only need as many books as customers have already ordered.
HP also thinks there's a market for customized books. A person could scan in Aunt Flo's cookbook along with their personal improvements and additional recipes. Of course there would have to some restrictions on what HP will let customers change. Legal issues aside, nobody wants to open a copy of Harry Potter and see some hack's erotic fan-fiction attached in the center.
OK, maybe if it's tastefully done...
Conversa: say that to my face
This journalist is perfectly happy that he doesn't have to gaze upon the ugly mugs of people posting on your average internet message boards. But such sweet ignorance clearly isn't for everybody.
Conversa is a website that works like an online discussion group — only with video messages instead of text. People can either use a 3G phone or a PC to browse conversations and record their responses.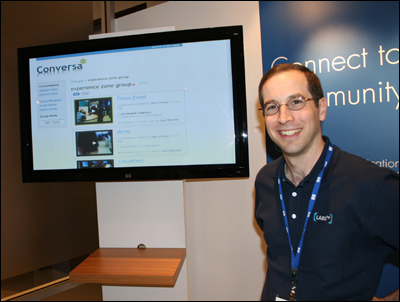 Sometimes you need to actually see a person to get the most out of the thrusts and parrys of internet discourse.
Take for instance, that time-tested retort, "OMG LOLz UR fking dum." It adds a whole new level to the discussion when you see a fat, pock-marked 16-year-old saying this from his mother's basement. Before, you simply had to assume.
Conversa is currently in closed beta. The website is here, although there isn't much to see unless you have an invitation.
B.R.A.I.N.: what happens in the board room, stays in the board room
BRAIN (Behaviorally Robust Aggregation of Information in Networks) is a web-based voting application made to "tap into the collective wisdom of employees."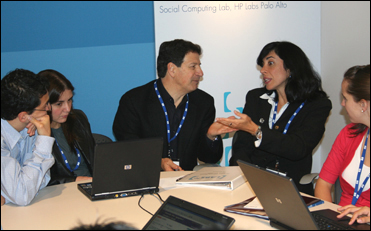 HP says it mixes voting with proprietary algorithms to help extract accurate predictions about future events such as quarterly revenue forecasts, product demand, and release dates.
Extensive testing indicates that employees are spineless two-faced weasels, according to HP Labs. What a worker will forecast out loud in the board room is often significantly different than what they'd predict if they voted using BRAIN.
The theory is that large crowds of people can predict results with stunning accuracy. But smaller groups are too easily influenced by one another to work as effectively. There's also personality conflicts that make some people over-representative of the group, while others are not heard at all.
BRAIN intends to circle around this problem by making the prediction process anonymous. It also asks voting members to back up their predictions with real money — turning do-or-die corporate decision making policy into a game. Depending on how big of a jerk your boss is, that could mean actually betting money, or offering a bonus to the person who provides the most accurate forecast.
Journos were led through a "dumbed-down" version of the software, in which we were asked to select which color we thought would be chosen from a list based on various percentages. El Reg of course got top marks, but lost the tie-breaking coin toss.
How appropriate. ®