Original URL: https://www.theregister.co.uk/2008/03/07/review_mesh_ultimate_q8/
Mesh Ultimate Q8 Tri-SLI gaming PC
We've drooled - now it's time to see Nvidia's Tri-SLI in action
Posted in Personal Tech, 7th March 2008 12:02 GMT
Review Everything about the Mesh Ultimate Q8 is imposing. The black CoolerMaster 832 aluminium case is 62cm long and 53 cm tall, and, according to our bathroom scales, weighs in at 22kg.
We love the industrial looks of the case and a visiting (bloke) neighbour thought it looked dead impressive, though the missis thinks it's one of the ugliest things she has seen in a long time. Beauty, as they say, is in the eye of the beholder.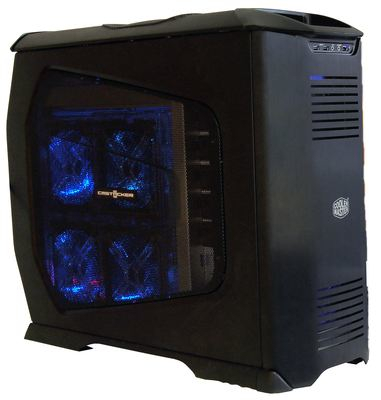 Mesh's Ultimate Q3: beautiful or butt-ugly?
The cooling abilities of the CoolerMaster case are fundamental to the Ultimate Q8 as it has the capacity to carry a huge array of fans. The top and side panels have large mesh sections that allow cooling air to flow freely. There's a fan at the rear of the case, one at the top and three of them in the side of the case above the graphics cards and processor.
Release a latch and lift off the side panel and you're faced with a door that can carry up to four 120mm fans arranged in a square pattern. Mesh has chosen to install three Akasa fans with blue LEDs that shine through the vented side panel to add some geek bling.
Inside the case, there's an EVGA 780i SLI motherboard with a Core 2 Extreme QX9650 processor that runs on a 1333MHz frontside bus. It's a 3GHz 45nm 'Penryn' processor that's cooled by a ginormous Intel heatsink that is very shiny.
Below the processor there's an angled cooler on the Nvidia 780i SLI chipset's northbridge and below that there are three Leadtek GeForce 8800 GTX graphics cards.
That's right, three graphics cards.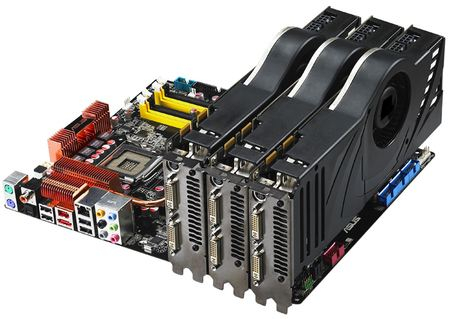 Two graphics cards not enough for you?
Because the Mesh Q8 is the first machine we've seen that implements Nvidia's Tri-SLI technology, part of that 780i SLI chipset. Tri-SLI allows you to gang up three GeForce 8800 graphics cards that use the 'G80' graphics chip - rather than the new 'G92' - on either a 680i or 780i SLI chipset-based motherboard with a suitable number of PCI Express slots.
As we say, the Q8 has three Leadtek 8800 GTX cards, each with a core clocked at 576MHz and with 768MB of memory that runs at 1800MHz.
The Tri-SLI feature affects every aspect of the Ultimate Q8 starting with the OCZ power supply, which is rated at a colossal 1200W. Despite this huge power figure, the PSU doesn't seem especially sophisticated, although it does have the all-important six PCI Express graphics power connectors.
Tri-SLI is a finicky beast and requires precise levels of Volts and Amps to ensure it works correctly. The OCZ has a single 80mm fan at the rear of the unit which has to draw air through the length of the PSU. It's a long time since we saw a power supply that had any pretension to greatness that didn't have some sort of venting or cooling on the large inner surface of its casing, the bit that faces the motherboard.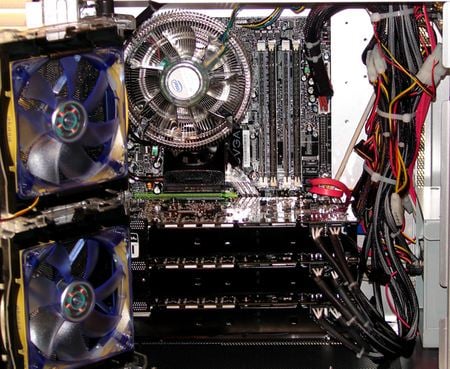 Inside the Q8...
During our testing the power supply remained reasonably cool. However, it was monumentally noisy. Indeed it was so loud that we rigged up a CoolerMaster 850W PSU externally to see what difference it made and found that while the noise level dropped by half, it couldn't provide enough juice to run any benchmark tests.
The five case fans are very quiet, the CPU fan is near-silent and the three graphics cards deliver a steady drone but the power supply is a killer. On the bright side, you have to assume that Mesh can specify a different power supply without too much trouble.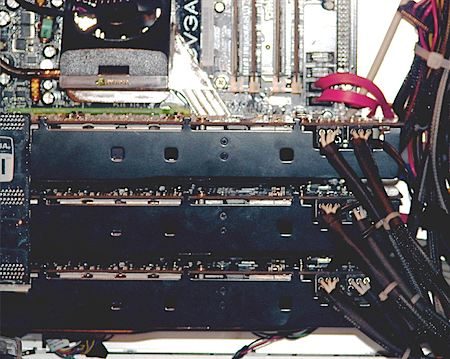 ...with the three Leadtek cards
What other impact does Tri-SLI have? Well there's no expansion capability whatsoever as every slot is covered by the three enormous graphics cards, so you have to use the integrated Realtek 7.1 audio unless you plug in an external X-Fi unit. The other integrated features should be sufficient to keep most people happy: dual Gigabit LAN, and six USB 2.0 and one Firewire on the rear on the I/O panel, with four more USB and a second Firewire on the front of the case.
Other key features are a 1TB Seagate hard drive, Pioneer BDC-202 Blu-ray Disc reader and a TSST SH-S203N LightScribe 20x dual-layer DVD writer.
Mesh has chosen to install four 1GB 667MHz DDR 2 DIMMs, and for the first time you can see the full 4GB in a 32-bit operating system. On those occasions where we've tried out 4GB of RAM in a 32-bit OS, the amount of memory that is available is reduced to 3.5GB or even to 3GB, but it seems that Vista SP1 fixes this issue.
We were surprised to see that Mesh used such slow memory in the Ultimate Q8. However, we're assured that it has successfully tested some OCZ DDR2-1066 in this configuration so a speed bump would appear to be imminent.
Power Draw Results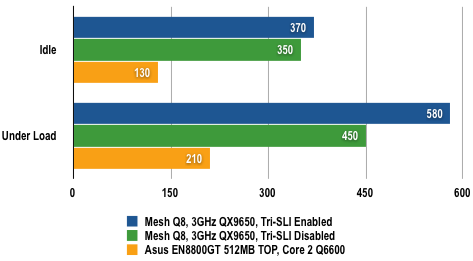 Power draw in Watt (W)
The CoolerMaster case is a colossus but the internal arrangement seems a bit weird. There are bays for three hard drives and six optical units but who, we wonder, wants more than two optical drives? OK, maybe you want HD DVD as well as Blu-ray, and possibly you might consider an HD burner, but four is surely the absolute limit. Yet three hard drives is comparatively modest.
PCMark05 Results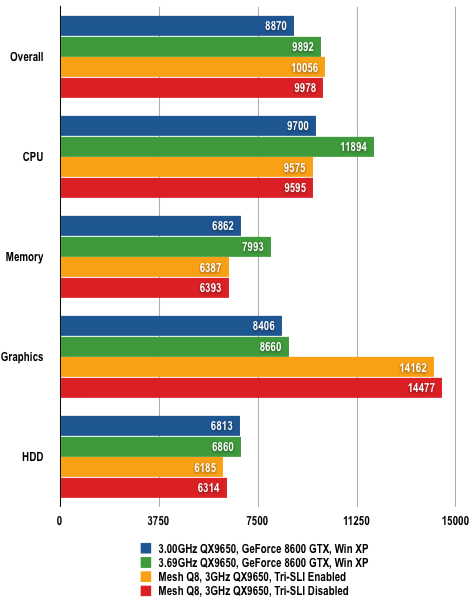 Longer bars are better
Turning to the peripherals we were very happy with the choice of a Logitech G11 gaming keyboard and MX Revolution laser mouse, but the Creative Inspire A500 5.1 speakers are rather modest and the 24in Iiyama PLE2403WS-B1 flat-panel monitor won't set the world alight.
It's a decent screen with a resolution of 1920 x 1200 and it's well up to the task of playing HD movies. You have the choice of VGA and HDMI inputs, and there are both VGA and DVI-to-HDMI cables in the box. But the panel is unexceptional and there is no height adjustment. The Iiyama is a reasonable choice as a budget 24in display, but it seems an odd companion to a PC that costs a shade under £3000.
3DMark06 Results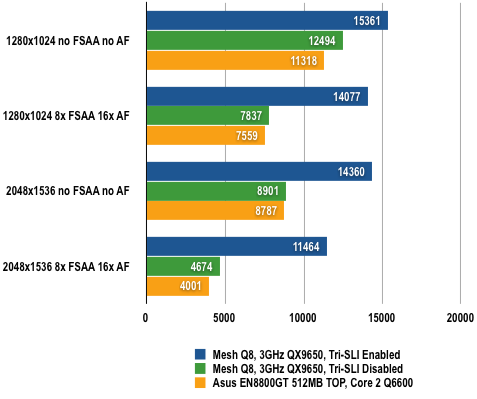 Longer bars are better
So let's get down to brass tacks – does the Ultimate Q8 deliver the goods? Any PC with a QX9650 processor and one GeForce 8800 GTX graphics card will make a superb gaming machine, no question about it. Adding second and third 8800 GTX cards raises the performance significantly, and you'll see from the test results that we only picked the worst-case scenario of Crysis to test the Mesh to its limits.
Crysis Results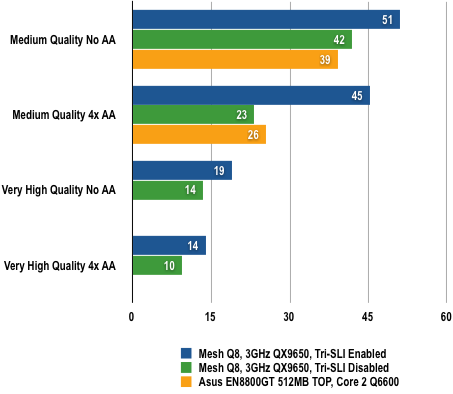 Benchmarked at 1920 x 1200
Results in frames per second
Longer bars are better
Less demanding games such as Bioshock and Company of Heroes don't have any particular need of three GPUs when you're running a screen resolution of 1920 x 1200. But if you spend £1000 for a 30in TFT with a resolution of 2560 x 1600 you'll be in clover.
And skint.
Verdict
You're not going to spend the best part of £3000 on a gaming PC unless you're seriously wealthy, but that tiny elite should give the Mesh Ultimate Q8 serious consideration. A Tri-SLI PC will inevitably be quite noisy but seriously, that OCZ power supply needs to be sorted out.