Original URL: https://www.theregister.co.uk/2008/03/07/magellan_satnav_1400/
Magellan charts path to entry-level satnav trio
RoadMate brand expanded
Posted in Science, 7th March 2008 10:49 GMT
Magellan has further expanded its range of basic in-car GPS products to include more models and more features.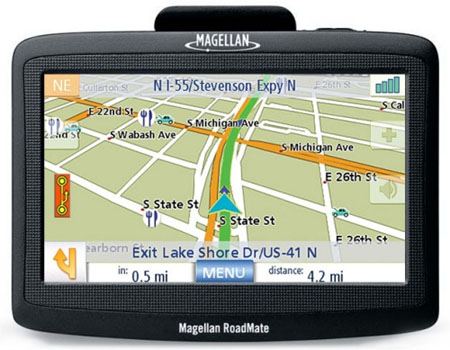 Magellan's 1425: flagship model
The 1400, 1415 and 1425 all fall under the RoadMate brand, which already includes the 1200 series. Each new model has a 4.3in touch-sensitive widescreen display with an anti-glare coating. An SD memory card slot is built into each model.
Magellan's 1400 comes pre-loaded a wide selection of regional rather than national map packs, one of which includes France, Italy, Austria and Switzerland. You'll have no excuse for breaking the speed limit in any of these countries because a database of safety cameras is included for each region.
The 1415 gets you a text-to-speech facility that announces street names, instead of just telling you to turn left or right at the next bend. Rival manufacturer Garmin has just integrated the same feature into its latest satnav devices. The 1415 has thousands of points of interest (POI) pre-loaded and full European map coverage provided by mapping firm Navteq.
The 1400 series' flagship model, the 1425, has all the features of its predecessors with the additional benefit of live traffic information and the option to upgrade to a premium traffic service which re-routes you to avoid accidents and delays on the road ahead. The 1425 outdoes the 1415's POI database by having a million entries.
Magellan's 1400 costs €180 (£140/280), whilst the 1415 and 1425 cost €230 (£175/$310) and €280 (£215/$430) respectively. A release date hasn't been set yet.