Original URL: https://www.theregister.co.uk/2008/03/05/review_nokia_n810_internet_tablet/
Nokia N810 internet tablet
Fills a gap you didn't even know you had
Posted in Personal Tech, 5th March 2008 12:02 GMT
Review Nokia's approach for the N810 is pretty simple: phone screens are too small for decent web browsing, so surely a separate portable device that has a bigger screen and Wi-Fi connectivity is needed for serious portable web access.
Nokia hasn't regarded size and weight as such restrictive factors. At 228g the metal-cased N810 certainly isn't light, nor at 128 x 72 x 14mm is it small. On the upside, it's very well bolted together and has a very high quality feel to it. If it was any smaller, the 4.13in, 800 x 480, 65,536-colour screen wouldn't fit.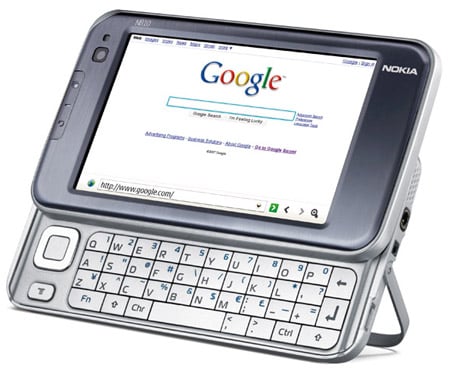 Nokia N810: not a phone, OK?
A quick fiddle with the externals reinforces the impression that this is not a budget device. Slide the top of the 810 up and a full Qwerty keyboard is revealed, and quite a keyboard it is, looking and feeling like the keyboard on a HTC TyTn only twice as big and twice as easy to type on. The fold away metal stand is a nice touch too.
The heart of the N810 is a Linux-derived OS called OS2008. As far as operating systems go it's nothing too flash but it does the job with a minimum of confusion and ambiguity, and more to the point does it quickly. Basic system navigation is performed using a series of tabs and menus accessed on the touch screen. Two further controls on the front left of the device are used, respectively, to bring up a list of currently active applications and to move you back through the current menu tree. All in all it's pretty intuitive and a piece of cake to use.
Set up is ball-bouncingly straightforward. Within moments of opening the box we had the N810 talking to the office WLAN and the home screen set to show a BBC World RSS newsfeed, a web link to the Register Hardware home page, a Google search window, the time and a link to the Radio Paradise web stream. We even found some themes and colours we liked once we'd installed the latest firmware from Nokia.
Controls are something the N810 has is spades, pretty much everything it does can be done in at least two ways. In fact, Nokia seem to have realised something quite essential about pocket web devices, and that is that the most effective way to navigate around such a device is by a combination of fingers and stylus and buttons rather than just by the one method. The stylus, though plastic, is a big, stiff and chunky affair that is pleasant to use and fits firmly into its slot.
Web browsing on the 810 is very straightforward. Want to switch to or from full-screen mode? Hit the dedicated button on the top. Want to zoom in or out? Use the rocker button next to it or touch the zoom icon on screen. To scroll up and down either drag the screen up or down or use the nav pad by the keyboard.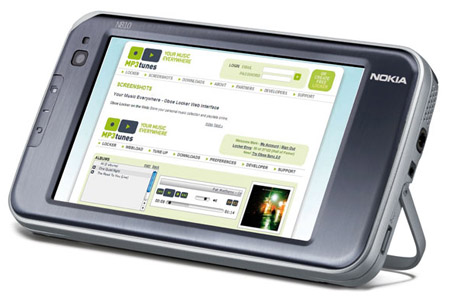 The N810 runs a comprehensive suite of applications
The N810's principle application is a rather fine web browser developed using "Mozilla technology". The only obvious similarity we saw between it and Firefox is the ability to run multiple tabs, though that alone on a mobile browser is grounds for a party, while the presence of the Flash 9 plug-in means untold hours can be spent glued to YouTube videos and the like. When in full-screen mode the browser is big, bright, easy to read and has excellent image representation.
The N810 also runs a pretty comprehensive suite of communication apps, including Gizmo, Skype and, via the built-in IM/VoIP application, GoogleTalk, Jabber and SIP. The front-facing VGA webcam means you can have video with your IM chats.
Less immediate communication is handled by a bespoke email application that can handle both POP and IMAP protocols, and is extremely easy to set up and use. The built-in address book is a little odd, though. We imported our contacts from Outlook but only ended up with phone numbers and email addresses, all physical address information and the like having vanished into the ether.
Text can be entered via the keyboard, or with a finger tap on the text area of the screen you can open up the truly excellent and well thought out full-screen virtual keyboard. A stylus tap opens up a smaller keyboard that also allows for handwriting input.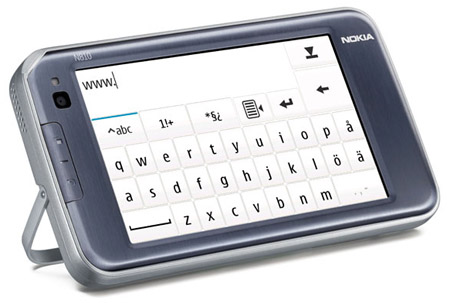 A tap brings up a full-screen virtual keyboard
The N810's media player has its strengths and weaknesses. Format support for video extends to 3GP, AVI, WMV, MP4, H.263/4, MPEG 1 and 4, and RealVideo, and for audio MP3, WMA, AAC, AMR, AWB, M4A, MP2, RealAudio and WAV. Most image file formats are supported too.
Audio quality is generally good and on a par with any iPod even though the player lacks anything in the way of alterable EQ settings or boosters. For some reason, our 810 refused to play the WMV files we loaded on to it but a quick trip to maemo.org, the spiritual home of OS2008, to download the Canola2 and MPlayer applications - which between them play just about anything under the sun - soon solved that.
Playback of an Xvid video file with a resolution of 672 x 288 using MPlayer showed up some weakness though with significant lag and stutter forcing us to reformat to 400 x 240 using Nokia's open source Vista/XP2 video re-formatting application. So perhaps we shouldn't push the idea of the N810 as a PMP too hard.
Storage-wise you get 2GB on-board but the Mini SD slot supports SDHC cards up to 8GB which is enough for a reasonable selection of music and video.
Moving files to the N810 using Windows Explorer is a simple if not exactly rapid operation, with both the internal memory and removable flash card showing up as two separate locations. Faster by far to stuff your Mini SD card into your laptop and copy across media that way.
The stereo speakers set into each side of the N810 make for a reasonable listening experience without headphones, and happily Nokia has decided to give the N810 a 3.5mm phone jack with matching hands-free rig rather than a proprietary one.
Coming with a built in GPS receiver and maps of the UK and Eire, the N810 should make getting lost a thing of the past while the speed indicator means you can run up and down the street and see how fast you are going in MPH, 12 being our Bannister-esque best. Nokia's Wayfinder upgrade is yours for an extra €99, turning the N810 into a fully fledged satnav.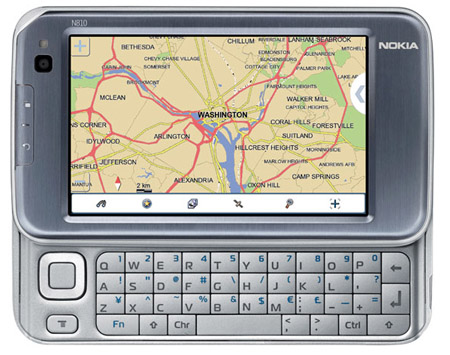 The N810 comes with built-in GPS receiver and UK mappage
Connectivity was impressive throughout our test. The N810 effortlessly picking up available WLAN signals and staying locked on. Away from hotspots we accessed the net using a Sony Ericsson K850i over Bluetooth, which gave us reliable, stable and speedy access in 3G areas.
Software for the N810 shouldn't be an issue as the maemo.org site currently lists 145 applications for OS2008, including a surprisingly playable version of Doom. The excellent chess game that comes pre-loaded deserves a mention in dispatches too.
Downsides? We're sure Nokia has its reasons for fitting the N810 with a Micro USB port and Mini SD slot rather the more common Mini USB and plain SDHC slot, but were stuffed if we can think what they are. Oh, and the on/off button is in a strange place - try to use it one-handed and the unit slides open which gets to be annoying after a while. When the metal stand is folded away you can't access the USB port or the memory card slot. The device also lacks a re-set button, so any serious mishaps mean whipping the battery out.
Of course, some potential users may also ask why in this age of relatively cheap pay-as-you-go cellular net access a SIM card slot was not included purely for mobile data access. It'd be a good question too.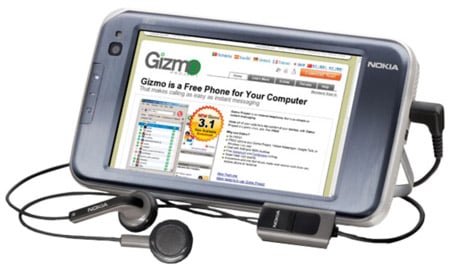 Thankfully, the N810 features a 3.5mm headphone jack rather than a proprietary one
Nokia claims the battery will last up to four hours with the WLAN on and the screen alight, ten hours when just playing music, or 14 days when the N810 is on standby. In other words, depending on what you do with it anything from four hours to two weeks.
We charged ours up, made sure both the Wi-Fi receiver and Bluetooth was switched on and ran it for just shy of 30 hours before it packed in.
In that time we spent a few hours browsing the web, listened to an hour or two of our favourite internet radio station, Triple R, played some chess, did a bit of instant messaging, checked our email and watched about 30 minutes of Frontline. A balanced usage portfolio if you ask us.
Verdict
Taken at face value, Nokia's N810 not a bad box of tricks. For surfing the web, email and as an internet communication device it is a handy little gadget, while the operating system is easy to use, feature rich and robust. The relative abundance of software is another plus. But that lack of a SIM slot does niggle just a bit.