Original URL: http://www.theregister.co.uk/2008/03/04/review_onyx_liscio_mobile_phone/
Onyx Liscio micro mobile phone
Small of stature - and of feature list
Posted in Personal Tech, 4th March 2008 12:02 GMT
Review Leaving your all-singing, all-dancing mobile phone behind when you slip out for the evening is a terrifying thought for some people. So any handset manufacturer advocating the idea of keeping your Nokia N95 or LG Viewty at home in favour of a secondary handset needs to have something special on offer.
On first inspection, the Liscio, which manufacturer Onyx claims is ideal for anyone that doesn't want to carry a large handset around, is a stylish device. Its mirrored surfaces reflect light from all angles, and the diminutive 90 x 35 x 18mm dimensions and curvacious casing ensure it slips comfortably into handbags and manbags alike.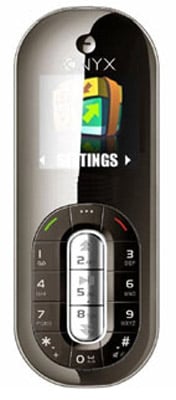 Onyx's Liscio: mirrored surfaces
The Liscio's display is the first major stumbling block, upsetting its otherwise flawless façade. Although it boasts an OLED screen, you'll need a magnifying glass to make any real use of it because the screen measures just 1.1in in the diagonal. It's readable, but compared to the displays found on many mainstream handsets, OLED or not, this is way too titchy.
The phone's keypad draws your attention away from the small display, but only because its elliptical shape means that anyone with less than dainty fingertips will find it difficult to use because during tests we often caught two keys at a time, resulting in some very badly-worded text messages.
Both sexes will be able to make use of the multifunction keys, though, because the Liscio's central buttons, shown in a vertical silver column, also act as shortcuts for the phone's MP3 player. A jog-dial on the phone's side easily lets users navigate through its other features.
Audio is a mixed bag. On the one hand, the supplied headphones provide decent sound quality through the full-size, 3.5mm headphone jack on top of the handset. But don't expect to use the Liscio's speaker as a stereo replacement, because the audio reproduction is painful. For example, sound quality during Red Hot Chili Peppers' Fight Like a Brave was so tinny that, at times, it was difficult picking out the lyrics above background hiss and distortion.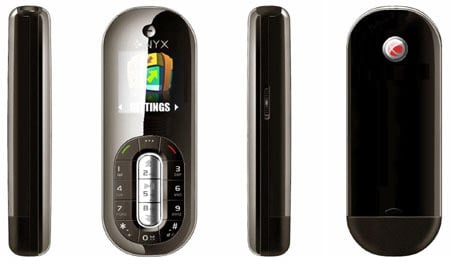 It slips comfortably into handbags, manbags and gladrags
Transferring MP3 tracks onto the Liscio is a breeze. A mini USB port sits next to the phone's headphone jack and allows you to drag and drop files onto it from your PC - the phone slips into a Mass Storage mode as soon as it's connected. But its organisational capabilities are nothing to rival iTunes - tracks are only arranged according to the order that you transfer them onto the phone. There's an FM radio too.
Storage itself isn't a problem, as the Liscio also comes supplied with a 1GB Micro SD card. A slight faux pas here: the memory card slots in behind the battery and the SIM, rather than into a specially crafted slot on the side of the phone, so you'll have to power down and remove the battery and the SIM each time you want to take out the memory card.
The Liscio can't display JPEG or text files, but you can use the memory card as a portable storage device to help you get documents from A to B. Users aren't afforded much in the way of customisation and you won't be able to, say, load photos onto the phone and use them for wallpapers, so you're stuck with the pre-installed six desktop pictures.
All that said, Onyx's aim isn't to reproduce a handset that rivals your everyday phone, so you should expect to be stripped of some of the more advanced features you'd find on the likes of the Samsung G600 - reviewed here.
What else does the Liscio lack? Well, there's no camera, for starters. This helps to keep the handset trim and give it a talk time of three hours, audio playtime of 11 hours and a standby life of about 200 hours. Its battery can be charged via the USB connection.
Bottom (top) and top (bottom)
Unlike a fair few basic handsets, the Liscio isn't a dual-band phone but a tri-band device. There's no Wi-Fi, of course, but the inclusion of Bluetooth means you can hook it up to a headset.
The Liscio's ability to capture speech isn't great - others weren't always able to hear us clearly during tests. The phone's small proportions could mean that the microphone is further away from your mouth and so less able to pick up sounds effectively than an average-sized mobile phone.
Anyone hoping to plan their daily life around the Liscio will be disappointed as it lacks any real organisational grunt, aside from a simplistic calendar, alarm and world clock. However, a hidden gem lies within the Tools folder: an app that allows short voice memos to be recorded, which is pretty handy if you don't have a pen and paper to hand.
Onyx wants £130 for the Liscio, which means you're paying for the looks and size. If it's just a basic, secondary handset you want, Nokia, Sony Ericsson, Motorola and co all have offerings priced at £30 and up. You can get two tri-band Nokias for the price of one, functionally equivalent Liscio.
But you may find it cheaper. The Liscio is the same phone Chinese manufacturer Haier put out as the Black Pearl back in 2006 and now widely available on eBay.
Verdict
Onyx's Liscio is strong on looks, weak on features, but it fulfils the role of a secondary handset fairly well. But, for the price, we'd expect a phone to deliver much better call quality than this one does.