Original URL: https://www.theregister.co.uk/2008/03/03/review_route_66_mini_regional_sat_nav/
Route 66 Mini Regional
Bargain
Posted in Science, 3rd March 2008 11:57 GMT
Review If good things do indeed come in small - and cheap - packages then Route 66 should be on to a winner with its pocket-sized Mini satnav.
At the same time 'small' could equally mean the screen is illegible, while 'cheap' could mean that when you ask it to take you to Dorking it takes you to Skegness instead.
With external dimensions of 95 x 81 x 19.5mm, a weight of 149g and a price pegged at under £100, the Mini is one of the smallest, lightest and cheapest standalone satnavs on the market.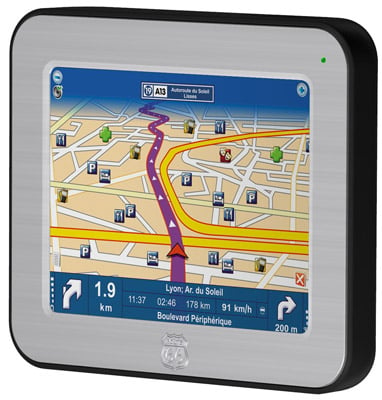 Route 66 Mini: complex junctions can be hard to fathom
Out of the box, the unit is well made and not bad looking in its silver and black livery. The solid and easy-to-use on/off switch also belies the Mini's price.
The bundled screen clamp isn't the most advanced in the world and the flexible arm needs a fair amount of effort before it actually bends. We thought it was rigid until we gave it good tug, but once set to the desired angle it works well enough and attaching/detaching the main unit is easy enough.
While bright and clear, the screen is only 3.5in in size, so using the touch keypad can be a little hit and miss. The Mini's menu structure is straightforward, but the best way to use it is often to detach it from the cradle and do your typing with it in hand - not good for on-the-move adjustments, though.
The maps, based on those developed by Route 66 for the Nokia 6110 Navigator, can best be described as functional. While they give a perfectly clear and legible picture of most road layouts, complex multi-level junctions can sometimes be just a little hard to fathom. The road you are on shows up in one colour while any upcoming changes of route show up in another - a simple but effective aid to navigation.
The Mini has an ambient light detector that lets it know when night is closing in and automatically switches the maps to a darker colour scheme. It's a nice touch and does make the maps easier on the eye during nocturnal travel.
The voice prompts, delivered in a pleasant female tone, are timely and extremely accurate. Roundabout exits, for example, are highlighted by number, so you get "on the roundabout take the fourth exit" rather than "on the roundabout turn right", while on the open road you will be told to take the "third left in 200 yards" rather than just "turn left in 200 yards".
Similarly with merger options, you're always told to either keep left or right, never to carry "straight on".

One of the smallest, lightest and cheapest standalone satnavs on the market
All told, the voice prompts are so good you could pretty much ignore the screen. Nor are they overly intrusive. One slight annoyance with the Mio C620 - reviewed here was that the voice prompt kept telling us when it was making a "route recalculation". The Mini just gets on with it and keeps quiet.
Something we didn't expect to find on a system this cheap is the excellent name search facility built into the main destination finder. Type in "Trafford Centre" and bingo, it finds it. Type in "Hope Hospital" and it finds the Hope Hospital in Salford. All too often performing this sort of search involves fiddling about with other menus when really it shouldn't. Navigation preferences can be changed between fastest or shortest journey for cars, HGVs or pedestrians.
The Mini isn't without the odd glitch, though. Every so often it would chuck a wobbly trying working out its orientation when making right turns across duel carriageways and spin the map through 360° a few times. Similarly, if we strayed into a large car park it tried frantically to place us on the closest road rather than drawing the obvious conclusion that we were not actually on the road.
Only one navigational hiccup occurred during our test: the Mini made an unnecessary diversion off, and then back onto, an A road. Actually it did this three times, then on the fourth attempt got it right. Go figure.
Other than that, in a week of use that took us to parts of Manchester we had never been to before, and frankly never wish to go to again, the Mini didn't miss a beat and led us fair and true.
One sign of the unit's modest price is an occasional delay in the system finding itself on start-up. It's nothing extreme, but on some occasions we were good mile or two down the road before the Mini got its navigational act together.
Away from core navigational tools the Mini comes with Bluetooth for hands-free phone use, and a picture viewer.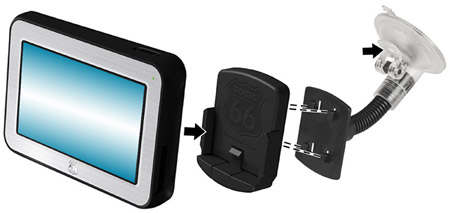 The best way to use it is often to detach it and type with it in hand
Being a budget model you don't get a whole let of extras with the Mini. The UK-only maps are stored on a 1GB SD card, so any pan-European jaunts you may have planned will involve buying more maps and copying them onto a memory card.
Maps for other countries will set you back around €50 (£38) though you can buy regional ones for €10 (£7.60). A year's worth of UK speed camera data will set you back another €10, ditto 12 months' of global weather information or a year's worth of live traffic information. Speed limit warnings do not appear to be an option.
The Mini does, however, have the locations of what seems to be a decent number of petrol stations, hotels, eateries, banks and the like pre-loaded, and you can download some free Lonely Planet guides. You can also choose between a male or female guide voice and select from half a dozen map colour schemes.
Verdict
The odd glitch aside, Route 66's Mini offers excellent value for money. The maps and mapping may not be the best around, but the voice prompts are really rather excellent and help to make it less obvious that you're using the Pound Stretcher of satnavs.