Original URL: https://www.theregister.co.uk/2008/02/29/review_armani_samsung_p520_mobile_phone/
Samsung Armani mobile phone
Brand on the run?
Posted in Personal Tech, 29th February 2008 13:02 GMT
Review Following the fashion set by LG with its Prada Phone, Samsung has become the latest mobile maker to bring together couture culture and touchscreen technology. Running up its own style-savvy Giorgio Armani number, Samsung has embraced the iconic Italian fashion house chic for this premium label handset.
Not surprisingly, the Giorgio Armani-Samsung phone has drawn plenty of comparisons with the Prada Phone and, of course, that other well-known touchscreen handset, from Apple.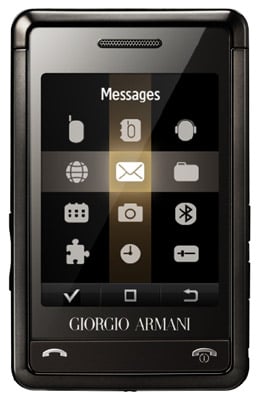 Samsung's Armani: Croix UI, but not LaCroix styling
Like the other pair, this phone doesn't include 3G technology, nor is it Wi-Fi enabled as the iPhone is. Its feature set is pitched at a mid-tier Samsung Ultra level, squeezing a three-megapixel camera into its slim aluminium and stainless steel frame and packing in music player and video functionality alongside a familiar spread of features.
The Armani phone - aka the Samsung SGH-P520 - is a slim, neat and tidy design, and with a footprint of 87.5 x 10.5 x 54.5mm and 85g weight, will slip smoothly into any pocket or purse. Based on Samsung's touch-operated Croix user interface, the phone's front is dominated by its large 2.6in, 262,144-colour, 240 x 320 display, with just tiny call and end keys popping up on the bottom of the face.
The OS is the dominant aspect of this phone - anyone trying it out will judge it on its operational ability as much as on its well-attired first impressions.
But many buyers will pick this phone for the appeal of its prominent Armani logo, its clean lines and stylish yet subtle bronze-grey finish. After all, that's what fashion's all about. And there's no mistaking the style element at play, from the luxury packaging to the leather case and cloth holders for accessories and handset. All branded, naturally.
There's more to a phone than looks, though. Fire up the Armani, and oncee you've gone through the welcome routine you're faced with the touch interface.
Tapping the screen with your finger, rather than with a nail or stylus, is the form, and the phone offers 'haptic' feedback: a slight buzz when you dab at the display. Naturally, you can set the keypad to automatically lock after a few idle seconds, or use a side-mounted Hold button.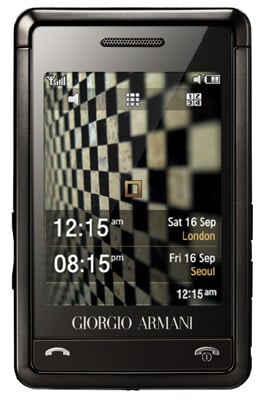 No 3G or Wi-Fi here - it's all about the branding, yah?
In standby mode, against some snazzy, striking Armani-sourced background wallpaper, you can choose to have or hide a calendar and/or a clock on the bottom portion of the screen. Neatly, a swish of the finger across will switch from one to another when it's displayed.
Three small one-touch icons toward the top of the screen represent, respectively, options for silent mode on/off, accessing the phone's main menu, and displaying the phone's virtual numberpad.
In the centre of the screen is another small but pulsing square icon. A tap of this pops up five icons representing the music player, call log, phonebook, message folder and, centrally, the main menu again.
Croix is no iPhone. It doesn't have the slickness and smooth flexibility of the Apple handset's finger-controlled flicking and zooming multi-touch screen, or its accelerometer. And with much less screen real estate to play with, your finger dabbing has to be precise or you'll find yourself staying onto unwanted keys.
Croix's simpler touch control system is based around a main menu grid of 12 icons. Vertical and horizontal lines form a moving cross, hence Croix, which converge and highlight the icon pressed.
Once tapped, you normally get into that icon's list of options. These are usually presented in a list format that will be familiar to owners of recent Samsung phones. You can tap on an option to highlight it, or double tap to select it. Tick selection and reverse-arrow back buttons at the bottom of the screen help you navigate pages.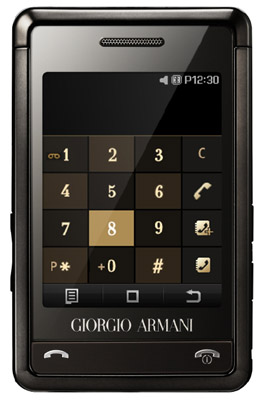 The display is home to all but the call make and end keys
Longer sub-menus require you to scroll down the page, using a scroll bar, or by flicking through the options displayed onscreen, up to four at a time, if you find that a quicker way to get around. Again, the flicking is far from the smooth speedy roller employed on the iPhone. It's not particularly responsive and you have to be careful with finger pressure to avoid accidentally selecting an option by mistake. It does take some getting used to.
At least making calls is painless. A tap on the call button pulls up recent contact numbers from incoming or outgoing calls and messages, and you have options to call, send messages and so on. You can tap to select and simply press the call button to dial.
If you're dialling a new number, a quick tap of the keypad icon on the top right of the display pulls up a virtual numberpad.
Some people have found the in-call automatic screen-lock a pain when negotiating automated call handling systems where key presses for numbered options are required. However, this is easily resolved by a quick press of the Hold key and a tap of the numberpad option. Similarly, you can switch on the loudspeaker mid-call in this way.
While some may find this multiple key-pressing an inelegant way of doing things they're familiar with one keystroke on other phones, the messaging option is more likely to put off some users.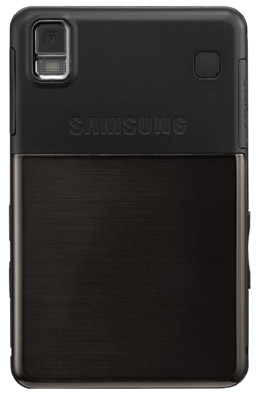 The 3Mp camera can also shoot 352 x 288 video
When creating a text message or email, you again use a virtual numberpad, this time with the usual text characters. However, as you're typing, you can only see part of your message - one line if you have predictive text on, two lines if not - not the full text. It's like using a phone screen from ten years ago.
To see the full text, you have to flick back to the left with your finger, to bring up what you've previously typed - and edit if necessary. You can save this by pressing OK, but then to add more to the text, you have to go back into the text-entry page.
This doesn't allow you to easily re-edit previous parts of the message you've saved. To do this, you have to select a bit of text or position the cursor in the message page and then go back to the text-entry page to tap in changes or additional words.
Sound complicated? It certainly is. And unnecessarily so when it should be one of the most basic of functions. Samsung knows perfectly well how to do text messaging simply, so it's a real puzzler why its touchscreen implementation has made this such a chore. You can get used to it, sure, but you can also get used to typing in mittens – but it's not a smart choice.
The Armani's other prominent features include the music player and camera. The music player is a straightforward affair. There's 60MB of user memory plus a hot-swapable Micro SD card slot in the side supporting cards up to 2GB. A 1GB card is supplied with the package.
Music is organised into the usual categories, presented as lists, and you can create your own playlists. The phone can sync with Windows Media Player 11 on your PC; you can use supplied Samsung PC Studio to organise tacks; or you can drag and drop tracks to the phone's memory card.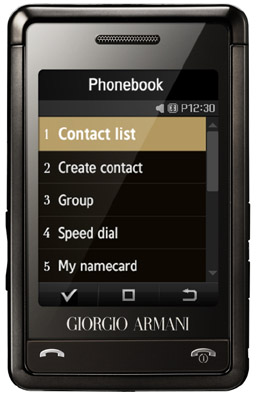 Fitted with 60MB of memory and a 1GB Micro SD card
The player UI utilises Croix for an unconventional way of controlling playback. As a song's playing, the vertical line moves across the display - you can move it to fast-forward or rewind. Moving the horizontal bar adjusts the volume.
You can also view track lists, or cover art if it's available on the top half of the display. The interface is different, but again, not as responsive as you'd like and functionally not better than standard, less eye-catching player controls.
The performance of the player, through the supplied headphones – which use a Samsung charger/headphone socket connection – is reasonably good for in-box in-ear 'phones. At higher volumes, they sounded a touch harsh, but not bad. Shame though that you can't try standard headphones as replacements, though you could opt for a stereo Bluetooth set, as A2DP is supported. You can also play through the not-very-loud-and-a-bit-tinny loudspeaker.
The 3Mp camera has an LED flash to boost low-light shooting, and a dedicated camera button for snapping at the side. Holding the phone in landscape mode, you can tap the screen to make adjustments to the automatic metering system. These are modest: you can tweak the white balance, add effects or frames, and do timed shots or multiple shooting, set ISO, quality and exposure metering.
Image quality from the fixed-focus lens is average, particularly compared to Samsung's recent high-quality cameraphones. You can get reasonably detailed shots in good light, but in lower light conditions and indoors, even with the flash, results can be disappointingly soft. Colours can be flat too, and the automatic white balance doesn't appear to respond well to changing conditions. Close-up shooting isn't recommended, as there's no macro mode to get sharp short-range shots.
Although you may want to save shots to the memory card to keep the on-board storage free, viewing and switching between high res images saved on a Micro SD card is a painfully slow process. It's quicker from the phone's memory, however, where you can browse through them with a finger swipe.
The camera takes video too. It can shoot maximum quality 352 x 288 pixel resolution footage. Quality is average mobile phone standard – so, not good.

A slim design that will slip smoothly into any pocket or purse
Other functionality found on the Armani phone includes an email client – users will have to write messages in a similar way to the texting method mentioned above – and a web browser. This can provide full web pages you can scroll around using arrow keys at the bottom of the page – although you again need to be careful about fingers straying on to the back or menu buttons beneath. There's document viewer software that can open automatically standard format files either emailed or copied over to the handset.
A small phone with touchscreen control could ask questions about battery life. Samsung says it can run for up to 220 hours on standby, or provide up to six hours of talktime. By comparison, LG quotes the Prada Phone's figures at 300 hours standby or three hours of talktime.
Real-life phone usage delivers different results to these optima. We managed on average around 2-3 days of usage between charges, with infrequent use of the music player. The voice call performance was reliable, although audio sounded a touch harsh at higher volumes.
Verdict
The attractions of palming a Giorgio Armani-branded phone will be overwhelming for some fashion-phone buyers. However, this phone can be awkward and fiddly to operate. Some of the phone's features don't feel fully integrated into the Croix UI. Sub-menu scrolling feeling rather clunky and unresponsive, and it's all too easy for distracted digits to stray to adjacent buttons when selecting some options.
In short, it has little of the elegant grace of Apple's iPhone - not what you'd expect from the house of Armani, or Samsung.