Original URL: http://www.theregister.co.uk/2008/02/28/review_canon_digital_ixus_70/
Canon Digital Ixus 70 compact camera
Minimalist masterpiece
Posted in Personal Tech, 28th February 2008 12:02 GMT
Review Apple has the iPod - Canon has the Ixus. And like Apple, Canon is continually revising and refreshing its Ixus brand. So, is the Digital Ixus 70 a case of a radical product overhaul or just the same chocolates in a different box?
First impressions are that the Ixus 70 isn't the most exciting camera to look at. It's basically a rectangular slab finished in brushed aluminium and black. Now, don't get us wrong, it's not ugly by any stretch of the imagination. Unlike some digital cameras, you wouldn't want to hide it from your friends. Its design tells you that this is a solid, reliable camera – a sort of Ford Mondeo for the camera market.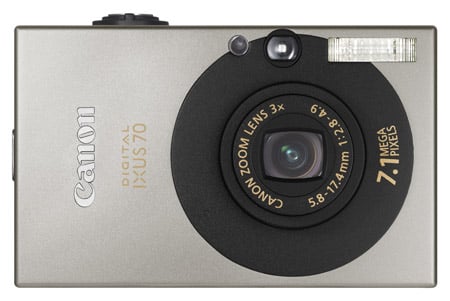 Canon's Digital Ixus 70: the Ford Mondeo of cameras?
The Ixus 70 is pretty compact (85.9 x 53.5 x 19.4mm) and light (125g), so when you're about to leave home, it's not a case of having to stuff a brick into your bag or pocket.
At the front is the lens, flash, pinhole microphone and viewfinder window, although as we'll see, the latter is somewhat limited in terms of usefulness. At the top is a power light, power switch and shutter button. At the front is a small metal tab which is used for operating the zoom.
At the side is a compartment for battery and memory card (SD/SDHC). Round the back, there's a 2.5in LCD screen comprising 230,000 pixels. Also at the rear is a speaker, a mode switch, for selecting camera, movie or playback, and the standard circular controller for setting the flash mode, ISO, macro and delete/drive/timer. A display button lets you change the... er... display mode, and there's a menu button too.
Canon has equipped the Ixus 70 with a 1/2.5in CCD with 7.1 million effective pixels, a 5.8-17.4mm (equivalent to 35-105mm in 35mm) 3x optical zoom, and a DIGIC III processor, which Canon claims reduces picture noise and extends battery life. As so often on a camera in this price range, there's face-detection technology, red-eye correction and a host of shooting modes (17 to be precise) that include portrait, foliage, snow, beach, fireworks and night snapshot.
There are so several colour effects, including colour accent, which displays just one colour while leaving everything else in black and white – think of Schindler's List and the scene featuring the girl in the red coat. Colour swap lets you change one colour for another.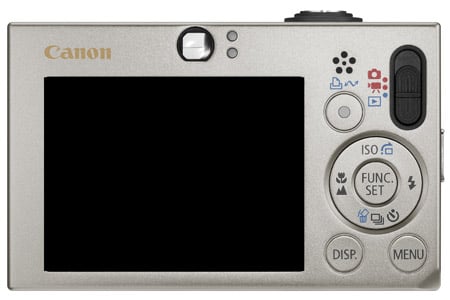 A 2.5in LCD and 17 shooting modes
Picture resolution is adjustable from 3072 x 2304 pixels down to 640 x 480 (VGA), while the movie mode records video at 30fps in VGA resolution. The shutter speed range is 15-1/500s and ISO range is 80-1600. Canon follows the common - and, in our view, regrettable - trend of putting its user manuals onto a CD-ROM in the form of a PDF file.
In fact, the Ixus 70 has two PDF guides, one basic, the other advanced. We're not quite sure why Canon has bothered to print a warning message on the front of these guides, which informs users that they can only be read with Adobe Acrobat installed on your PC...
So much for looks and features - how does this baby handle? Not bad, in fact, although if you have got large hands, you'll probably wish that the Ixus 70 was a tad larger. As with most Canon cameras, there's the fiddly zoom stub to contend with, but power-up is fast and the Ixus 70 is ready for action in a little over a second.
If you're using the flash, the camera is quite slow to react. Although it's nice to see Canon giving users the option of using a viewfinder, the one provided with the Ixus 70 is small and so not that useful. The LCD screen includes an anti-glare coating and we were impressed with the results – there were few problems when shooting in bright sunlight.
If you're looking for manual control, then give this model as a miss as manual control here essentially means selecting pre-set values, such as the ISO speed. The Function button takes you straight to the most commonly used camera features, such as white balance, image compression ratio and shooting mode.
The dedicated mode switch means there's no fiddling around with clumsy menu systems when you want to go from, say, still shooting to movie mode. It's also very easy to check your last shot by moving the switch to playback mode. We reckon few users would have problems coming to grips with the camera after just a short period of operation.
Sample shots
Sample shots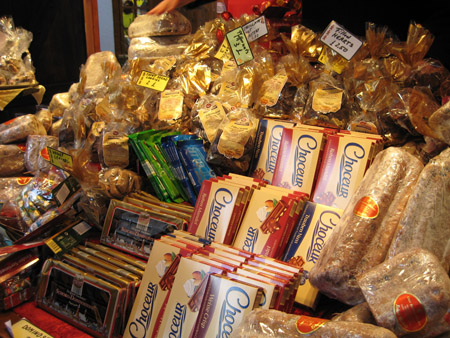 Taken at 1/60sec shutter speed, F 2.8 and ISO 80, this shows the vibrant colour reproduction
Click for full-size image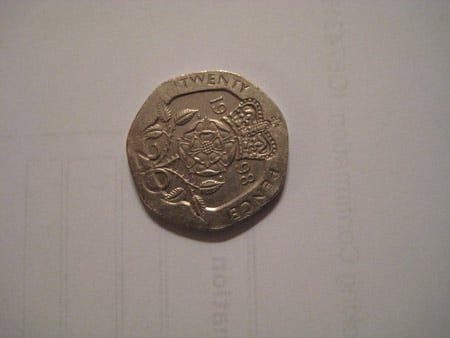 Performance was good close up. This 20p coin was shot at 1/60 sec shutter speed, F 2.8 and ISO 500
Click for full-size image
When it comes to results, the Ixus 70 is as equally impressive – although not without its flaws. First off, the face-detection system was very good and locked onto faces when we run off a series of shots in a crowded market. On the other hand, the camera suffered from poor red-eye performance and many of our flash shots needed the Ixus 70's built-in red-eye correction to sort things out.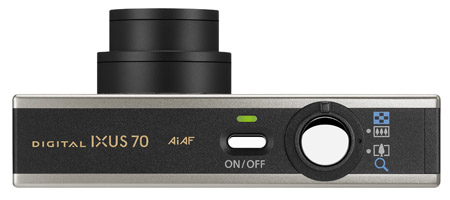 Powering up only takes a second, but the flash slows down operation time
The red-eye correction system isn't bad, although we have seen better, and you'd probably want to touch up the images with editing software for a more thorough job. On a brighter note, macro performance was good for a camera of this type and overall picture quality was a sharp as Stephen Fry's wit, although noise increases somewhat above ISO 800.
Verdict
This camera is no massive leap forward on the Ixus roadmap, and it doesn't offer a lot in terms of features or functionality. But then the Ixus 70 doesn't pretend to be anything other than a highly portable, pick-up-and shoot camera that can deliver good picture quality. Which it does.