Original URL: https://www.theregister.co.uk/2008/02/27/microsoft_ip_curriculum_look/
Can Microsoft teach tots digital-age virtue?
Conflict of counterfeit interest
Posted in The Channel, 27th February 2008 23:30 GMT
Analysis Earlier this month, word got out that Microsoft was funding its own intellectual property rights curriculum in schools.
The reaction was understandably negative.
The basis of Redmond's pitch was a small survey they sponsored where nearly half of the kids polled said they were unfamiliar with the rules and guidelines of using copyrighted media. Microsoft figured tots would be less inclined to steal someone's IP if they knew about the alleged consequences.
A lot of digital ink was used to slam Microsoft's scheme. People need Redmond telling them about IP rules like they need Pavorotti schooling them about a well-balanced diet.
But just how insidious is this particular corporate creeping into academia? Before we take a look, let's get some background.
The curriculum (which can be found here) was created by Topics Education, a firm that specializes in presenting school courses based on their clients agenda. It's currently in a testing phase, that will end in March. If the program is successful, pieces of the curriculum could show up in schools across the US.
Intellectual what?
The curriculum is broken into four parts, each using various lessons and activities that revolve around a different IP-related case study.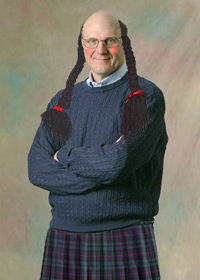 Nobody here but us school kids. Tee-hee!
Original image obtained from Microsoft.
Oh god, don't sue us!
For example, unit one is titled "Intellectual What?" Here, students are introduced to an unwitting high school sophomore who recorded a student council sponsored "battle of the bands" talent show with his camcorder.
When our student decides to sell a few tapes of the show, he's called into the vice principal's office. Because the school had organized the event as a fund raiser, they think any profits made should go towards its computer center. One of the show participants is worried her song could be stolen by a pop singer. Another is worried that Metallica will sue him for doing a cover of his song.
Who is wrong or right in the scenario is left open. After contemplating this example, students are given various activities such as a role-play discussion and an assignment to research who "owns the rights" in this case.
Topics Education "principal" Bruce Nofsinger said his organization tried to put together a curriculum that doesn't strictly push an agenda.
"Our goal has never been to come across in a punitive way, where we want people to see it in black and white terms," said Nofsinger. We wanted to embrace the gray aspect of IP rights."
Counterfeit software is bad
Nofsinger said Topics was chosen by Microsoft's advertising agency DDB in Seattle, Washington back in August. Topics has past experience creating student courses for various organizations, such as financial literacy awareness for Citigroup and Wachovia, and a classroom program revolving around Al Gore's documentary, An Inconvenient Truth.
Nofsinger said Microsoft has been a "middle of the road" client. Redmond has reviewed everything Topics has done for the curriculum, but has not been "overbearing."
"We want our curriculum to be what the clients want it to be — but with the realities of what teachers will be looking for and perceive as a benefit for their students," said Nofsinger. "Teachers will smell a crass marketing ploy from a mile away."
Some of the material, however, does carry a sting of the familiar scare tactics from Microsoft and its ilk. Here is an example of a question in Unit 2: "Rule of Law":
Counterfeit software:
a) Does not have a warranty, guarantee, or service support.
b) Violates intellectual property rights law.
c) Can contaminate your computer with a virus.
d) All of the above.
The desired answer is obvious. Perhaps it's not even necessary to point out that it's more common for viruses to be accidentally installed through perfectly legal means.
Selling civics
Topics has also made an effort to fit Microsoft's curriculum into US state standards, a keys means of appealing to America's teachers.
As Nofsinger points out, for better or worse, standards have become a driving force much of modern classroom instruction. Topics has even created a standards matrix (PDF warning) paper to illustrate how the program can be fit into a subject.
For instance, a language arts teacher may be mandated to find an activity involving students communicating their ideas beyond writing. There are various units in the IPR curriculum that have a classroom create its own multimedia presentation.
Topics also claims the course can make certain subjects more relevant to teens. While micro and macro economics may not appeal to kids — applying the subjects through an IPR screen can put economic principals in more context.
The curriculum is currently in a testing phase, which will end in March. Nofsinger said about 50 to 75 teachers are trying out a few of the lesson plans across the US, providing extensive feedback. A similar-sized group of educators are reading the material over and will weigh in at the end of testing. Topics said it wants to launch the program officially during the International Society for Technology in Education (ISTE) conference in July.
"Generally, you want to roll out an education campaign in the fall. That's when teachers are looking for this sort of thing," said Nofsinger.
Later, Topics wants to make the program more available internationally, although Nofsinger admits the finer points of intellectual property law will need major retooling based on the country it's deployed in.
With Microsoft funding the project, Topics will offer the curriculum gratis for download. The organization will also look at partnering with some teacher organizations, advertise at educational conferences, use direct mail, and rely on teachers to spread the word.
Pop quiz
A question from the IPR curriculum:
What effect does illegal music downloading have on the songwriter?
a) None, if he or she does not find out about it.
b) None. Only the record companies lose money.
c) The songwriter can suffer monetary losses.
d) I am not sure.
Supplied answer: c
Another:
Counterfeit or copied goods are a good idea when:
a) You do not have the money to buy them.
b) They are given to you as a gift.
c) Never, the risks outweigh the benefits.
d) I do not know what counterfeit goods are.
Supplied answer: c
OMG IP iz kool LOLZ
Meanwhile, Microsoft is dropping bits of curriculum onto 'tweens via the social networking site MyBytes.com. Much of the material such as "testimonial videos" were supplied by Topics, although the site has been developed and is maintained by Microsoft's publicity firm, DDB.
This side of the program in particular was ripe for criticism. To be fair, its development team was tasked with challenging marching orders to make lobbying intellectual property minutia "cool" to the saggy-panted youth of America.

Oh, bogus. Nobody likes a hard-liner.
The hope is for classrooms to use the site as an additional resource for the teachings. Here, tots can submit their own personal anecdotes about intellectual rights. It also includes a rudimentary music program for children to create beats — and then formulate their own "rules" about how it can be used.
But tots should read the fine print:
(By uploading material to MyBytes, the user is granting Microsoft and its affiliated companies and sublicensees permission to use the submission in connection with any Microsoft service including rights to: copy, distribute, transmit, publicly display, publicly perform, reproduce, edit, translate and reformat the submission; to publish the user's name in connection with the submission; and sublicense such rights to any supplier of the service.
No compensation will be paid for use of a submission.)
With the TOS in mind, just a click away are contextually humorous quotes from musicians, artists and writers who flourish under intellectual property restrictions.
"All the artist really has is the intellectual property which results from years of aesthetic struggle and dedication," wrote abstract painter Herb Jackson for the site's Viewpoints section. "If that work is to be reproduced and disseminated, it should be with the artist's control and he/she should be materially rewarded so that process can continue. It is in society's best interest to honor the intellectual wealth that artists create and sustain it."
(User license agreements notwithstanding.)
The big question
Does a program looking specifically at intellectual property rights have a place in civics education for teens?
"I'm in favor of property rights education," said Emily Berger, a fellow at the consumer rights organization, Electronic Frontier Foundation. "But I'm concerned when the education is being presented by one business, and not other organizations involved with IP rights."
That's a clear concern for many. And Microsoft is by no means subtle about their involvement. Topic's curriculum material is plastered with the Redmond copyright at the bottom of each page.
It seems a valid concern for children to learn about intellectual property rights. Without diving into the obvious, "what with the internet these days" rant, its safe to say children today are confronted with the iffy — and arguably overreaching — complexities of the law. So why does it feel like submitting to the dark side?
Why Microsoft? Isn't the strategy a bit like McDonald's pitching a school curriculum about not stealing hamburgers?
It's frustrating that we weren't able to get the story from the horse's mouth, at least. Microsoft didn't respond to multiple requests to discuss the curriculum. Does that give us a chance to scream "Eeee-vill!" accusingly?
"There are always going to be people for whom if something like this is provided by a commercial industry, they won't listen," said Nofsinger. "We have to make sure it isn't perceived as Microsoft trying to ram something down a kid's throat. But if its valuable – and its free — it can trump any ulterior motives." ®