Original URL: https://www.theregister.co.uk/2008/02/22/toshiba_camileo_pro_hd/
Toshiba rolls out HD handycam
The Oscars, here we come
Posted in Personal Tech, 22nd February 2008 13:50 GMT
Anyone who's seen Cloverfield knows that capturing life's events through a camcorder is the 'in' thing now. But while the in the movie they relied on tape-based cameras, Toshiba has unveiled an HD camcorder enabling you to capture all the action in detail.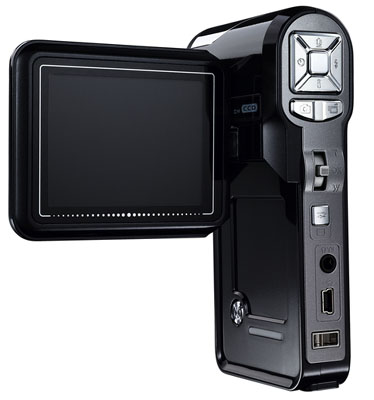 Toshiba's Camileo Pro HD camcorder has a 2.5in LCD display
The manufacturer's Camileo Pro camcorder is the flagship of the existing Camileo range and has a built-in five-megapixel CMOS sensor, able to capture video at a resolution of up to 1280 x 720 pixels. Content is encoded into H.264/MPEG 4 format and, although the integrated 128MB memory won't last you very long, there's an external memory card slot for SDHC cards of up to 32GB. A USB 2.0 port also features.
A 3x optical zoom, in addition to a 4x digital zoom, means you won't have to be right underneath the lizard/monster thing to capture it ripping the head from of The Statue of Liberty. Toshiba states that the camcorder will also capture still images of up to 11-megapixels.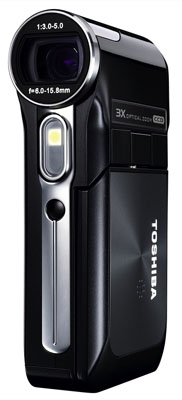 The Camileo Pro HD captures 11-megapixel still images
An HDMI port is built into the camcorder that'll allow you to display all your video-based antics on an HD TV, provided the monster hasn't reduced your apartment to rubble. If it has though, then you can watch content through the camcorder's own 2.5in LCD display.
If you're totally knackered after running around the city and videoing you and your band of brothers killing strange creatures in subways and semi-demolished buildings, then you can always use the Camileo Pro HD to play some relaxing MP3 audio files. Or, use its motion monitoring capability to film any burglars that may ransack your home, if you still have one…
Toshiba's Camileo Pro HD camcorder will be available in the UK from April, priced at £150 (€190/$300).