Original URL: https://www.theregister.co.uk/2008/02/22/review_pentax_optio_e40/
Pentax Optio E40 compact camera
This snapper needs to sharpen its teeth
Posted in Personal Tech, 22nd February 2008 12:02 GMT
Review If you're thinking of dipping your toe into the digital photography waters or simply on a tight budget, then an entry-level (aka budget) compact is a very appealing answer. The Pentax Optio E40 is one such model.
Not least because today's budget models offer a surprisingly wide array of features – and their performance can be pretty good too. The £100 Pentax Optio E40 (cheaper if you shop around) is aimed squarely at the above buyers. Even so, unless you're on the same kind of salary as a Premier Division footballer, spending £100 on a duff product is not something to be taken lightly.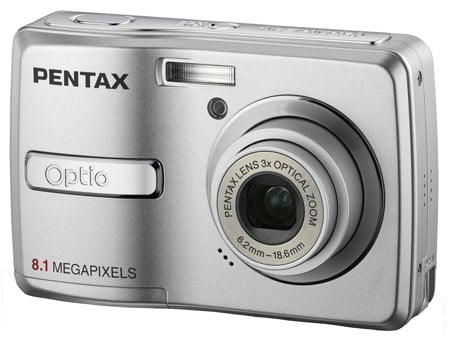 Optop E40: plastic casing yes, but it still feels well constructed
If you're buying a budget camera you have to be realistic. At this price level you're not going to get a camera with a diamond-encrusted titanium body, and indeed, the Optio E40 is largely made of plastic. That said, it's fairly tough plastic and feels reassuringly solid in your hands. And even after we had carried it around in a bag all day, it didn't get scratched.
At the front is the usual lens, flash, self-timer lamp and pin microphone. On top is a large shutter button and small power button. There's also a garish sticker extolling the features offered by the E40 – you'll want to remove this pretty quickly if you have any taste.
Around the back is an LCD screen, zoom rocker control, playback button and four-way controller that is used for selecting the self-timer, flash mode, focus mode (including a manual focus option) and shooting mode – more on this below. Underneath are a menu button and a Green (default) button, which also doubles up as a delete button.
Around the side is a mini USB PC/AV connector, which isn't covered by a flap. We rather like this arrangement as you can just plug the connecting cable straight into the camera, although the price paid is reduced dust protection. At the bottom are a tripod hole and a flap for batteries and SD/SDHC card.
The E40 is powered by two AA batteries and our sample came with two Panasonic alkalines. At this price point, you'll have to buy your own memory card, but the E40 does come with 10MB of internal memory.
It also has a 1/2.5in CCD with 8.1 effective pixels, 3x optical zoom with a focal length of 6.2mm-18.6mm (equivalent to 37.5-112.5mm in 35mm format), 2.4in LCD screen with 110,000 pixels), Face Recognition autofocus, Digital Shake Reduction (a poor person's image stabilisation that works by boosting the ISO sensitivity), various shooting modes (including, nightscene, sport, flower, landscape, panoramic and movie – up to VGA quality 30fps) and a good sprinkling of playback options that include slideshow, cropping, image rotation and red-eye compensation.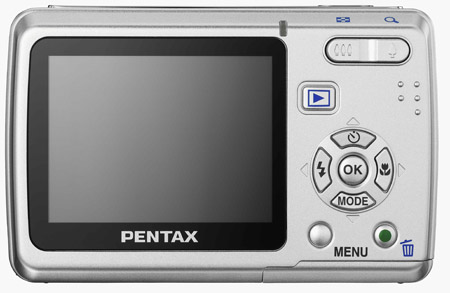 The 2.4in LCD screen isn't as clear as one would hope
The E40 takes around 4-5 seconds to power up and shutter lag isn't that great either (around a couple of seconds), plus it takes several seconds to write data to the memory card - so if you want to quickly replay your shots, you'll have a wait.
Despite being larger than your average digital compact (the E40 measures 94 x 60 x 24mm and weighs 130g without batteries) it's quite comfortable to hold. This is partly thanks to the way its body curves towards the right-hand side.
The LCD screen isn't that particularly clear, due to the relatively low pixel count. This might be a cost-saving exercise or a way of preserving battery power. Or both. Changing various shooting parameters is easy – just press the menu button and scroll down a list.
This way, you can change things such as the resolution (from 3264 x 2448 pixels to VGA), amount of compression and ISO rating (from 80 to 1000). Selecting the shooting modes is simple too, and involves choosing one from a set of cartoon icons (a brief text description is also helpfully provided).
If you get confused, press the Green button and the E40 reverts to full auto mode. Battery life is given as around 240 shots, but in practice, it's closer to 200 with a pair of alkalines.
We took our E40 off to Prague where it proved to be a pretty impressive performer – provided you kept the ISO setting low. Shots taken at ISO 80 or 160 were good, and we think most people would be fairly happy with the results, especially for a camera at this price point. But we were disappointed by the noise levels at the higher ISO rating.
Yes, this is inevitable as the more you increase the ISO setting, but the E40 was producing quite a bit of noise even at ISO 320. What's more, in auto mode, the E40 tends to select a high ISO rating (the flash often doesn't fire when taking interior shots).
Sample shots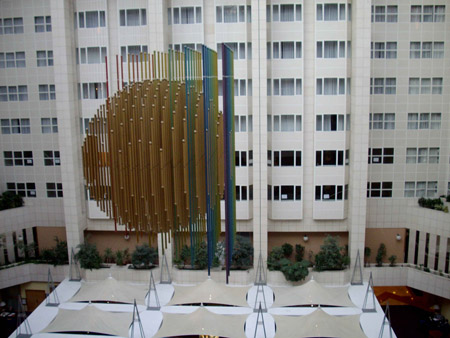 The Optio 45's focus system is pretty sharp. This was taken from a glass elevator
Click for full-size image

There's an option for stitching images together to produce a panoramic shot
Click for full-size image
On a brighter note, the 3x zoom works better than its humble size would suggest, and the macro mode wasn't bad either. We also liked the E40's panorama mode, which lets you stitch a number of shots together to produce an ultra-wide shot or trick shots. The feature isn't exactly new, but unlike some cameras we've looked at, the E40 stitches the images together internally – there's no need to use photo editing software on a PC. Nice one, Pentax.
A £100 camera is not going to offer the same performance as one costing two or three times as much, but nevertheless, it ought to offer reasonable pictures - after all, who wants a cheap camera which only produces poor images? The Optio E40 can deliver the goods, but only at low ISO settings.
Against that, you do get a pretty well specified camera and a few features you wouldn't expect to find on a model at this level. But this is a highly competitive sector and with many end-of-line bargains also to be had, we think you should have a good look at the competition before plumping for the Optio E40.
Verdict
The Optio E40 isn't bad, but, as the old school report used to say: it could do better. It's got a fair spec and a good range of features for its price, but it's let down by its somewhat variable picture quality.