Original URL: https://www.theregister.co.uk/2008/02/20/review_mio_c620/
Mio DigiWalker C620T
All-terrain armoured transport
Posted in Science, 20th February 2008 12:02 GMT
Review Every office has a luddite, even an organisation so devoted to the new and the technological as Register Hardware. There's always at least one person who clings to his or her fear and loathing of some aspect of the modern world.
For instance, whenever a new satnav system would arrive here, our very own exemplar of the breed would harrumph loudly and point out that being a bloke, having a sense of direction and a road map rendered such devices the very height of superfluity.
After months of this, we finally chucked the new Mio C620 at him, frogmarched him to his car, stole his AA Book of the Road, and told him to hit the tarmac...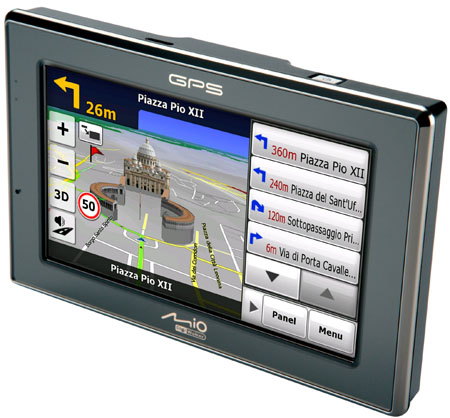 Mio's C620: Halo with bus lanes
With the market for removable standalone satnavs now fully mature - technologically, at least - each new one released needs either a price point or feature to commend it. With the C620, the feature is the 3D map view. This is not 3D as in a run-of-the-mill 2D map canted over at 45° but real 3D with raised hills, lowered valleys and towering buildings, sort of like driving through a Halo scenario but with bus lanes.
Now this could all be seen as a bit of a gimmick. After all, do you really need a satnav to tell you that you're driving along a valley or up a hill? But where this feature earns its crust is in traversing complex multi-level road junctions. By the simple use of drawing shadows beneath flyovers and bridges you are left in little doubt about the physical layout of the road ahead no matter how complex it may be.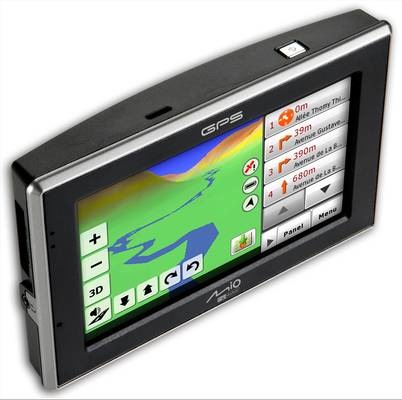 Here comes terrain again
It's simple, but remarkably effective, and helps the Mio make sense of road layouts that frankly don't make much sense even on a highly detailed A-Z map, the A57(M) Mancunian Way through central Manchester being a fine example.
Beyond the obvious benefits of representing complex road systems more clearly, we also found that the 3D representation seemed to require less driver attention than a 2D one. Presumably this is due to the fact that you are looking at a fairly literal graphic representation of what is beyond the windscreen rather than having to mentally translate a 2D image into 3D and then superimpose it on the real world.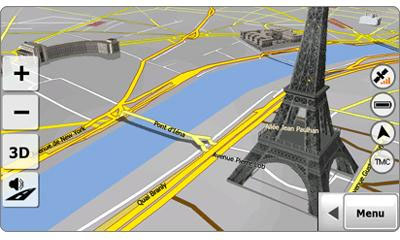 Hang a left at the Awful Tower
The 3D effects are helped by the Mio delivering very smooth animation which renders even the most aggressive and sudden change in direction as a clean and gradual flow on the screen. The C620 is also graced with a highly effective zoom function which allows you get up close and personal with the road network. This can be especially useful when navigating dense urban areas when being able to see road names clearly on the screen is all important. A simple click of a button allows you switch between 3D, 2D and a road atlas view.
When you approach a major point of interest - and Mio are taking major, so think the Houses of Parliament, Stonehenge, The Register's fortress bunker and the like - a great big 3D image of said pile appears on the map. Strangely enough, the Trafford Centre, that most vulgar monument to the British obsession with shopping, appears only as an enormous black void, suggesting the Mio can cope with spiritual and well as physical geography.
This time, this representation of buildings really is just a gimmick. The images are way out of scale, while some of the 3D renderings are a little... well, let's just say 'fanciful' and leave it at that.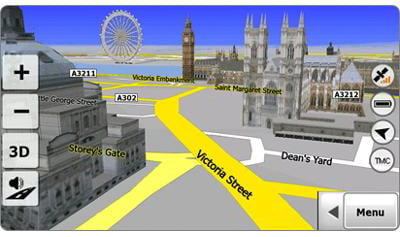 Look kids, Big Ben, Houses of Parliament
The C620's voice commands are succinct, clear and not overly intrusive, and never once left us wondering what it wanted us to do. The screen can be set to show the current speed limit while the voice prompt can be set to tell you once, but only once, if you are exceeding said restriction. The UK's shambolic road infrastructure and high levels of congestion ensure the TMC traffic warning system - free if you live in most European countries, but an extra cost option in the UK, France and Italy - earns its keep. The speed camera warnings keep your hard-earned in your pocket and out of PC Plod's.
The touchscreen is a bright, clear 4.3in affair that worked well in every lighting situation we came across from strong direct sunlight to pitch black - and we mean pitch black, the instrument cluster lights in our car packed in one night during the test. The base unit itself measures 126 x 81 x 20mm and weighs 170g allowing it to be easily slipped into a coat pocket or the smallest of glove boxes when not in use.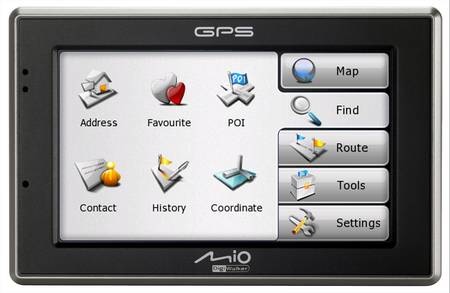 These menus are logical, Captain
Set-up could not be easier. Open box, attach sucker clamp to windscreen, plug in charger, clip on the main unit, adjust unit angle so as to reduce reflection on the windscreen and give it 30-odd seconds to find itself. Now tap in a post code and away you go. The Mio is similarly easy to use on an ongoing basis, the screen's menu structure being both straightforward and logical.
The C620 comes pre-loaded with Tele-Atlas maps for 22 Western European countries, and also has Bluetooth for hands-free calling and A2DP stereo streaming - yes, there's a built in MP3 player, along with a picture viewer and a contacts book. It comes with a year's worth of free speed camera updates via the Mio website.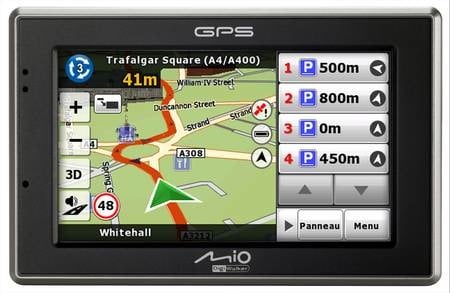 Clear even in bright sunshine
The base unit also has 2GB of memory and an SD/MMC slot. Mio claims the C620 will run for two hours on full charge, a claim we found to be almost spot on.
Verdict
We really don't have a bad word to say about the Mio C620. It's small, light, easy to use, has great 3D map imagery, near faultless voice prompts and never once got us lost. It may not beat the Tom-Tom Go 720 for absolute depth of features, but for day-to-day use we'd rather have the Mio's 3D mapping.