Original URL: https://www.theregister.co.uk/2008/02/19/ft_hd_dvd_obit/
Obituary: HD DVD 2002-2008
No flowers, please
Posted in Personal Tech, 19th February 2008 14:03 GMT
(Almost) Forgotten Tech Toshiba's decision to end its production of HD DVD players and recorders effectively marks the death of the optical disc format once touted as the natural successor to the phenomenally popular DVD.
HD DVD was born in 2002 out of the apparent unwillingness of Toshiba and a number of other DVD Forum members to back a blue-laser disc format developed by Sony and Pioneer that would that year become known as Blu-ray Disc.
Work on the precursor to Blu-ray stretches back to 2000, with the first prototype players being demo'd in public in October that year at Japan's CEATEC show. By February 2002, the physical spec had been nailed down as a 12cm disc capable of holding up to 27GB of data on a single-layer disc and 50GB on a dual-layer version.

Sony's PDD: Blu-ray in disguise
Nine companies - Sony, Philips, Samsung, LG, Thomson, Hitachi, Pioneer, Matsushita and Sharp - formed the Blu-ray Disc Association (BDA) to promote the format.
What worried Toshiba and others was Blu-ray's need for a protective disc caddy, rightly considered to a turn-off for consumers. The BDA's response was to state it would move toward a caddy-free system, but the DVD Forum decided to pursue an alternative technology, thereby declaring the format war.
The Forum's announcement came in April 2002 - by August, Toshiba and NEC announced they were working on the technology they hoped would be accepted by the Forum. In May 2003, Toshiba revealed its technology would result in discs that could be manufactured using modified DVD production lines and didn't require a caddy. If forecast a capacity of at least 36GB.


Sony's BDZ-S77 Blu-Ray video recorder
By November of that year, Toshiba's format had been selected by the DVD Forum. The previous summer Sony launched Blu-ray recording in Japan, albeit aimed at data-storage applications rather than consumer uses. It called the format Professional Disc for Data (PDD) and the $3300 recorder unit the BW-F101. It offered both recordable and rewriteable PDDs for $45 and $50, respectively. They could hold 23.3GB of information.
The BW-F101 began shipping in December 2003. Some three months later, Sony began touting second-generation, 50GB disc recorders, this time pitched at consumers and to be launched to tie in with the Olympics.
Movies, the consumer electronics giant forecast, would go on sales as BD-ROMs in Japan in Christmas 2005.
Then, in August 2004, Sony made its key strategic move of the war: it said the upcoming PlayStation 3 would incorporate Blu-ray technology. Perhaps not coincidentally, within days of that announcement, the BDA unveiled an initial draft of the Blu-ray movie disc specification, as BD-ROM 1.0. Sony became the first content producer - via its Sony Pictures Entertainment subsidiary - to say it would release films on BD.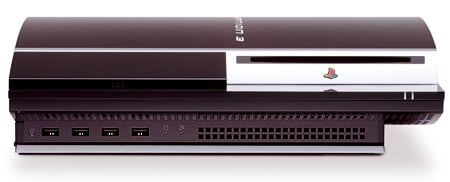 Sony's PS3: killer app?
In January 2005, Electronic Arts said it would back Blu-ray, as did Vivendi Universal - even though it's Universal Studios wing had aligned itself to HD DVD. That same month, Universal, Warner and Paramount announced HD DVD movie line-ups, due to go on sale at the end of the year. In October, Warner would reveal it would support Blu-ray too.
That month, TDK announced a special coating that would - at long last - provide the Blu-ray format with sufficient resilience not to need caddies. The problem had been the decision to place BD's first data storage layer far closer to the disc surface than was the case with DVD. That made the discs prone to data-destroying scratches - hence the caddies. TDK's Durabis coating allowed the BDA to claim its format was as scratch-proof as HD DVD.
Apple joined the BDA in March that year, but there was dissent in the Blu-ray camp the following November when long-time Blu-ray backer HP said it would promote HD DVD instead if the BDA didn't bring Microsoft's iHD interactivity technology into the spec. iHD had by then been selected as the basis for HD DVD's interactivity features, while the BDA had decided to adopt Java. HP was keen on iHD, because the technology would go on to form part of Windows Vista.
In December, the BDA said 'no' to iHD, and HP said 'no' to the BDA and joined the HD DVD camp. We bet it's feeling very silly now...
Behind the scenes, Toshiba and Sony entered into negotiations to see if there was sufficient ground for the two to merge their respective formats before launch. Toshiba initially denied claims it was talking to Sony, but both parties soon admitted they were talking. The talks proved fruitless, and it seemed there was no option now but war to the death.
That same month, the BDA said Spring 2006 would see the launch of the first Blu-ray players in the West, but in fact it was Toshiba that launched first, unveiling its first HD DVD player, the HD-XA1, in April that year. Samsung, which had already bullishly said it would have the first BD player on the market, first put the release of its BD-P1000 back a month to May, then again to June.

Toshiba's HD-A2 HD DVD player
The BDA went on to add Microsoft's VC-9 - aka VC-1 - video codec to the standard, joining MPEG 2 and MPEG4, already included in the BD-ROM 1.0 spec. The go-to-market spec was published in January 2006.

Samsung's BD-P1000
Late in April 2006, Microsoft's European console business chief, Chris Lewis, dismissed Blu-ray as another Betamax, though MS' own Xbox 360, launched in November 2005, was only fitted with a regular DVD drive.
Throughout the remainder of 2006, companies other than Samsung announced Blu-ray players, but they all came out far more expensive - often more than twice the price - than Toshiba's HD DVD players. Problems getting sufficient blue-laser diodes out of the door hit all the manufacturers hard except Toshiba and Sony - the latter because it was making its own, almost all of them going into the drives that would be incorporated into the PS3, which eventually launched in the US and Japan in November 2006.
The following month, Dell announced its XPS M1710 laptop with an optional Blu-ray drive, and Microsoft rolled out its HD DVD add-on drive for the Xbox 360 - reviewed here.
At the Consumer Electronics Show in Janaury 2007, LG unveiled a player capable of handling both HD DVD and Blu-ray movies, though only BD's interactivity features were supported. LG and Toshiba had agreed to share their optical disc patents, including HD DVD tech, in February 2006.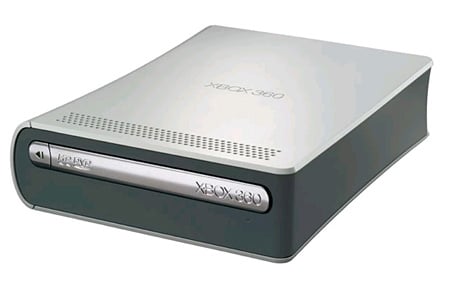 MS' Xbox 360 HD DVD add-on
Warner separately proposed binding Blu-ray and HD DVD discs together, back to back, to create Total HD discs that could be played by any machine. But with Paramount the only other studio at that time supporting both formats, Warner failed to win support for Total HD.
Samsung had been pondering a dual-format player since September 2005, but 2007 finally saw the company launch the machine, besting LG's effort by incorporating iHD as well as BD Java.

LG's Super BH100 Blu-ray/HD DVD player: one machine, two formats
2007 also saw both the Blu-ray and HD DVD camps presenting statistics that they claimed showed their respective formats were the consumers' choice. Typically, the HD DVD Promotional Group focused on numbers that showed more standalone HD DVD players were in circulation than Blu-ray players, ignoring the PS3. But it didn't ignore Sony's console when publishing the average number of discs bought by each HD player and console owner, which again cast HD DVD in the brighter light.
That may have helped persuade studios Paramount and Dreamworks Animation to focus solely on HD DVD at the expense of Blu-ray. Paramount, like Warner, had up til August 2007 supported both formats, but Warner, because of its leading market share, was the real prize, and both camps began courting it even more solicitously.

Venturer's SHD7000 HD DVD player: low cost
What mattered most, though, were sales of the PS3, which far outweighed sales of either HD DVD or Blu-ray Disc players, but were creating pull-through for BD, to the extent that software sales were tilted in favour of Blu-ray by as much as 3:1.
When Warner was first rumoured to be on the verge of going exclusively Blu-ray, while it denied it had come to a decision, it did say it was watching the Christmas sales figures closely.
Then, in January 2008, Warner declared for Blu-ray. The HD DVD Promotional Group immediately cancelled its annual CES announcement and pondered its future. HD DVD player sales slumped in the US after the Warner revelation, though they picked up some later, thanks to aggressive discounting on Toshiba's part.
In the UK, retail chain Woolworths soon said it would go Blu-ray exclusively in its stores, and on the other side of the pond, Best Buy, Netflix and Wal-Mart did the same.
If there was a way forward, Toshiba couldn't see it, and on 19 February 2008, it formally announced it was ceasing production of HD DVD players and recorders.
The HD format war was, to all intents and purposes, over.