Original URL: https://www.theregister.co.uk/2008/02/19/apple_xserve2_release/
Apple gives Xsan file system a sequel
In a world without Apple RAID hardware, one man stands agai...
Posted in The Channel, 19th February 2008 23:58 GMT
Apple is offering the first major upgrade to its Storage Area Network (SAN) file system today, while kicking its RAID storage hardware out into the cold.
Xsan2 is a Leopard Server-tailored file system that ties into several of the operating system's features. For example, iCal Server, Mail Server and Podcast Producer can use Xsan2 for accessing clustered file systems.
The upgrade also introduces MultiSAN, a function that lets users tap multiple Xsan volumes from the same workstation or server. In addition, the OS X Spotlight search feature will now perform queries across multiple SAN volumes, and Xsan2 makes it possible to use Server Assistant for setup and configuration of SAN volumes.
Three cheers for SAN volumes.
Another flaunted addition for the file system is full qualification to work with third-party RAID storage. It's a change that makes solid sense for Apple, considering the company is ditching its own line of RAID gear.
While you once found XServe RAID on Apple.com, you'll now see a statement talking up a new hardware pact with Promise Technology. Apple is reselling Promise boxes, which start at a 6TB using 4Gb/s Fibre Channel for $12,000.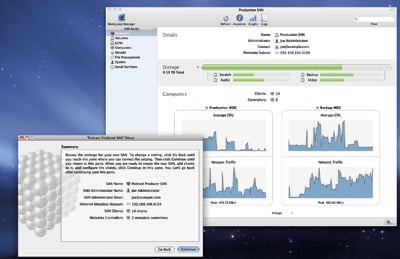 Click above for a full-sized bevel attack
Xsan2 requires Mac OS X version 10.5 or OS X Server 10.5. The software works with Xserve, Mac Pro and Apple Fibre Channel PCI-X cards.
Xsan2 is priced at $1,000 per node, according to Apple. It's out now through Apple's online store or resellers.®