Original URL: https://www.theregister.co.uk/2008/02/18/review_griffin_evolve_wireless_speakers/
Griffin Evolve wireless iPod speakers
Sound investment
Posted in Personal Tech, 18th February 2008 12:02 GMT
Review Griffin makes some pretty cool bits and bobs for the iPod and iPhone, but its crowning achievement to date has to be the new Evolve iPod dock and speaker set.
At first glance, the Evolve is nothing much more than an iPod dock - a fairly trendy looking iPod dock, but an iPod dock nonetheless. Then you pick up the speakers and notice they are completely wireless.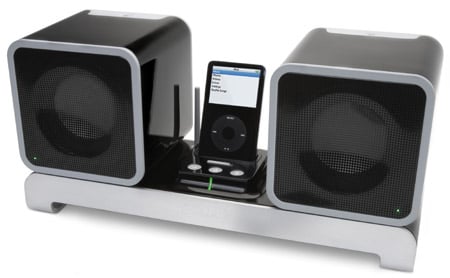 Griffin's Evolve: minimalist look and feel
The whole device subscribes to a very minimalist look and feel, right down to the simple black and grey colour scheme and the basic controls. Each speaker is has just a single button for power and two LEDs behind the grille to show charging status and which wireless channel the speaker is tuned to.
The main unit just has four controls: power, volume up, volume down and a mono/stereo switch, which is particularly useful for the times you want to take just one speaker with you.
The speakers are cubes which measure 14cm on each edge and have a handle located at the back. Personally, we'd have preferred to have the handles located on top, but that's a very minor gripe.
When away from their charging plates on the dock, the speakers will automatically shut off after an hour of inactivity. They can also be turned off and on using their own power button, but won't automatically switch back on unless docked.
Rather than muck about with complicated clips or plugs, the speakers dock with the base station through three discrete contact points on the bottom of each speaker. It's a great idea, but we'd advise users to make sure the speakers are docked properly when putting them back as we found occasionally contact wasn't made.
Given that each speaker is packing an internal lithium-ion battery that provides around ten hours of operation, and an RF receiver capable of getting a clear signal at over 40m away, they are surprisingly light, making it easy to carry them around.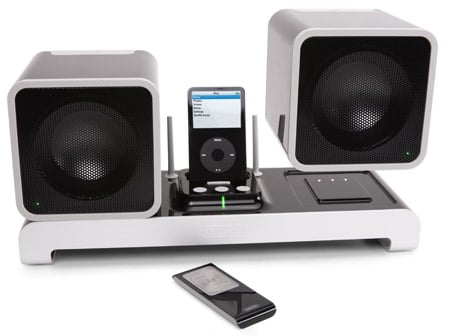 The speakers are surprisingly light
The range is impressive, and for once it seems that the boasts made on the specification sheet aren't hyperbole. While there was occasionally some distortion while moving the speakers around at range, once you put them down the sound quickly resolved into as clear a signal as you get when they're docked.
If you're a hardened audiophile then stop reading now and start looking elsewhere. Although the frequency range and clarity of the speakers are quite good, they lack of any sort of sub-woofer or tweeters, and that means that the Evolve's 12W speakers battle when listening to tracks that have a thumping bass or high-pitch sounds, particularly when the sound is turned down low. That said, for general listening, the sound quality certainly isn't bad, particularly if you enjoy music along the lines of jazz and rock.
As you might expect, the range is hampered by obstructions, but 40m is a fair distance, so unless you're trying to reach the other side of your estate through several medieval castle walls, you shouldn't have too much problem.
Fortunately, Griffin smartly used radio transmission for the remote, rather than the more traditional infrared, meaning that you can control the unit from the same distance as the speakers. Still, we challenge anyone not to point the remote in the direction of the speakers when using it.
As well an iPod dock, the Evolve has stereo RCA audio input connectors, so you can also plug in your TV, PC, hi-fi or another media player as its sound source.
Similarly, there are a pair of RCA connectors for audio out as well as composite video and s-video outputs, which work with any fifth-generation video iPods, but not with the latest iPod Classic, Nano, Touch or the iPhone.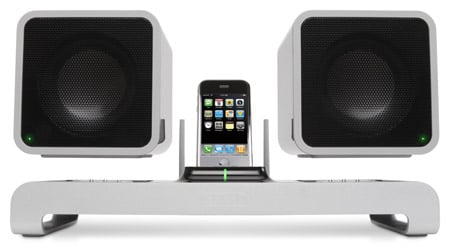 Transmit to multiple Evolve speaker sets
The pièce de résistance has to be the ability of other Evolve speakers to work with any dock, this means if any of your friends have a set of Evolve speakers they can bring them around and by touching them to the charging plate, their speakers automatically pair with your base station, allowing you to have speakers dotted all over the place playing the same music.
If you like long feature lists then there are plenty of other iPod docks around that will better suit your needs. There's no alarm clock, no CD or DVD drive, no surround sound and no graphic equaliser here. But if you can live without those, and like listening to your music all around the house but can't just turn it up so loud you can hear it from the front door to the back, then the Evolve should definitely be up for your consideration.
Unfortunately, this innovation comes at a price. The Evolve is due out in the UK in March for a wallet-cringing £250, but a quick spin around the web sees most online retail stores offering them for around £200 once stock becomes available.
Verdict
We were really impressed by Griffin's latest offering. Their versatility makes them an option for just about anyone looking to get themselves an iPod dock with speakers, or the convenience of wireless speakers with another sound source. Unless you demand a particularly impressive audio experience, the speaker quality should be good enough for most users, and although on the pricey side it may still be cheaper and definitely more convenient than buying several iPod docks and having them scattered about the house.