Original URL: https://www.theregister.co.uk/2008/02/18/eb_apple_tv_downgrade/
How to downgrade your Apple TV software
Take 2? No thanks
Posted in Personal Tech, 18th February 2008 11:16 GMT
I upgraded my Apple TV to the newly released version 2.0 software - dubbed 'Take Two' by Apple - this morning and almost immediately regretted it.
The new system software is designed to make the Apple TV even useful as a box for grabbing content online and displaying on an HD TV. If you're looking forward to Apple's movie rental service, or relish viewing Flickr pictures on a big screen as well as YouTube videos, then Take Two is worth sampling.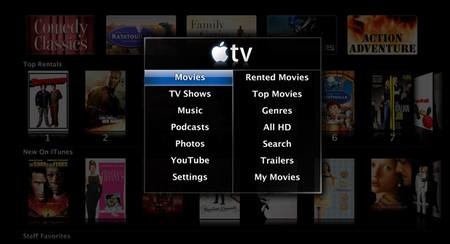 Apple TV UI: Take Two
But it's not for me. I use Apple TV as a way of viewing digital video, pics and music via my TV without having my computers turned on all the time, or a noisy NAS box humming away in the house.
It's not for everyone, but it works for me.
The first version of the Apple TV borrowed from Apple's Front Row media centre software, originally developed for the Mac. It's a good UI for selecting local content and playing it, which is exactly what I use the Apple TV for.
The new software, however, drops the old Front Row look in favour of a more iPod-like UI that brings online content to the fore and relegates your own, locally stored or iTunes-streamed music and movies to the bottom of their respective media menus.
But having 'upgraded' to Apple TV 2.0, how could I downgrade to Apple TV 1.1?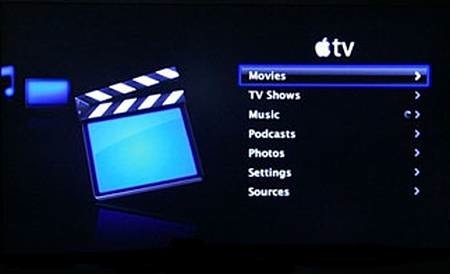 Apple TV UI: version one
By chance, I found a way. I'd inadvertently chosen to stream my iTunes library with the Apple TV rather than keep the two synchronised. This Apple forum posting claims it's possible to sync the two, but having already (inadvertently) chosen streaming, I couldn't see the options mentioned in the post.
So I did a Factory Restore on the Apple TV box, and was pleasantly surprised when the set-top box restarted that I'd unintentionally got it back to Apple TV 1.1.
This won't work with Apple TV's sold after the release of the Take Two update, presumably because the hard drive partition containing the out-of-the-factory software will have been updated too, but it's handy for folk with older Apple TVs who, like me, aren't keen on the new UI.
If you have an Apple TV bought before version 1.1 of the software was released, you'll got back to 1.0, I guess. It seems unlikely that Apple will allow you to upgrade from 1.0 to 1.1 - to get YouTube access - and may force you to go straight to 2.0, so be warned of you attempt this.
I had intended to try the Apple TV colour composite-video trick with Take Two running, but having got back to 1.1, I haven't yet re-upgraded to see if the video hack works with the new system software.
But now I know I can easily get back to 1.1, I may give it a try.