Original URL: http://www.theregister.co.uk/2008/02/15/femtocell_economics/
The death of the mobile phone tower?
Eaten by pregnant lamppost
Posted in Networks, 15th February 2008 08:02 GMT
Mobile World Congress While they sneer at people who flock to weeping statues, the British middle class may be the most superstitious people on the planet. But at least one object of their irrational fears, the mobile phone mast, may be on its way out.
That's due to the falling cost of a femtocell, a micro base station about the size of a cable modem. With the cost of a femtocell reckoned to fall to around $50 in a couple of years, the economics don't favour today's high-rise erections. Femtocells strung from lampposts have real economic advantages, especially when the site acquisition costs and lengthy planning and consultation procedures for masts are taken into account.
One established vendor reports that a mobile operator is set to deploy LTE on femtocells in preference to masts in all but rural areas.
These femtocells need backhaul, of course, and power – although Vodafone is trialling a new generation of "pregnant lampposts" that combines both. Strangely, both "pregnant lamppost" and "pregnant lampposts" are perfect Googlewhacks at the time of writing. You read it here first...
Mobile operators have found some ingenious ways of disguising the cells. Palm Tree installations are a common sight in Los Angeles, and Mike Pratt has a gallery of British and other masts here.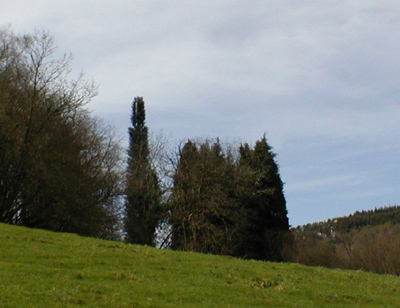 There's something odd about that tree... [credit: Mike Pratt]
Who'll buy me a femtocell?
Femtocells were the most-talked about technology of MWC 2008, and this year will see serious trials take place. O2 is an example we discussed earlier in the week. Which begs the question - "Why the %&*! would I want one?"
And while the topic deserves much more in-depth treatment, read on for why you should drive a really hard bargain.
Since what the operators are really doing is sticking a proprietary front-end onto an open network (and one that we already pay for) we ought to be demanding some really attractive deals.
The attractions of femtocells to mobile operators are obvious and many.
Femtocells help the "Bellheads" head off the "netheads", with their open IP-based networks, at the pass. If you have broadband, then you may also have Wi-Fi in your home. And if you have Wi-Fi, you're a short step from having free or low-cost calls that bypass the carrier's network using a VoIP service. It's the same rationale in the office, where WLANs are common.
However, if the carriers can persuade us to take a femtocell, they can keep us on their networks and get us transactional or subscriber services, like music and shopping, that increase their revenues.
That's fine and dandy for them, since we're already paying for the broadband and electricity, the operating costs of the last mile. So what's in it for us, apart from improved cellphone coverage?
Fortunately, the pricing and services that go with your femtocell have yet to be determined – so a lot depends on the feedback we give the operators in the next 12 months.
With Sprint's femtocell deployment in rural parts of the USA, users must pay $49.99 for the box, and are offered lower tariffs. Anecdotally, we've heard that femtocell trialists are reportedly chuffed with the improved voice quality. But that only works if your mobile coverage is sketchy and there isn't a clear competitor who can offer a better service.
But the femtocell trials suggest that users really should start to hammer the network hard on data services.
"Most people haven't noticed yet that 3G is really 2G when you're indoors. That's physics", one source told us.
For example, they start watching TV clips on handsets, which they won't do elsewhere, streaming music, or downloading MP3s. Again this is good news for both operators and handset manufacturers.
So what we get depends on where you live – and what kind of bargain you're prepared to drive. Since the gains are evidently for the suppliers, perhaps it's time to start thinking bolshy. In Europe, where coverage is generally excellent, free calls at home should be the least we settle for.
Which leaves one big question. What will "Mothers Against Masts" fret about now, as they drive their 4x4s to the recycling centre to do penance? Answers on a postcard, please.