Original URL: http://www.theregister.co.uk/2008/02/14/review_lenovo_thinkpad_t61/
Lenovo ThinkPad T61
Still a brand to be reckoned with
Posted in Personal Tech, 14th February 2008 11:18 GMT
Review When the world ends in a nuclear glow or a flood of melted icecaps, the final remaining life will be bacteria in the vents of undersea volcanoes and the last piece of technology to give up the ghost will surely be a ThinkPad.
When Lenovo took over IBM's PC and laptop division it raised a question about the future of the ThinkPad brand, so your reviewer is as pleased as punch to get his hands on his first Lenovo-made ThinkPad.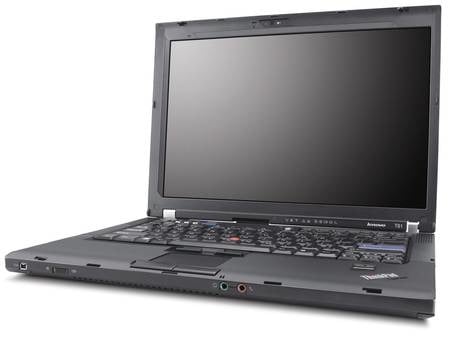 Lenovo's ThinkPad T61:
Let's start with the important stuff. The T61 looks and feels like every other ThinkPad you've ever seen with build quality that appears immaculate. It has a fabulous keyboard and provides both a TrackPoint mid-keyboard joystick and a touchpad. The result is a laptop that is slightly chunky - its dimensions are 335.5 x 237 x 27.6mm - that weighs 2.34kg ready to travel.
The T61 family is extensive and covers a range of laptops that start at £1000 and head up to £2000 depending on your choice of screen, processor, graphics and memory. Our review model was dubbed the ND219UK, and it comes with a 2GHz Core 2 Duo T7300 processor on an 800MHz frontside bus with a GM965 chipset and 1GB of 667MHz DDR 2 memory in a single module. Instead of the integrated Intel GMA graphics core Lenovo has chosen an Nvidia Quadro NVS 140M chip to power the 14.1in screen with its 1440 x 900 (WXGA) resolution.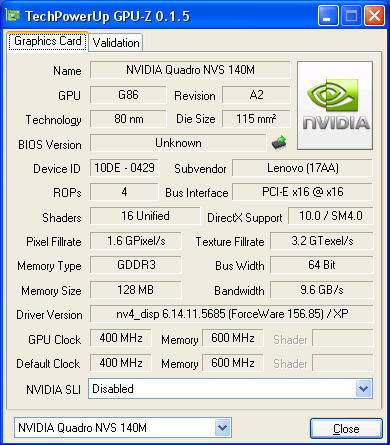 Although the Quadro NVS 140M sounds like it should be a hardcore workstation graphics chip it's actually rather feeble and has a specification that is only just adequate for the task in hand. Despite its name it's actually a mainstream business graphics chip. The maximum digital output is 1600 x 1200 with support for an analogue output of 2048 x 1536, which is presumably the reason why the T61 has a VGA port for a projector or external display but no DVI.
We used the bundled copy of InterVideo WinDVD 5 to watch a movie and found that playback was smooth but the image quality was affected by the screen as it has a very narrow viewing angle. You only have to move your head a few inches for the colours to shift to an unacceptable degree. To add to our multimedia woes the SoundMAX HD audio is let down by the speakers. There's no reason why a business laptop should play movies especially well but Lenovo has included an LG DVD-RAM drive and WinDVD software yet the results are disappointing.
Although the NVS 140M chip is a Shader Model 4 part you won't get the benefit of DirectX 10 as the operating system is Windows XP Pro and not Windows Vista. While we're not massive fans of Vista for desktop PCs it seems the better software for a laptop and it would seem to be especially suited to a ThinkPad. Lenovo has included a fingerprint reader in the T61 which links to the Trusted Platform Module (TPM) chip as part of the grandly-named Client Security Solution which is laid on top of XP. Other models in the T61 range use Vista Business Edition, which seems like a better idea as that version of Vista uses BitLocker encryption to protect your data.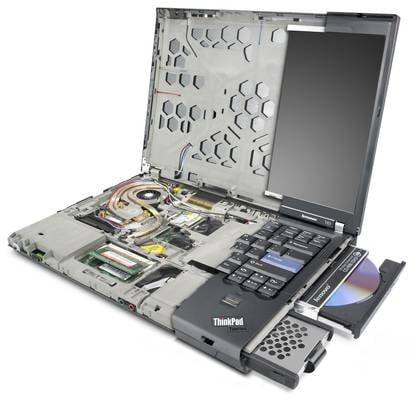 Well built?
The rest of the ThinkPad T61 package has been superbly designed and oozes quality and attention to detail. The blue ThinkVantage button above the keyboard opens up a menu of options that controls a stack of ThinkVantage utilities and settings including, yes, the ThinkLight. This is a small light that lives in the bezel above the screen that is angled down to illuminate your keyboard when the conditions are a bit dim. Nice idea, rubbish name.
On the front of the T61 there's a flick switch that disables the wireless as a handy visual check when you're about to take a flight. With the wireless switched on you can use the ThinkVantage Access Connections software to control the Intel 802.11a/b/g/n wireless and Bluetooth independently of each other, and you also have the wired options of Intel Gigabit LAN and a modem.
Other ports consist of PC Card and ExpressCard slots, three USB ports, VGA output, one mini Firewire port and a Kensington lock.
The laptop's two most interesting features are the ThinkVantage Active Protection System that protects your hard drive, and Rescue and Recovery for back-ups and file restoration. Both features centre on the Hitachi Travelstar 120GB SATA hard drive which has about 100GB of capacity once a hidden partition is taken into account.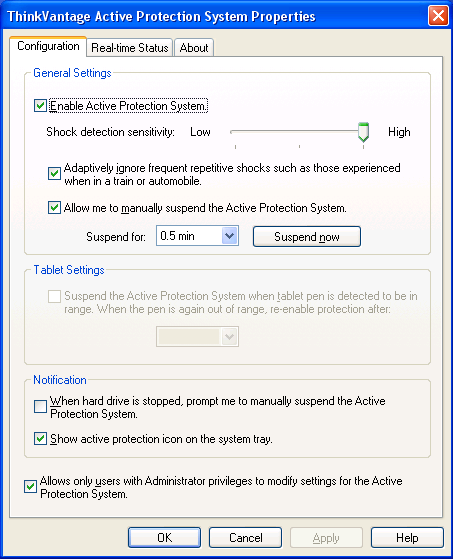 The Active Protection System monitors your hard drive and shuts it down if an imminent problem is detected. You can adjust the sensitivity of the software and tell it to ignore repetitive impulses that indicate a train or car journey. Come the time you drop your laptop or catch it a hefty blow you can hope that the system will shut your drive down to increase its chances of surviving the experience. We have to confess that our testing didn't include a dozen drop tests, just to see what would happen, although it was tempting.
Rescue and Recovery is a back-up utility that allows you to perform a schedule of full and incremental back-ups but the clever part comes when you hit a problem. When you turn the laptop on, just after POST, you can use the ThinkVantage button to call up a recovery console. Once the console is open you can select which files you wish to restore, or you can restore from a previous back-up, or you can restore the system to the original factory condition.
Specifications
OS 32-bit Windows XP Pro
CPU Intel Core 2 Duo T7300 2GHz, 800MHz FSB, 4MB L2 cache
Display 14.1in, 1440 x 900 resolution
Graphics Nvidia Quadro NVS 140M
Chipset Intel GM965 + ICH8-M
Memory 1GB DDR2-667 RAM in one module (second slot is free)
HDD Hitachi Travelstar HTS541612J9SA00 120GB SATA hard drive, 5400rpm
Optical LG GSA-U10N DVD-RAM drive
Wireless Intel 4965AGN Wi-Fi, Bluetooth
Wired Intel Gigabit LAN, ThinkPad 56Kb/s modem
Audio SoundMAX HD
Dimensions 335.5 x 237 x 27.6mm
Weight 2.34kg

Performance is good, just as you would expect from a Core 2 laptop, however the string of software icons in the system tray did rather eat into the 1GB of memory.

PCMark05 Results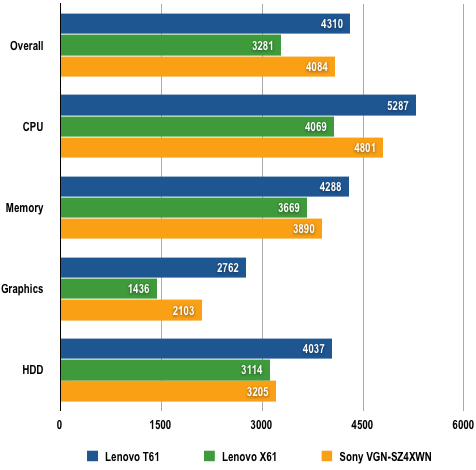 Longer bars are better
3DMark06 Results

Longer bars are better
Battery life was a touch disappointing at one hour 28 minutes of continuous use, which would equate to about three hours of regular use.
Battery Life Results

Battery life in minutes
Longer bars are better
Verdict
We like the Lenovo T61 a great deal and are happy to report that, in this instance at least, the changeover from IBM to Lenovo appears to have gone seamlessly.