Original URL: https://www.theregister.co.uk/2008/02/12/mwc_phones_handson/
Hands on with the blingest flagship phones
Haptic feedback - it's the new herpes
Posted in Personal Tech, 12th February 2008 01:55 GMT
Mobile World Congress I'm only here because of a terrible misunderstanding. When the News Editor asked if I wanted to go to "Mobile World Congress", I naturally jumped at the chance. Pictures of caravans, camping equipment and motorized Zimmer Frames swam before my eyes.
You know - really useful stuff. Some of the best design and technology goes into camping clobber these days, and as the proud owner of a JetBoil, I began to plot how I could blag some accessories.
You can imagine my disappointment when I arrived in Barcelona to discover that it's nothing of the sort. It's the bleeding phone show again: the GSM Association having rebranded the industry's annual get-together in a deceptive, new acryonym-free style, presumably to attract more "lifestyle" hacks and hackettes.
But it's phones you want to know about, so here they are. I had a go with eight of the key high-end models today, and here's my extremely prejudiced notebook. (I broke my newly acquired Nokia the other day - the smartest phone of all).
Measured by crowds and TV crews, the biggest attraction is Sony Ericsson's new Windows phone, the Xperia X1 - but I'll save that for last, because there's a lot less to this than you might imagine - and I want to tell you what the Koreans are doing in response to the iPhone, first.
You can already guess what they're doing: they're copying it like mad, but like a Kevin Keegan-coached back four, none of these pieces quite fit together, and a couple shouldn't be there at all.
Let's start with LG, which is promoting its new touch screens with the toe-curling slogan "Yousability".
The accompanying blurb promises "Complexity Lost" and asks:
Take out your mobile phone and set the alarm. How many menus did you have to dig through? How many buttons did you push?
A fair point, and a dig at all its rivals, particularly Nokia, with its knotty and labyrinthine S60 user interface. But then in the very next paragraph, you read this bit:
The LG-KF700 is a gadgetphile's dream, using three input methods, each assigned to the tasks at which it is most efficient.
Uh oh! ... and you know you're in for disappointment.
This is the KF-700 and the three input methods are... a large touchscreen with haptic feedback, an alphanumeric keypad and ... a scroll wheel.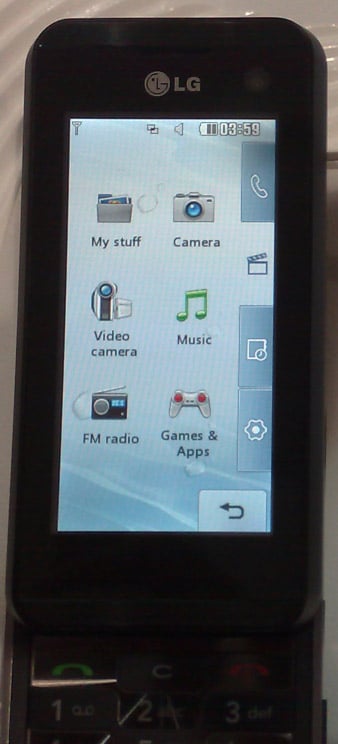 The touchscreen gives you haptic feedback – a little buzz – when you click a control. But it also gives you a little buzz even if you don't activate a control, and just click on some dead space on the screen. So it just buzzes for the hell of it, whenever you touch it. Somebody must have thought that's cute.
I tried creating a text message, only to find that there wasn't a button for "insert contact" or "go to address book". When you use the alphanumeric keypad, it just enters numbers. Similarly, you can't use the wheel to scroll through the UI controls, like you could on a Sony Ericsson P800/P900/P910. So much of the time the wheel is "deactivated". These three UI methods just parts don't fit together.

Onto LG's great rival Samsung, to see how they were fighting the iPhone.
The Ultra III series U900 "Soul", announced last week, was on display here. It turns out to be a nicely made, but utterly unremarkable slider phone with decent sound from Bang and Olufson, and incredibly, a built-in turntable from Linn Sondek.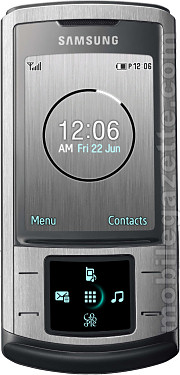 I made the bit up about the turntable, obviously – but you've got to wonder about hi-fi companies whoring out their brands to phone manufacturers. They should remember what's happened to the Monopoly board game. Hasbro, the franchise owner, decided it could exploit local chauvinism by producing editions for places like Kettering and Sutton Coldfield, all plastered with adverts for Mike's Carburettor Center and Mr Patel's corner shop. You just don't want to play Monopoly anymore.
The "Soul" gimmick is that touch pad in the middle there is context-sensitive, so the icons change according to how you're using it. I found it fiddly to use, it's too big for what it offers, and the viewing angle is poor.
(The real Samsung iPhone knock-off is the F480, described here.)
Onto the big guns, then.
Of Nokia's two high-end models, the N96 and N78, I was more impressed by the latter. The N96 takes the sharp edges off its predecessor, the N95, and slims it down considerably, while chucking in a DVB-H tuner.
Given its high price tag, the N78 is likely to have more mass appeal – it's the successor to the N70 and N73 models, but gains Wi-Fi and GPS and an "iTrip"-like FM transmitter.
Nokia were very coy when asked if there were any restrictions on "crossplaying" songs to a nearby phone; but in theory there shouldn't be any – that's the whole point.
(We thought of this years ago, but the manufacturers have yet to catch up).
There isn't anything ground-breaking here, and no show-stoppers. But there are some incremental benefits from integrating these technologies, perhaps. One or two tedious things could get easier. Now that mainstream phones are getting GPS, or geographical location data from the cell towers, this could be put to some use.
For example, when you're sent a map with directions, you don't really want to type the address into Google Maps. The N78 embeds that location into a photo, so you can find a map of where it was taken right off a menu. I can see that being useful. Maybe we'll finally start to see a use for MMS?
Needless to say, there was no improvement on the S60 user interface front - just a couple of gimmicks: the menu "fades" into the standby screen, and the "multimedia" key now invokes a screen that looks like my desk, a jumble of unrelated items piled several high, slightly overlapping. Nothing's readable and it all looks in imminent danger of toppling over.
And believe me, you'll never find anything there. Such is progress for the S60 team.
Over to Motorola, where its Z10 was officially on show.

This is the successor to last year's Z8 "kick slider", or banana phone. It has a few cosmetic usability improvements over the Z8, but these are deceptive – it's completely reworked inside, and really goes like the clappers.
The Z10 can take 10 camera snaps in three seconds, while scaling down and displaying the thumbnails as it goes. This was down to multiprocessing – but what or how (since Symbian doesn't officially support multiple application processor cores yet) is a mystery.
Also impressive was the mini iMovie software, which is well thought out and makes splicing and adding transitions very easy. Perfect for those tender moments that "social media" enthusiasts love to share.
Hazing will never be the same again.
Finally, Sony Ericsson, with its Windows Mobile phone. Designed in San Diego, with help from HTC, this adds an overlay to the standard Windows Mobile UI, which everyone is doing now. It looks and feels much more expensive than the TynTyns, but my hands-on with this was cut short after a few seconds. Switch applications and rotate the device 90 degrees, and panic ensues – "it'll crash!" was the official word.
There's plenty of time to fix this, as it's a 2H 2008 product. Sony Ericsson told us it was designed so the company could crack the US market – so Windows was unavoidable. There's no plan to make a CDMA version.
(More in our interview with SE's CTO tomorrow).
Much more significant, I thought, were SE's other new models, including two new Symbian phones. Check out these two: G900 looks indistinguishable from SE's feature phone range. They've got discreet touch-screens and a stylus so discreet it's hard to spot.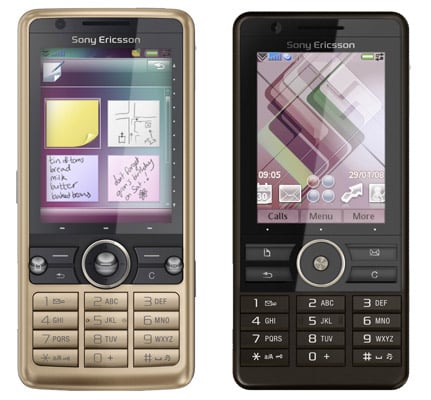 Smartphones, but you'd never guess: G700 and G900
It's been a long haul – it's four years since we were shown UIQ on a rocky boat in Cannes; more recently, UIQ was acquired by Sony Ericsson and is now fully spun out in a joint venture with Motorola.
Sony Ericsson has enhanced the UI with panels over the standby icons, which actually give useful information still doesn't tell you who has just texted you – or what the message says) – and the performance is excellent, on a par with the feature phones today.
The understated launch shouldn't detract from their possible impact. By preserving UI consistency with SEMC, the feature phone platform, Sony Ericsson has a huge advantage over Nokia, whose S60 sprouts ever more menus and options. Yet still doesn't tell you who has just texted you, or what the message says. It's time for the Finns to give the UI a radical overhaul. The disappointment when people see the hardware design of a new Nokia – then notice that it's running S60 inside - is quite palpable.
And although the W980 too was eclipsed by today's Xperia announcement, I can see it becoming a plausible music phone. It's a folder design that's as fat as an N80, with a touchscreen on the front, and 8GB inside. The sound is great, and it too has an FM transmitter built-in. But I noticed it smudged easily and the lack of a standard 3.5inch jack will limit the appeal. Then again, shake control and in particular, the excellent integration with Shazam's "What's that song?" look-up service haven't dimmed the appeal of the Walkman phones one bit. Sony Ericsson still seems to have the edge over the others in battery life, too.
And the W980 has got haptic feedback – the new herpes. ®
Bootnote
We'll be unveiling the winner of the prestigious Golden Goldfish Award - given to the World's Worst Unboxing Video - later this week.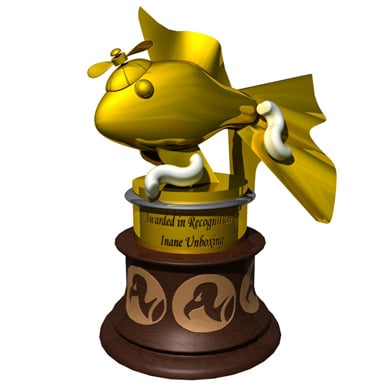 Barcelona holds its breath: The Golden Goldfish
So if you fancy a prize, just trawl the web for some truly awful User Generated Content that fits the bill, and was created before January 18. Points are awarded for Unboxings with really epic soundtracks. Hurry!
Mobile World Congress 2008 Complete Coverage here