Original URL: https://www.theregister.co.uk/2008/02/11/review_novatel_mc950d/
Novatel Wireless Ovation MC950D USB HSUPA modem
Mobile broadband in stick form
Posted in Networks, 11th February 2008 11:02 GMT
Review Novatel Wireless pitches the Ovation MC950D as the world's smallest USB modem capable not only of making 7.2Mb/s HSDPA connections but also that 3G speed-boost technology's upload equivalent, HSUPA.
The unit itself is a shiny black USB dongle a little larger than a USB Flash drive. Remove the obligatory end-cap and you not only expose the USB connector but you also reveal the SIM slot. You can slip the Ovation straight into a free USB port if there's room - Novatel Wireless includes a USB extension cable in case there isn't. It also bundles a wee holder to allow you to clip the modem to the top of your laptop's screen.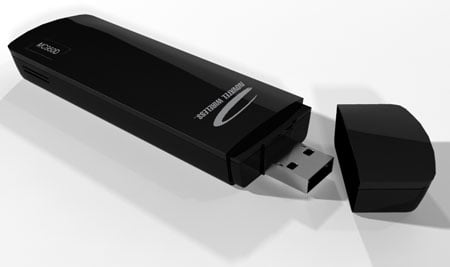 Novatel Wireless' Ovation MC950D: easy HSDPA connectivity
The presence of the screen clip suggests you may need to move the Ovation around to get the best reception. And, we'd add, to help with cooling - the Ovation gets darned hot. Incidentally, the USB cable is double-headed, to draw all the power the Ovation needs when it's connected to a USB 1.1-only machine.
The MC950D can connect on three HDSPA bands: 850MHz, 1900MHz and 2100MHz. If it needs to drop back to Edge or GPRS, it supports the quad-band frequencies of 850MHz, 900MHz, 1800MHz and 1900MHz. So it's got all your cellular connectivity options taped, unless you really feel the need to dial up over a GSM voice connection.
We tried the Ovation out first on a MacBook Pro running Mac OS X 10.4.11 and then on a Windows XP SP2 machine - an Eee PC, to be precise. Novatel Wireless supplies drivers for the Mac on an accompanying CD, but the PC-oriented software auto-runs off the modem itself. So far the Mac drivers only go up to Tiger, though they apparently will run under Leopard, albeit with some issues (PDF).
Installing the drivers is straightforward, and we were up and running in moments, connecting initially to Vodafone's 3G network. There's a single, small panel on the face of the Ovation that lights up in different colours to tell you what technology you're able to connect with - green for GPRS, yellow for HSDPA, mid-blue for HSUPA and so on. It's a nice idea, but the colour-blind might have a job separating one colour from another, and the rest of may not fare much better because some of the colours are quite similar. All HSDPA links are yellow, so there's no simple way to see from the modem whether you're connecting at 1.8Mb/s, 3.6Mb/s or 7.2Mb/s.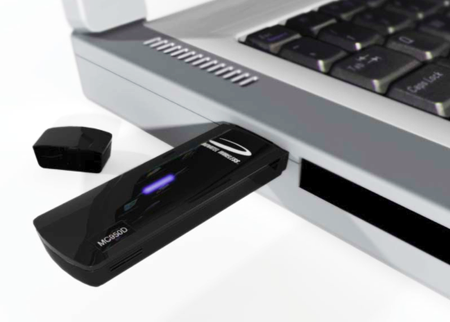 Ready for the ExpressCard-less
The Ovation takes a few moments to run through the list of the available network connection technologies. We did a quick and dirty test: we timed how long it took to get connected from the moment we plugged the unit into an Eee PC's USB port. To be connected to the Vodafone HSDPA network took about 26 seconds. Compare that to the 48 seconds it took with Vodafone's own USB Modem 7.2 - reviewed here. We also tried the Ovation on T-Mobile's network. Connection from scratch took 33s.
Novatel Wireless' drivers tie into Mac OS X's own Networks preferences pane and Internet Connect utility, so there's no readout of download bandwidth. The Mobilink Lite software for Windows does, and more besides, including data transfer counters and a utility for sending and receiving text messages.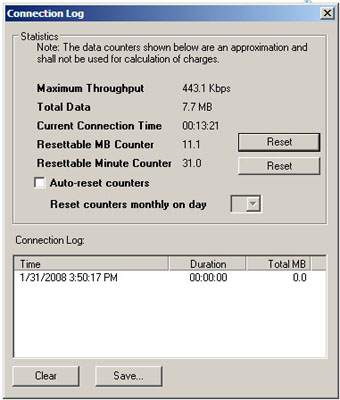 The MC950D's software is basic but usable
Vodafone's HSDPA network is supposed to be running at 7.2Mb/s in certain areas, including around Vulture Central's London eyrie. The Ovation certainly indicated we were in an HSDPA zone, but we were unable to measure a download speed anywhere near 7.2Mb/s.
Downloading a 7MB music file took 55.4s, an average data transfer rate of 1.01Mb/s, though Novatel's software displayed a maximum speed of 1.73Mb/s. At other times, we saw peak speeds of 1.9Mb/s. Even Vodafone admits you'll only get "typical" speeds of 1.7-5.5Mb/s, so we were just inside that range. The speed you experience depends so much on your proximity to the base-station and how many other people are sharing the overall bandwidth.
Pinging Register Hardware half a dozen times yielded an average latency of 295.3ms.
Vodafone also offers 2.1Mb/s HSUPA upload-boosting technology in its 7.2Mb/s HSDPA zones. Curiously, the Ovation didn't register this when we first plugged it in, in mid-January, around the time we were testing Vodafone's USB Modem 7.2. Now it's early February and the MC950D is emitting a cyan light, indicating that HSUPA has now been enabled on Vodafone.
We got an average upload speed of 209Kb/s - again, well short of the promised perfect-world maximum of 2.1Mb/s.

Compact
We'd also point out that Vodafone's connection compresses web-page graphics, with the result that the picture quality drops considerably. We weren't keen on it, but some Register Hardware readers - if the comments on our Vodafone USB Modem 7.2 review are anything to go by - prefer if because it means less data's crossing the network. T-mobile does this too, but the compressions less noticeable.
Switching to T-mobile's HSDPA service, in both north and central London, we got an average speed of around 336.4Kb/s when downloading the music file, peaking at 419.6Kb/s, according to Novatel's software. Pinging Register Hardware half a dozen times yielded an average latency of 594ms.
But it's easy to be distracted by raw numbers like these. While HSDPA might not be the best technology for bulk downloading and gaming - the latency's not up to snuff - it is eminently usable as a general internet connectivity system. We found browsing, email checking and Skype on a par with the experience we get from a good public Wi-Fi hotspot.
Judging the Ovation on it's own merits, rather than a given network's performance, we're impressed. Network-permitting, there's headroom for a decent broadband experience, and as carriers roll out HSDPA at 7.2Mb/s and HSUPA support too, it'll allow you to take advantage. Under Windows XP, Novatel's software lacks elegance, but it works, and its Mac OS X support is good too. Novatel apparently also offers Linux drivers for those who favour the open source OS.
Crucially, the Ovation is compact, so it's easy to take with you and stow when it's not needed. We prefer an ExpressCard product - reviewed here just because it means you (generally) can leave the adaptor in place when you stow your laptop in a bag. But if you have no ExpressCard slot or a free PC Card bay – Novatel's ExpressCards come with a suitable adaptor – the USB alternative is no less capable. And it's the only choice if you want to connect a desktop to a HSDPA network.
The MC950D will set you back around £200, which isn't a bad price to pay for an SIM-free device that allows you to select whatever network is offering the best data deal at a given time.
Verdict
Yes, network-specific devices are cheaper, but if you want the flexibility of being able to switch HSDPA connectivity provides, you have have to pay for the privilege. The Ovation MC950D delivers that flexibility while providing decent performance and enough headroom for the fastest of today's HSDPA and tomorrow's HSUPA networks.