Original URL: https://www.theregister.co.uk/2008/02/08/review_baylis_eco_media_player_ep_mx71/
Baylis Eco EP-MX71 hand-cranked media player
It's green and groovy - and that's no wind-up
Posted in Personal Tech, 8th February 2008 14:57 GMT
Review Trevor Baylis, he of wind-up radio fame, now has a range of hand-cranked products, including this, the world's first wind-up multimedia player. It comes down to whether you're concerned by green issues - and you should be, unless you plan to move to another planet any time soon.
First seen in August last year, the Baylis Eco Media Player looks to combine the very latest technology with good old-fashioned elbow grease in an eco-friendly package. No one is going to argue that this player is the sleekest most sophisticated model on the market. However, if cutting down your carbon footprint is important to you, not to mention the environmental impact of a product once it has reached the end of its life, this product is a real boon.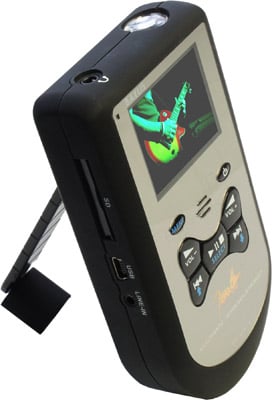 Eco EP-MX71: start a trend... and get green
It actually delivers far more on the functionality side than you might expect. Because of its internal winding mechanism, the unit is a little bulky when compared to most MP3 players. However, it isn't so big as to be cumbersome, and the rubber coating gives it a nice feel in the palm. Currently, the product comes in 2GB version, although the company hopes to introduce 4GB and 8GB versions in due course.
Not the largest capacity out there of course, but there is an SD card slot so this boosts available memory capacity considerably. Once the unit has been fully charged - the manufacturer recommends an 8-10 hour charge by USB initially - the unit can be completely independent via its crank handle. One minute of winding gives around 20 minutes of music playback and ten minutes of video.
Of course, this depends on the volume of what you are playing, but we found the figures to be about right. Apart from the green side of things, the independent power supply was a real bonus for the more forgetful among the Register Hardware team, who often forget to keep their players topped up. There 's surely nothing more annoying that being on a long flight or train journey stuck next to someone who just won't shut-up and finding the solace of retreating into some music denied by a flat battery.
File loading is really straightforward. The machine just appears as an external hard drive on the desktop and files are dragged and dropped in. The machine is compatible with MP3, WMA, WAV and Ogg formats. In playback, the machine performs really well, thanks to its 24-bit digital audio processor. The sound is warmer and more natural than many other players, and a really nice function is that when play is stopped or resumed the sound fades back in gently rather than rushing back all at once.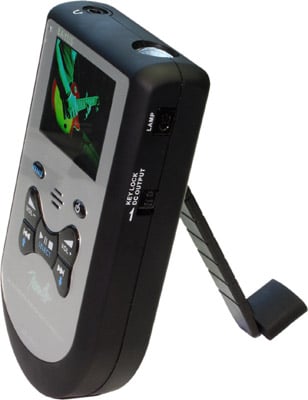 The rubber coating gives it a nice rooted feel in the palm
There are several EQ settings available to adjust the sound, but we found these didn't make enough of a difference to really worry about. Just leave the player on the Rock setting and enjoy its considerable playback quality. The menu system is uncomplicated and has a slightly clunky look, but switch it to Expert mode and things improve considerably, thanks to an attractive and information packed display. There's also an FM radio on board which can search for stations automatically and store them as presets.
The unit uses its own headphones as an aerial and the performance here is one on the best we've witnessed for a while. Stations are easy to find and the sound quality is very high. The headphones themselves deliver better-than-average sound quality and are certainly more comfortable than many supplied headphones.
However, things get a little more complicated when you move up to video. Any files that are to be loaded onto the player must first be converted to the AMV format using the software supplied with the machine.
Although it's a bit of a pain, conversion is pretty straightforward. The software supports conversion from AVI, WMV, MPEG 1 and 2, Real Player, Quick Time and Flash sources. The converter will run on PC running Windows 98 or better, with DirectX 9.0 or above installed too.
Playback quality on the 1.8in LCD screen isn't the sharpest we've seen, but is fine for most content. You can display JPEG, GIF and BMP pictures too, but it's a good idea to scale them down first, to speed transfer and to ensure you don't fill your 2GB of storage all at once.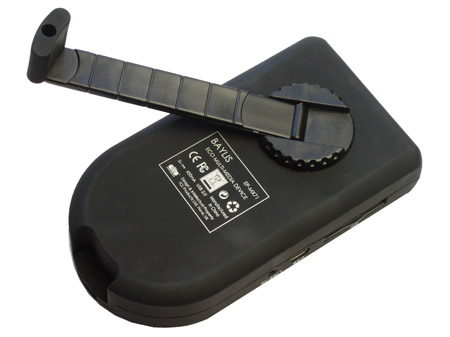 It can even be used as a phone charger
This player would be worth consideration if these features were all it could offer. However, the Baylis has another trick up its sleeve that's a real surprise. If we go back into the mists of time, before hoodies, Labour governments starting wars and extremely baggie trousers, people used to listen to music on things called 'records' or even the more space age 'stereo cassette'.
A quick straw poll around the Register Hardware office discovered that quite a few people still have these ancient forms of communication in their possession. That's good news for the Eco player because it can record analogue sources and convert them to MP3. The theory is simple enough. Connect the 'line out' connection from a cassette player or turntable to the 'line in' on the player, and use the on-screen menu to begin and cease recording.
We found that getting this right took a little practice - tasks like setting the output level of the source, for example - but performance was good enough to warrant the feature's inclusion. The digitisation rate can be set to 192Kb/s, 128Kb/s or 64Kb/s.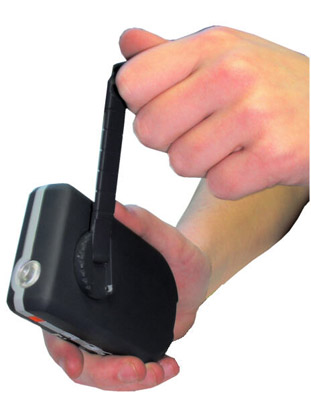 There is also a handy little torch mounted on the front of the player
There are a few issues. The electrical output from some turntables may not be compatible with the player, in which case you have to get all clever by bringing a pre-amp into play, but the function is still worth having.
The player also comes with a really good standard of accessories. The USB cable has a really neat 'reel' which automatically retracts any spare cable during connection to a computer so there's no spaghetti to get tangled up in.
As the unit can also be used as a phone charger, there are also a range of converters bundled to make the machine compatible with most phones. There's even a handy little torch mounted on the front of the player.
Verdict
From a technical point of view this machine is a considerable achievement and marks another milestone in the development of kinetically powered products. Of course it will appeal strongly to those with green issues high on their agenda, so little Jeremy or Jilly may finally get that player they has been craving instead of another jumper knitted out of bee spit this Christmas. However, it would be a shame if the player's appeal was limited to just this market.