Original URL: https://www.theregister.co.uk/2008/02/07/motorola_rokr_e8_oscars/
Oscar nominees win ROKR E8 first refusal
Hollywood glam meets handset beauty
Posted in Personal Tech, 7th February 2008 12:32 GMT
If you see someone ordinary carrying Motorola's upcoming ROKR E8 handset later this month, then call the police, because they've probably mugged a superstar. Motorola's planning to award ROKR E8 handsets to Oscar nominees, before letting the huddled masses know when the phone goes on sale.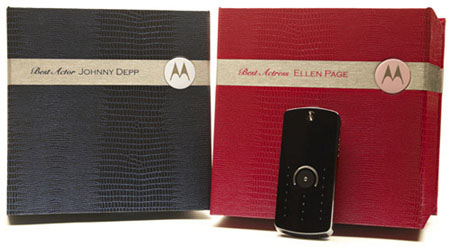 Motorola's ROKR E8 Oscar boxes
The ROKR E8, which was showcased at CES in Las Vegas last month, has been beautifully boxed-up for Oscar award hopefuls, such as Sweeny Todd star Johnny Depp and Juno beauty Ellen Page. So she obviously wasn't satisfied with a hamburger phone...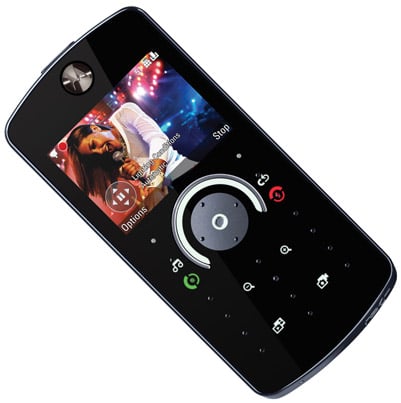 By Oscar nominantion only
Motorola's ROKR E8 is a quad-band GSM/GPRS/Edge handset, with a 2in display and 2GB of internal memory. There's also a memory card slot, allowing Oscar nominees to capture the event's glitz through the phone's two-megapixel camera.
If they aren't satisfied with the after-party music, then they can just plug themselves into their ROKR E8 and listen to music in several formats, such as MP3 and AAC. The boxes, which are colour-coded as black for the blokes and red for the ladies, also contain Motorola's S9-HD Bluetooth headset.
The Oscars take place on 24 February, but the ROKR E8 isn't expected to hit European stores until some point during the first quarter of this year.