Original URL: https://www.theregister.co.uk/2008/02/07/4gamers_wii_speaker_system/
Add-on maker punts Wii-styled speaker set
Console gets suitably styled speaker system
Posted in Personal Tech, 7th February 2008 11:31 GMT
Console peripherals specialist 4Gamers has created a speaker system for the Wii.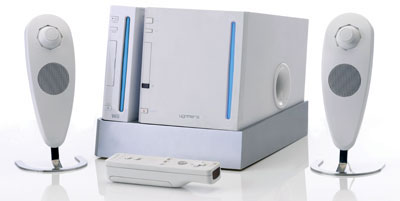 4Gamers' Wii speaker system
The manufacturer claims its 2.1-channel sound system is officially licensed by Nintendo, and a very sleek design it is too. The sub-woofer looks like a fat Wii, with a vertical blue strip down one side to mimic the blue light around the console's disc slot.
4Gamers claimed the sub-woofer, which sits in a specially designed tray that also accommodates the console, offers deep and responsive bass. Well, it would say that, wouldn't it? We can say that you'll get a combined 30W of sound when you combine it with the two satellite speakers. Each is modelled on the Wii's Nunchuck controller.
The speakers are magnetically shielded, meaning they won't interfere with your CRT TV. While all of the speaker system's functions, such as treble, bass and 3D audio, can be controlled through a supplied remote control which looks just like the Wii's Remote. So don't wave the wrong one around during a major Wii Tennis tournament, OK?
4Gamers' Wii speaker system is available now for £70 (€105/140).