Original URL: https://www.theregister.co.uk/2008/02/06/softbank_diamond_handset/
The handset that's more diamond than phone
Takes bling to a new level
Posted in Personal Tech, 6th February 2008 10:16 GMT
If you're hoping to save a few bucks on this year's Valentine's Day gift, then make sure your missus doesn't find out about the latest gem-encrusted handset from Japanese carrier Softbank and breakfast-friendly jeweller Tiffany & Co.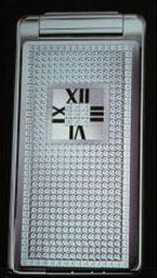 Softbank's handset has 400 diamonds stuck on
With a jaw-dropping price tag of ¥10,000,000 (£47,650/€63,800/$94,000), the handset is decorated with 400 diamonds, totalling over 20 carats. It's part of a Softbank's latest range of luxury phones, which extends to 15 new models for the wealthy elite.
Little else is known about the handset yet, which puts the looks of some Vertu phones to shame. But it's bound to go well with Motorola's diamond-cut MotoPure H12 Bluetooth headset. However, if your partner's more of a PC geek, then you could always opt for a platinum or gold diamond-dipped PC.
Softbank also worked with Sharp to design the "Premium Texture" handset, which allows users to choose their own faceplate, although we'd hardly call that luxury.
No doubt the Beckhams' assistants have already pre-ordered two of Softbank's diamond-encrusted handsets on behalf of the loved-up couple. If you've got the cash to spare, then the handset's available now in Japan.