Original URL: http://www.theregister.co.uk/2008/02/05/review_intel_skulltrail/
Intel Skulltrail high-end gaming system
Intel's showcase gets Nvidia SLI and AMD CrossFire
Posted in The Channel, 5th February 2008 12:02 GMT
Review Intel's old V8 gaming system used a chipset to support a pair of quad-core processors and a single PCI Express graphics card. Now the chip giant has added support for multiple graphics cards. The result: a new gaming board, Skulltrail.
Both V8 and Skulltrail use workstation motherboards that can take two quad-core Xeon processors. In the case of V8, it's an S5000XVN, while Skulltrail uses the new D5400XS board, but it's clear that the use of Xeon processors and FB-DIMM memory make these hardcore workstation products. Intel has added a sprinkling of marketing pixie dust to try and present these platforms as the "ultimate desktop system for PC enthusiasts", which covers "gaming, games developers and professional media creation". In fact, they're showcases for Intel's technology.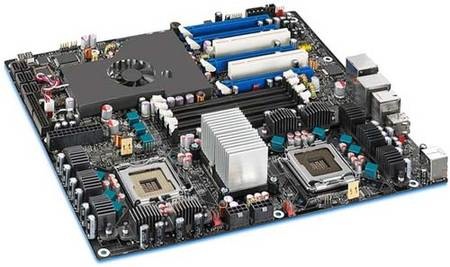 Intel's Skulltrail: silly name, impressive board
V8 added PCI Express graphics to a regular workstation motherboard but didn't do much else, so the board retained two 64-bit PCI slots and a serial port along with a rudimentary cooling system on the chipset and two thundering server heatsinks on the Xeons. Eight cores of Intel power delivered impressive performance - as you can see from our review.
Skulltrail is a major overhaul of V8, and the layout of the EATX board has been completely changed. Four of the FB-DIMM slots have been ditched to leave four slots with support for up to 8GB of DDR2-800 memory to support the pair of Xeons. The new Intel 5400B chipset supports a 1600MHz frontside bus (FSB) and our board was supplied with a pair of Xeon QX9775 processors which run at 3.2GHz. The QX9775 is an LGA771-interconnect version of the Core 2 Extreme QX9770 and apparently costs $1500 (£750) per processor. We understand that the D5400XS motherboard costs around $600 (£300) so when you add in £200 for 4GB of FB-DIMM memory, you've got a system that costs a scary amount of money.
The D5400XS is a thoroughly modern motherboard without any legacy ports. You get six USB 2.0 ports on the I/O panel, two eSATA ports, Gigabit Ethernet, one Firewire port and five audio mini jacks and an optical output for the Intel HD audio. There are six 3Gb/s SATA connectors with Intel RAID on one edge of the board next to the single ATA-100 connector, and along the foot of the board there is a debug POST display and micro buttons for Power and Reset.
Scattered around there are seven fan connectors which leaves five spare for case fans once the CPU coolers are hooked up, although you'll need one fan pointing at that pesky FB-DIMM memory as it gets unpleasantly hot. You'll need a hefty power supply with plenty of connectors for Skulltrail. In addition to the usual 24-pin ATX connector, there are two eight-pin connectors and at the foot of the board there's an additional four-pin Molex connector.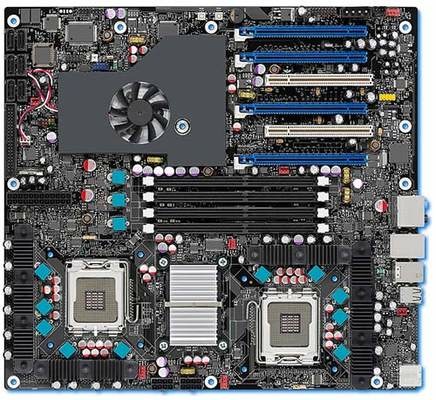 Four PCIe slots and a bis southbridge cooler
But you won't notice any of that because you'll be transfixed by the four PCI Express graphics slots with a couple of PCI slots interspersed among them. The other dominant feature is the heatsink that covers the best part of one quarter of the board. The heatsink cools the 6321ESB southbridge as well as two Nvidia nForce 100 PCI Express chips. That's right, this Intel motherboard carries two Intel chips and two Nvidia chips, and the explanation may just take your breath away because Skulltrail supports both CrossFire and SLI.
Intel chipsets have supported CrossFire for some time but Nvidia has steadfastly refused to license its SLI technology to Intel. If your Nvidia graphics drivers don't detect a suitable Nvidia chipset they refuse to allow you to enable SLI. With the addition of the nForce 100 chips this issue has been sidestepped, albeit in a rather elaborate manner.
This means that Skulltrail effectively falls into two halves. On the one hand we have the dual Xeons and on the other we have the PCI Express graphics. There's no denying that eight cores of Xeon power has the potential to be something special, and when we ran software that tests the CPU in isolation the results were staggering. POV-Ray 3.7 Beta 24, DivX 6.8 and iTunes 7.6 all churned through their work at a pace that left us stunned.
POV-Ray 3.7 Beta 24 Results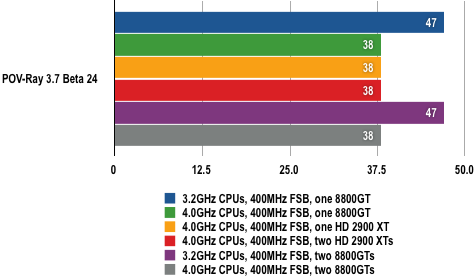 Times in Seconds
Shorter bars are better
At the standard 3.2GHz clock speed the Skulltrail system demolished POV-Ray in 47 seconds and when we overclocked to 4.0GHz the time dropped to 38 seconds. To put that in context, the V8 system with dual Xeons running at 3.0GHz took 1 minute 11 seconds and a Core 2 Q6600 2.4GHz took 2 minutes 51 seconds.
DivX 6.8 AVI Encoding Results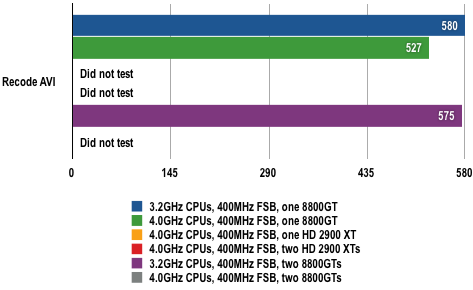 Times in Seconds
Shorter bars are better
iTunes MP3 Conversion Results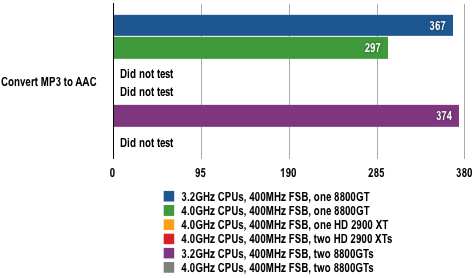 Times in Seconds
Shorter bars are better
The counterpoint is that PCMark05 delivered a score that was lower than expected. In particular the graphics element let the side down however the CPU part of the test wasn't as fast as we'd have hoped for an eight-core PC.
PCMark05 Results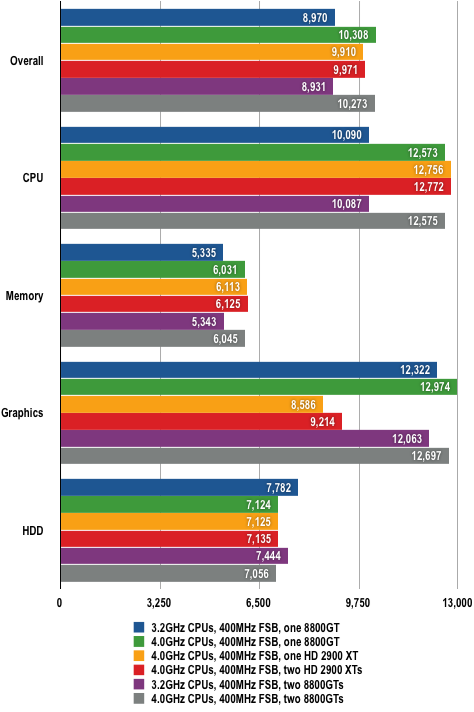 Longer bars are better
This may have been due in part to the Alpha nature of the BIOS. We know it's Alpha because the POST screen displayed a warning message and while we had no problems with system stability it did take a fair while to boot in to Windows Vista.
So what of the graphics? First, there's that cooler on the Nvidia chips and Southbridge. The 48mm fan screams away and makes such a racket that we felt obliged to quieten it down with a Zalman fan controller. It's not a particular surprise to find noisy cooling on a server or workstation product but the strange thing is that Intel included a couple of large Zalman CPU coolers in the review kit that were both effective and quiet. We also added fan controllers to those two fans and made them significantly quieter but at least Intel made an effort and we hope that it continues to make strides in this area.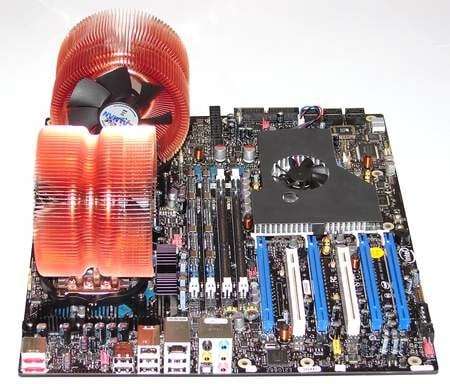 Serious cooling
We were able to run a single GeForce 880GT very effectively in the synthetic 3DMark06 benchmark and found that performance climbed by some 25 per cent when we added a second 8800GT in SLI. In an ideal world we'd have run a third 8800GT in Tri-SLI but the Nvidia graphics drivers reserve that treat for 'G80'-chipped 8800GTS and GTX cards, and when we plugged in a third GT the SLI option vanished.
3DMark06 Results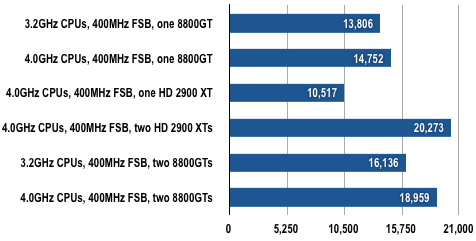 Longer bars are better
We had much greater success with a pair of PowerColor HD 2900 XT graphics cards, which were used in place of the more desirable HD 3870 as we didn't have any of them to hand. The performance of the two models is very similar however the HD 2900 XT draws considerably more power than the HD 3870.
One HD 2900 XT performed as expected but two cards in CrossFire delivered more than 90 per cent extra performance which suggests that there's nothing wrong with Intel's PCI Express configuration. Perhaps the add-in Nvidia chips slow SLI performance but we can hardly wait for AMD to sort out its CrossFire X drivers so we can try three or four graphics cards.
Power Draw Results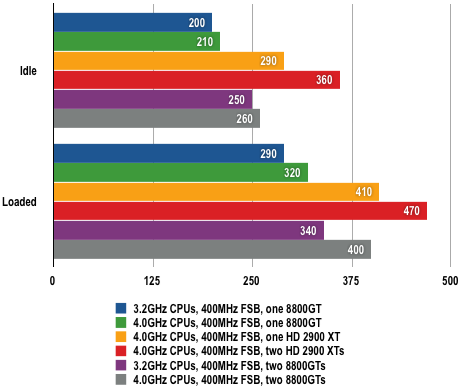 Power draw in Watt (W)
So what do we think of Skulltrail? More importantly should you buy it? Well yes, you should, provided you fall into a very specific category of PC user. If you're developing games and want to check performance on a blisteringly fast PC with the ability to switch between makes of graphics cards then you should form a very short queue over there under the Intel sign.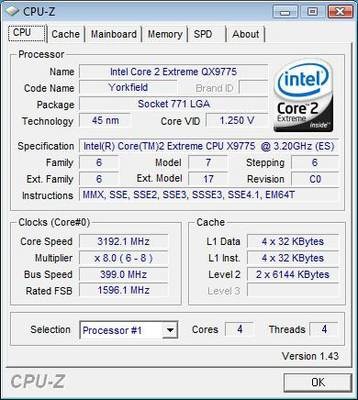 The rest of us don't need dual quad-core processors. It's questionable whether we need a single quad-core processor, although dual-core is certainly a necessity. And we're quite sure that FB-DIMM memory has no place in a desktop PC. Intel deserves a pat on the back for coming up with a system that supports both CrossFire and SLI, and all it has to do now is make it smaller, quieter and much, much cheaper.
Verdict
As a technology showcase there's no denying that Skulltrail is compelling. But just like that other skull, the diamond encrusted one by Damien Hirst, you can look without feeling any need to buy.
We've rated Skulltrail at 70 per cent, but you can break that down to 100 per cent for performance, 80 per cent for desirability and 30 per cent for value.