Original URL: https://www.theregister.co.uk/2008/02/01/review_nokia_n82/
Nokia N82 smartphone
Don't judge this book by its cover
Posted in Personal Tech, 1st February 2008 12:13 GMT
Review Nokia has boosted its N series with its most heavily-featured candybar yet. With a five-megapixel Carl Zeiss-lensed, xenon flash equipped camera and GPS, it's comparable to the N95 and one of the best cameraphones around. Even if it's not the prettiest.
Working on the principle that you shouldn't judge a book by the cover, anyone serious about getting a high-quality cameraphone should take a long hard look at the N82.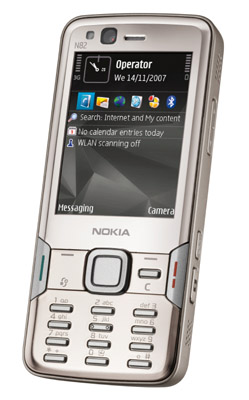 Nokia's N82: packs the capabilities of the N95
With Wi-Fi and HSDPA 3G connectivity, it has versatile options for high-speed web surfing and content downloading. It doesn't have the 8GB built-in storage capacity of the recently upgraded N95 8GB - reviewed here - just 100MB of internal dynamic memory. But the N82 does have the same media player plus a Micro SD card slot. The N82 comes with a 2GB card, but can take Micro SDs of up to 8GB. These are widely available for around £40, giving you an affordable route to upgrade to iPhone-like music player capacity.
Other plus points include unusually high video recording quality for a cameraphone, and the facility to upload pics and clips online to content sharing sites. The N82 is also one of the new breed of N-series phones to support the Nokia Music Store and revamped N-Gage gaming platform.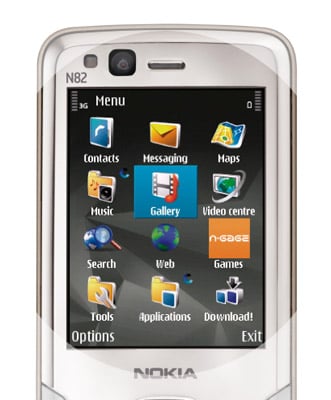 The screen is a decently-sized 2.4in, 240 x 320 display
The N82 doesn't quite have it all though. Head-turning good looks are, unfortunately, a stranger to this device. To be kind, with a bit of eye-squinting you could describe its face as 1980s-inspired future retro. A less generous interpretation would be 'a bit plasticky'.
While the footprint of the phone - 112 x 50.2 x 17.3mm - is slightly larger than the Nokia N73's, its weight has been kept down to 114g. The plastic casing used to achieve this gives it a lightweight feel, but unfortunately also a cheap look and feel to the silvered-up keypad and patterned rear panel.
The design is distinctive and unusual for Nokia. The numberpad comprises sliver-thin keys, with all the white-printed digits tricky to read against the silver background. Nokia would have done much better with a simpler, larger and more finger-friendly layout. The main button array around the central navigation pad is similarly badly marked. The central nav-pad's outer ring butts up almost flush to the panels on either side, making it easy to press buttons accidentally.
As well as the usual soft-menu, main menu and clear keys, Nokia has added another rice grain-sized button to the controls: an unmarked Multimedia menu button. This handy button whizzes you into a carousel menu of recently accessed content, contacts, web links, maps and games. However, in the busy space around the controls, you may find this also being pressed more often than you intend to.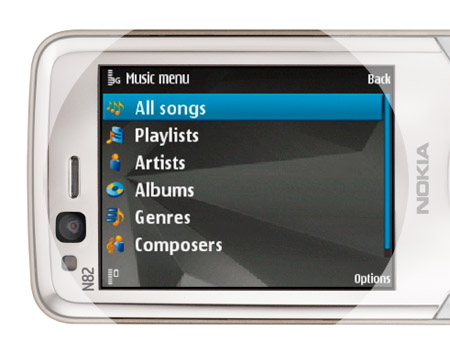 The N82 can keep playing music for up to 10 hours in offline mode
The screen is a decently-sized 2.4in, 240 x 320, 16.7m-colour display – not as large as the 2.8in screen on the 8GB N95, but still a fair size for viewing images and video and framing shots.
The usual Nokia Symbian third-edition S60 user interface is employed here, with the N82 offering a useful spread of fast access to features and apps via its Active Standby display. Flexible settings allow you to configure shortcuts on top of the display or the soft menus on the bottom for your favourites from a list of dozens of apps, functions and web links. You also get Wi-Fi status, calendar info and details of music player tracks lined up in rows down the screen giving you a useful standby home page.
There's a welcome new feature here: iPhone-like motion sensor technology, automatically switching the screen from portrait to landscape viewing, depending on how the phone is being held.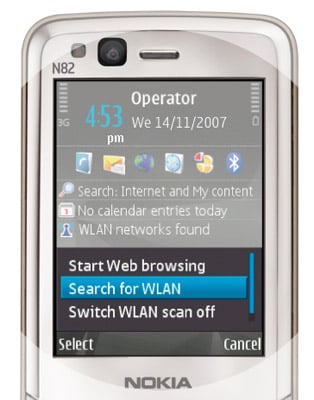 Email is supported, with Quickoffice and Adobe PDF viewers
The camera on the back panel is protected by a sliding lens cover, which also activates the shooter. The switch for this is a little too easy to slide to the open setting for our liking – raising the prospect of unwanted shots of the inside of your pocket.
Any five-megapixel camera on a mobile is still noteworthy, although the small number of top-quality cameraphones available in the UK is steadily growing. Alongside Nokia's own N95 and N95 8GB, there's currently the Sony Ericsson K850i, the Samsung G600 and G800 - reviewed, respectively, here and here - and the LG KU990 Viewty to choose from.
Results from the N82's camera though are the best we've yet seen from a Nokia phone, and are up there with the very best digital photography we've experienced with any cameraphone. Holding the N82 sideways like a camera, the size of the handset becomes a plus point, giving you a bit more to hold on to and a more stable grip when snapping. Control keys are comfortable to reach, too.
The N82's camera user interface is practically identical to the one employed on the N95 8GB, with plenty of flexibility for adjusting the settings. White balance, exposure, sharpness, contrast, light sensitivity can all be controlled, and the N82 has a very able autofocus system, plus a macro close-up shooting option that can get sharp images within 10-50cm from the subject.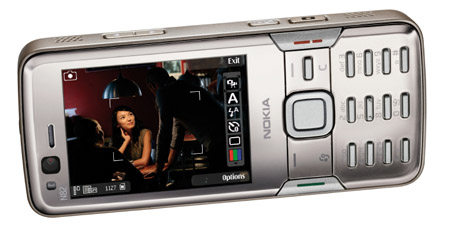 The 2.4in display is fine for framing photos
The performance on fully automatic settings is superb for a cameraphone. The camera self-adjusts metering extremely ably to changing lighting situations, and handles contrast well. Colours are rich, bright and natural, while captured images have impressive detail for a cameraphone. The xenon flash here is welcome and well integrated too, providing strong illumination to brighten shots in dark conditions, but not so much to overwhelm subjects and burn them out, even at relatively close range.
A two-step capture button helps ensure you get the autofocus system to get sharp on precise subjects you're after, and the processing speed is quick enough to allay any camera-shake fears. Close-up results were pleasing too, and overall the camera feels comfortable and easy to use – you don't have to try too hard to achieve results you'll be happy to get printed.
Like its N95 8GB stablemate, the N82 handles video capture impressively too. Its video record quality is also among the best we've seen on a cameraphone, taking footage at VGA resolution (640 x 480 pixels) at 30 frames per second. Results are good enough to play back on a television, using the TV cable Nokia supplies in the box. This cable, incidentally, can also be used to display all the phone's content, apps or even video calls on a TV screen.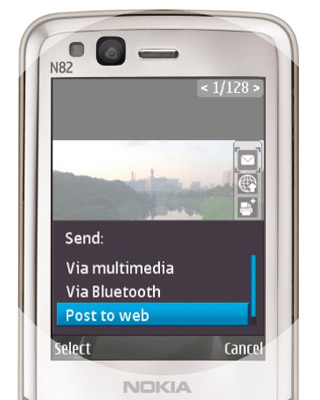 Using the Nokia Web Browser you can even post blogs
Nokia has included online sharing options as soon as you take snaps, with links to upload pictures or video clips directly to Vox and Flickr accounts. You can also do a bit of post-shot editing in camera, with a selection of tools and effects plus cropping and text manipulation options that add to the imaging package.
You can not only take great snaps with the N82, you can also find your way around with the Asssisted GPS (A-GPS) system and Nokia Maps satellite navigation software. The N82 is supplied with mapping and navigation information for the whole of the UK and Ireland pre-installed on its 2GB Micro SD card. This contains searchable step-by-step routing information by address, business or location, details of thousands of points of interest across the British Isles, and 2D and 3D maps for guidance.
The A-GPS system uses network-sent location information to speed up positioning and improve location accuracy in some circumstances. Part of the out-of-the-box deal gives users three months of voice-guided turn-by-turn navigation - after this, you can subscribe to the service. The Nokia Maps service works abroad, too, with additional maps sent over the air for free wherever necessary. You can also buy additional guides and services from links in the Nokia Maps software.
The system works very well, and is intuitive and easy to get to grips with. You can set it for pedestrian or in-car instructions too. It's fast, both for getting a satellite fix and for searching and looking up routes. Having the system on a Micro SD card also gives you the flexibility to use a third-party navigation application if you prefer. Of course, the 2.4in display isn't going to deliver the same view as a dedicated 4in-screen in-car system, but it's still mighty handy to have in a phone.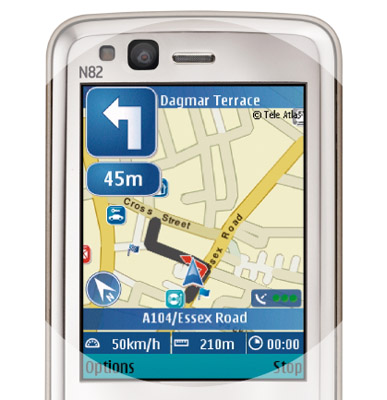 The Nokia Maps service also works when overseas
The N82's multimedia package is enhanced by a Nokia S60 music player that's the same quality performer as is built into the N95 8GB. It supports the usual spread of music file formats, including MP3, AAC, eAAC, eAAC+, WMA and M4A. Pleasingly, Nokia has included a standard 3.5mm headphone jack sitting on the top of the phone – sensible for easy headphone lead access from your pocket.
Adding your own headphones can make an instant improvement to the sound quality, but the supplied stereo earphones deliver a reasonable performance. There are no dedicated music controls on the N82, so the nav-pad operates the player. It's worth creating a shortcut to the music player on the Active Standby page if you expect to use it in the background and want quick access to switch the player on or off.
You can download tracks straight to the N82 from the Nokia Music Store, using Wi-Fi or a mobile network data connection. Over-the-air downloads from mobile operators' music and video services are also supported, if the service is compatible.
The N82 is as well equipped with software as any recent additions to Nokia's N series. It supports the revamped N-Gage interactve gaming platform, although our review sample was only equipped with a demo, pending the imminent launch of the N-Gage service. The demos of FIFA 07 and Asphalt Street Rules 3 are graphically impressive, but we're keen to see – and play - the real thing. The closely-aligned nav-pad button control array may not be the most digit-friendly for gamers, judging from our sample play.
Nokia's growing portfolio of multimedia services, now under the Ovi banner, include video downloading and streaming of video content from a variety of sources – including YouTube - using the Nokia Video Centre app. These can be played on the RealPlayer media player.
The N82's S60 operating system gives plenty of scope for adding extra applications. The 'A Download!' tool links you to a site where you can select and download additional apps over the air, for free, although you can splash the cash for others too. The browser offered here is a standard Nokia Web Browser, taking you into the full web, and uses thumbnail guides to help you navigate around pages. It's suitably speedy on 3G and Wi-Fi, providing a decent mobile browsing experience.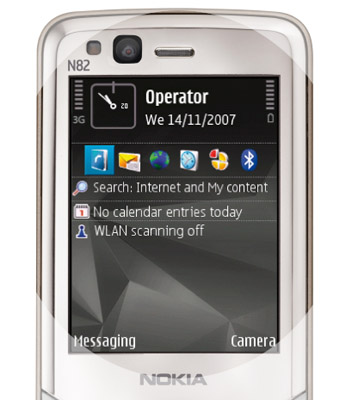 Using the GPS and multimedia features will sink the battery faster
You can also use a Bluetooth keyboard with the N82 if tapping out emails on the tricky numberpad becomes too much of an issue. The standard spread of Nokia's PC-synchronisable contacts, calendar, and to-do lists and are included.
With such a heavyweight multimedia and smartphone presence, sufficient battery life is obviously a key issue. Nokia claims the supplied 1050mAH battery will keep powering the N82 for up to 210 hours on standby for 3G networks or 225 hours on standard GSM. Talktime is quoted at up to 190 minutes on 3G or up to 260 minutes on GSM. It can keep playing music for up to ten hours in offline mode.
That's less time between re-juicing than on the N95 8GB, which admittedly comes with a higher capacity battery. While everyone's usage will be different on such a multi-tasking handset, users will find that heavily driving the N82's GPS and multimedia's capabilities will sink the battery faster.
Our experience with the phone suggests that, in general, use you should comfortably be able to get 2-3 days' usage before you need to recharge.
In terms of back-to-basics voice performance, any concerns about the plastic casing impacting on call quality are unfounded. There's no creakiness when handling the phone or making calls, and the sound quality is first rate.
Verdict
The N82 may not have the 8GB memory of the latest N95, but it does carry a similarly heavyweight set of features plus Wi-Fi and HSDPA 3G high-speed connectivity options. Its five-megapixel camera produces arguably the best cameraphone pictures yet seen in a European mobile, and it has a very capable GPS satnav facility.
But with the abilities the N82 has to offer, it's a shame that Nokia hasn't made its flagship candybar smart in the looks department too. The curious numberpad key design is unnecessarily fiddly, and the overall plasticky look and feel could also put off buyers.
Nonetheless, Nokia has produced a remarkable all-round smartphone, a device with stacks of high-end functionality and which delivers a first-class multimedia performance that's more than skin deep.