Original URL: https://www.theregister.co.uk/2008/02/01/lessig_free_culture_end/
Lessig gives up on Free Culture
Aims Ivory Tower at 'Corruption'
Posted in Policy, 1st February 2008 21:38 GMT
Well, that's it. You'll never have to listen to Stanford professor Larry Lessig talk about Free Culture again.
Lessig is moving on - to fight the good fight against "Corruption". The technology-leaning lawyer announced this last year, but has continued to discuss Wikipedia, the Creative Commons and the like. That is until yesterday, when he delivered a "last lecture" on Free Culture at Stanford University.
His speech drew on familiar material. He's spent years fighting America's penchant for copyright extensions. Once upon a time, US law protected a work for 14 years, and then allowed rights' holders to extend that period one time for another 14 years. By 1831, the bar was raised to 28 years for the initial grant with an extra 14 years on renewal. Then things went pear-shaped, with Congress extending copyrights 11 times in the last 40 years, leaving us at a holder's lifetime plus 70 years.
Lessig's most famous battle against this extension "addiction", as he calls it, had him face off against the Supreme Court. In a 2003 ruling, the judges shot down his pleas to curtail copyright extensions, handing the academic a 7-2 defeat.
Over the past few years, Lessig has copped to his failings with this case, blaming the loss on an inability to characterize the importance of the issue in a way that Joe Average can comprehend.
"We are awful at framing an issue in a way that it understandable to the public," Lessig said. "We have been working - I have been working - a lot to correct these mistakes."
With the Supreme Court drubbing behind him, Lessig has spent recent years on Creative Commons. The lawyer and others wanted to give artists of all types a way to copyright their works in a more flexible fashion.
Lessig explains the Creative Commons and Free Culture in very simple terms these days, so that any moron can keep up. In fact, he employs an odd slide show technique during lectures to make sure that everyone knows what's going on. When Lessig says "door", for example, during a speech the word "door" appears on a screen. He does this for about every fifth word. You can see an example here. Lessig is talking about friends.
The Creative Commons has enjoyed an impressive amount of support. Thousands upon thousands of works are now covered by CC licenses. The hope is that these works can be shared and modified for years to come rather than locked away under the more restrictive, traditional copyright schemes.
This sharing of culture is more reflective of society's past, according to Lessig, and a break with the copyright extension addiction of the 21st century. In addition, it's helping foster new waves of creativity that work well with improved technology.
"There is an emergence of something we can call Tubes," Lessig said, as he talked about these "YouTubes that increasingly spread across to culture of the internet."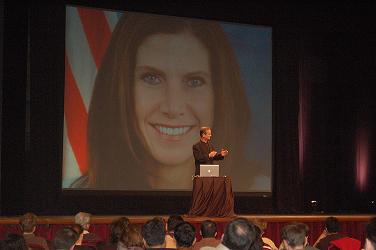 Lessig and Lass
(Lessig is required to highlight things in terms of Google businesses.)
The Creative Commons has been so damn successful that Lessig now needs to bail on championing it full-time.
"I was a pessimist at the beginning of the Free Culture movement," he said. "I am an optimist today.
"The optimism (from the public) is so scary. That is why I had to leave. I had to find another improbable task."
Unfortunately, Lessig's talk ignored the Fail of his endeavors. After all, he set out to alter the copyrights used by the mainstream. These copyrights tend to cover works that people actually want, rather than the flood of cruft bundled under the Creative Commons.
In addition, Lessig has an uncomfortable tendency of linking his copyright efforts with techno-utopian projects like Wikipedia.
We can all share information just like we share culture, right? Well, not when the information sharing source is rigged and busted.
Anyway, Lessig is happy enough with the copyright work to let it go and move on.
While still rather cagey on the exact shape that his corruption studies will take, Lessig during his speech presented one possible path for battling Washington.
A well-intentioned individual could try and convince politicians to refrain from taking money from special interest groups and pushing pork barrel legislation. Such an effort could "start out small" by convincing one or two politicians to join the campaign. "In two or three election cycles, you can imagine this process rolling into a collation, a consensus, a caucus of support," Lessig said.
Apparently, politicians would show their support for this agenda by "committing themselves to a certain set of principles". You reject earmarks, refuse lobbyist money and push for campaign finance reform. "If you do adhere to these three principles, you'd earn the right to tag yourself in a particular way."
You can imagine a scenario where politicians could submit their own photos to Flickr and tag them "loser" because these freedom fighters will be going against well-funded rivals. Even the ultimate dreamer concedes this is a very real challenge.
"(The politicians) probably will lose" if they give up the money.
Lessig, however, thinks that citizens have no other option than to battle corruption in these new ways.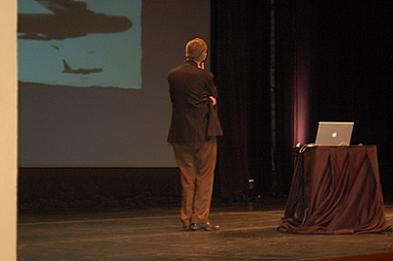 Lessig thinks in front of hundreds
He complained that people place too much stock in viewing the President and Supreme Court as so-called agents of change. Sure, these branches of US government can enact big, sweeping policies, but they do it rarely, and these days it's harder than ever to get them to fight against a corrupt system.
For example, Lessig waxed eloquent on his Supreme Court loss, saying a friend has suggested the case was impossible since Lessig wanted the court to rule against all the money in the world. No court could be so brave. Lessig also appears keen on presidential candidate Barack Obama, but doubts that even a fighting mad commander in chief can conquer Washington's greed machine.
For the time being, the Congressional reform thing is nothing more than a possible course of action. So, Lessig remains very much in the Ivory Tower, doling out suggestions to freedom fighters who will listen.
And how were the old and new messages received?
Well, Lessig received a standing ovation.
Let's hope this noble quest to conquer corruption has a bit more meat to it than the Creative Commons game.®