Original URL: https://www.theregister.co.uk/2008/01/31/ryanair_sued/
Sarko Killer and Bruni sue Ryanair
Better run run run run run run awaaaay....
Posted in Bootnotes, 31st January 2008 16:09 GMT
French fromage grand Nicolas "Killer" Sarkozy and squeeze Carli Bruni have decided that Ryanair's cut-price ad featuring a snap of the beaming lovers is a publicity stunt too far, and will seek redress in the courts, the BBC reports.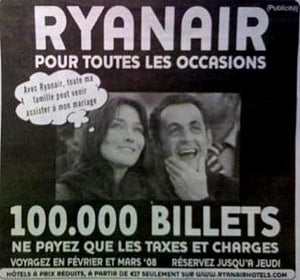 The offending advert (see pic), punted in the French press to promote 100,000 cut-price tickets, showed the happy pair staring up towards the line "Ryanair. For Every Occasion", while the highly-talented Bruni enthuses: "With Ryanair, all my family can come to the wedding."
Sarko is seeking a nominal one euro in damages, while his other half wants €500,000. The pair's ambulance-chaser, Thierry Herzog, told AFP that the latter's claim was based on the fact that "the average cost for using her image for visual advertising on French territory was in the region of 500,000 euros".
Ryanair has apparently apologised to France's first couple for the unauthorised use of the pic, but insists it meant no insult. A company spokesman told Reuters: "It was a humorous comment on a matter of great public interest."
The budget airline is now embroiled in two rumpi concerning controversial advert campaigns. It yesterday told the ASA to take a running jump over its "saucy schoolgirl" pic which appeared in the UK press. The watchdog ordered the ad to be canned, but Ryanair responded with a swift refusal, describing the ASA as a "bunch of unelected self-appointed dimwits". ®