Original URL: http://www.theregister.co.uk/2008/01/31/review_samsung_ps42q97hd/
Samsung PS42Q97HDX 42in plasma HD TV
Out of the lab and into the living room; Samsung's plasma in the real world
Posted in Personal Tech, 31st January 2008 11:02 GMT
Living Room Review You know how it is - you're sitting one day in front of your trusty CRT watching Apocalypse Now when you're suddenly struck by the feeling that you really aren't getting the full-fat cinematic experience.
Fast forward two weeks, and some poor delivery bloke is heaving an enormous box out the back of a lorry, the contents of which hold the promise of widescreen joy, peace on Earth and an end to world hunger.
A slight exaggeration, perhaps, but if my kids' reaction to the arrival of the Samsung PS42Q97HDX 42in plasma was anything to go by, planet Earth just became a far better place to live.
My choice of the Samsung was based on a personal recommendation, backed by Register Hardware's Top Five HD TVs selection. The credit card could just about handle the price, and it looked like the plasma could offer the required bangs-per-buck in terms of performance.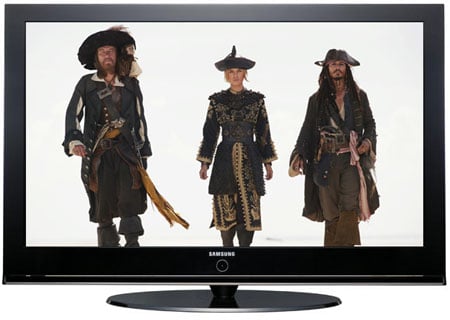 Samsung's PS42Q97HDX: high-def heavyweight?
Once it's out of the box, the PS42Q97HDX is a bit of a looker - sleek, black and with a slightly wobbly but matching oval stand. It weighs a bit, too, and at 31kg required the construction of a custom-built shelf to support the beast. Of course, there's an optional wall-mount kit, but that seemed an unnecessary extra expense.
Fire up the telly, and you're offered a plug-and-play menu which tunes in all your TV channels and detects your peripherals. It's traditional to say at this point that the set-up couldn't be easier, but that would only be true if it were able to bring you your pipe, slippers and a small sherry while doing the business. As it is, the whole operation took around five, relatively painless minutes.
Of course, if you're shelling out for a screen this big, you'll want to get the most from your DVDs. Cue a new Toshiba SD-470EKE player, which can deliver an interlaced 1080 signal via HDMI.
Since I'm not one for faffing about with complex menus, indeed any menu at all if I can possibly avoid it, I stuck the TV straight onto "autowide" mode and, with the kids suitably supplied with popcorn and fizzy drinks, popped Pirates of the Caribbean: At World's End into the DVD player and hit play.
The result? Impressive, to say the least. Although we had a few minutes of fiddling with the picture mode since the default, "Standard", delivered too much contrast, and the "Dynamic" appeared to burn out anything brighter than a candle, the "Movie" mode seemed to do the trick.

Do you own a piece of kit that you'd like to tell other Register Hardware readers all about? We're looking for folk who've tried out computer and consumer electronics products in the real world and want to share their experiences. Drop us a line here with your stories and we'll publish the best ones here.
The resulting image is as smooth as a silk-buffed baby's bottom, with crisp detail. True, deep blacks have a tendency to go a little greenish at times, but if that starts to bother you then you're evidently not enjoying the movie. The 1080i works splendidly, and was particularly appreciated during a marathon session of Doctor Who series three.
In other instances, it doesn't make the slightest difference. A copy of John Boorman's Excalibur didn't benefit at all from the miracle of interlaced spoof hi-def, but I suspect the DVD was below par in terms of quality to begin with.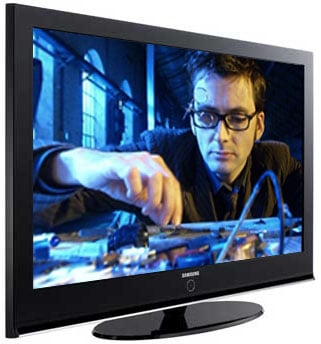 Last of the Time Lords
The Samsung's sound is OK but lacking in bottom end, so it was time to hook up the 5.1 surround system - breathtaking for stuff such as Pirates of the Caribbean, but rather excessive for watching the news.
And it was when we first decided to watch some analogue TV on the beast when the wheels sort of came off. Nothing to do with the Samsung, but rather the inadequacy of the signal. Reception round here is not all that, and splaying a standard-definition TV picture across 42 inches really underlined how poor it is.
Perversely, this means it's back to the old CRT in the spare room to watch the news, while reserving the Samsung for DVDs.
Quite how the PS42Q97HDX performs for gaming I know not, and although my teenage son kept enthusing about something called a "PlayStation3" which can be used apparently to "shoot-'em-up" while also packing a Blu-ray player, my finances remain resolutely opposed to the idea.
Indeed, having watched the bog-standard DVD of Casino Royale on the new system, I fail to see how shelling out for a Blu-ray player and the hi-def disc of the Bond movie could substantially improve the quality. I may be wrong, since a mate swears that the Blu-ray version is the greatest thing since sliced bread, but I'm staying well away from that until the Blu-ray versus HD DVD battle ends in a clear winner.
Verdict
While there are doubtless better widescreens, and some really tasty LCDs out there, the Samsung really does the business for its relatively modest price. I paid a reasonable €1200, but there are always deals to be had.
I'm personally not really that bothered about having the absolute last word in terms of quality, since it appears that every marginal improvement in picture comes with a hefty hit to the wallet. Accordingly, here are my five criteria for choosing the widescreen telly set-up of your dreams:
Price Forget shelling out for stunning performance unless it really matters to you. The Samsung is a winner at a price which will not result in destitution.
Size These things are enormous. Make sure you actually have room for them. Or buy a bigger house.
1080 Get a DVD player which can pump out 1080i or - even better - 1080p via HDMI. You'll notice the difference.
Sound 5.1 surround is a must. Without it, the picture far outstrips the audio, and it'll annoy you.
Hi-def Discs Forget 'em until the Blu-ray/HD DVD thing is settled, and they actually produce a decent range of films on the winning format.