Original URL: https://www.theregister.co.uk/2008/01/31/perversions_of_nature/
Veggies a 'perversion of nature': Official
Also suffer from 'low boiling point', claims Pravda
Posted in Bootnotes, 31st January 2008 11:52 GMT
NSFW We know how you lot like your scientific analysis: adequately researched, well-balanced and backed with solid evidence.
You'll doubtless enjoy this piece down at Pravda, then, which confirms what the nutritionally-savvy among us have known all along: that vegetarianism isn't actually an informed lifestyle choice, but rather a "perversion of nature" pursued by protein-starved fanatics whose self-deception will surely drive them to an early grave.
Pravda lays out its stall thus:
Vegetarians can be referred to as true fanatics. On the other hand, they are seriously misled in their beliefs. Practically nobody argues with them, since it is really difficult to convince a vegetarian of his or her self-deception. Maybe that is the reason why the vegetarian movement develops so actively around the globe and continues to recruit many new members.
Yes, vegetarianism is sort of like the Church of Scientology, and no messing. But here's why it'll kill you in the end:
To produce a cell is not an easy process for the human body. Being a parent to all cells, a human being is supposed to be responsible for all of them. The human body is unable to generate all substances necessary for the production of cells. It has only 12 or 20 protein amino acids required for the process. The remaining chemicals are supposed to be delivered with food. Each and every human cell is supposed to be supplied with first class animal protein.
The proof? Ah yes...
Some may say that there is enough protein in vegetables (beans, for example). True, but recent studies show that vegetable protein can be digested only with the help of its animal analogue.

The human body has its own preferences, by the way. Experts proved that our body requires and assimilates the following substances as construction materials:

Egg white – 100%
Soured milk – 90%
Fresh milk – 83%
Beef – 76%
Cottage cheese – 75%


Compare this data with that concerning vegetable protein:

Wheat bread – 52%

This is the main reason why dietitians recommend to consume 60 percent of animal protein and 40 percent of vegetable analogue from the daily ration.
Yup, we're convinced. Feel free to knock up a quick bacon sarnie before reading the next bit, in which Pravda really gets into its stride.
If you are going to have children, do not be in a hurry to join vegetarians. Many people think that such lifestyle produces rejuvenating effect which showing a positive effect on the reproduction function. However, reproduction depends on animal protein to a large extend. If a man does not receive irreplaceable amino acids with food, he can become infertile in perspective.

Furthermore, cosmetologists say that a typical vegetarian has dry and fragile hair, dull eyes and unhealthy complexion. They can hardly stand criticism and have a low boiling point. They raise their voice, swing their arms and splutter when arguing. They are weak even in their logic. They exemplify their righteousness with the cow, a herbivorous animal, and say that nature originally made a human being as a vegetarian creature.
It's true: anyone who's ever tried to cook a vegetarian can confirm they do indeed have a low boiling point, but melting the stuttering buggers down really is the only way to shut up the shouty, arm-waving meat-dodgers.
In conclusion, Pravda offers:
Experts have recently put forward a hypothesis that can justify vegetarians. Scientists assert that there are people with irregular metabolism. They do not need animal protein at all. However, such people can be described as a mistake of nature. There are many of them, but most vegetarians are mistaken in their devotion according to this theory.
Terrific stuff. It's traditional at this point to offer a detailed counter-argument to Pravda's assertions, backed by quotes from leading nutritionists and world-class experts in human metabolism.
In this case, however, we've decided to deploy talented thespiatrix Alicia Silverstone to make the case for the defence: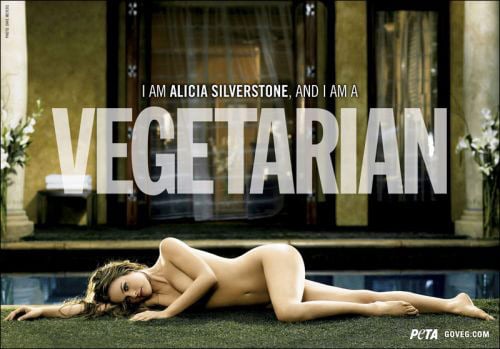 At the launch of this campaign for "Hug a Whale for Jesus" outfit PETA, Silverstone declared: "I wasn't always a vegetarian, but I've always loved animals. Physically, the effect has been amazing."
Well, we'll leave it to you lot to decide whether the highly-talented Ms Silverstone's meat-free charms are sufficient to convince non-believers to risk sterility, lacklustre hair and the possibility of spontaneous melting in summer and join her in the ranks of perversions of nature. ®