Original URL: https://www.theregister.co.uk/2008/01/25/review_nokia_e51/
Nokia E51 executive phone
Does the business
Posted in Personal Tech, 25th January 2008 13:39 GMT
Review Business is business, so it's no surprise that the world's most successful mobile maker knows exactly what makes the executive phone user swoon. Nokia has a long track-record of producing handsets that may not get consumers' pulses galloping, but which absolutely bowl over businesspeople.
The E51 is Nokia's latest of these. Its design is classic Nokia understatement - a slim candybar phone with an elegant metal trim and back panel adding a classy feel to the package. The metal edging is available in three flavours: shiny silver, black or bronze.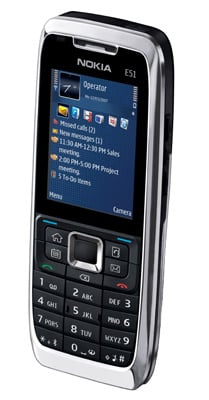 Nokia E51: pushing all the right buttons for businesspeople?
It's optimised for email, supports a wide range of popular push email offerings, and it features VoIP voice for low-cost calling over the internet via Wi-Fi. High-speed data connectivity is facilitated by HSDPA 3G.
While the E51 has been crafted first and foremost with business usage in mind, with plenty of office tools and personal information management features, Nokia does acknowledge that even business users like their multimedia distractions. The phone has an MP3 player, an FM radio, a RealPlayer video player and a two-megapixel camera on the back.
A subtle pinhead pattern etched on the back of the casing is not only aesthetically enhancing but also helps you grip the phone when you're tapping away at the numberpad. The E51 is a good size, measuring a long but slim 115 x 46 x 12mm. The metal casing helps push up the weight to 100g, giving it a substantial and well-balanced feel without being pocket-saggingly bulky.
The screen is a 2in, 240 x 320 display that can render up to 16m colours. It's detailed and bright, but smaller than we're used to seeing on recent Nokia smartphones.
The main control action is based around a standard Nokia scroll key nav-pad. Immediately on either side of it are four one-touch keys for specific functions. Here, Nokia has departed from the usual S60 script. Sensibly, Nokia has labelled the main menu button as the Home key with a house icon rather than the usual abstract Symbian squiggle.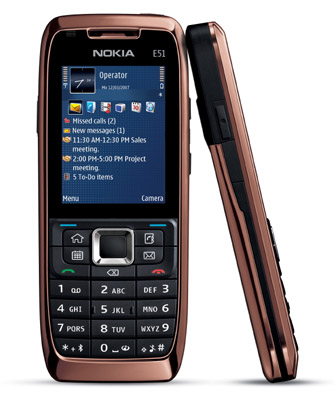 The E51 feels substantial and well-balanced without being bulky
We hope to see more of this on future models. Under this button is a Calendar key, and on the other side of the nav-pad are Contacts and Email keys - all very clear and intuitive. One quick press takes you to the applications, but a longer press activates the most obvious or useful function in that application.
For example, while one click takes you into a list of contacts, holding down the Contacts key creates a new contact, while a longer press of the Calendar key pops up a new meeting entry for you to fill in. Similarly, you get a new email when you hold the button down.
The Home key takes you into the menu with a short press and opens up a list of active applications with a longer one. In addition, 'double-clicking' these keys returns you efficiently back to the previous application. Although these buttons are marked with function icons, it is possible to reconfigure them.
Just below the screen are the usual soft-menu keys. They're quite thin so first-timers could end up hitting the one-touch keys underneath by mistake, but you'll quickly get used to them.
Below the nav-pad are the usual call/end keys and a backspace button. The standard phone numberpad beneath is large, and the buttons are quick to press and really responsive – welcome in a handset where messaging is a key feature.
Despite being built for email, there's no Qwerty keyboard hidden away anywhere on the E51. The target audience isn't the user who needs a BlackBerry - Nokia already has devices for that, like the E61i and E90 Communicator.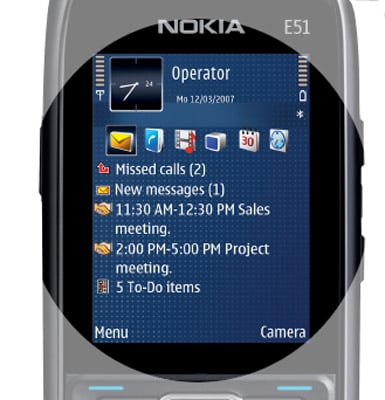 Bright screen, but a bit smaller than we're used to
The E51 carrier isn't envisaged having to compose long emails or reports on their phone. If they need more tapping power, however, the E51 has support for wireless Bluetooth keyboards.
As well as Bluetooth, the E51 supports infrared connectivity with a window on the side next to the voice control/recorder button. Usefully, a mute key is on the other side, between the volume controls. Just above the display, where you might expect to find a secondary video call camera, there's a notification light to show when you have incoming messages or have missed a call.
Nokia S60 smartphone users will be familiar with the user interface on the E51. Usefully, in the Active Standby page, Nokia has shortcuts for setting up email, internet telephony and voicemail, which take to you to the relevant set-up wizards or downloads. These disappear once you've completed the set-up procedures.
The other standby page plug-in shortcuts – which out of the box also contain a WLAN set-up, and calendar entry alerts - can be configured to suit your own requirements, bringing up message inbox, to-do list updates, shortcuts to music player and so on, on the Active Standby page.
In standard S60 style, a set of six icons are lined on the top row of the display for further quick access shortcuts - again, these can be reconfigured. This flexibility should appeal to folk who want to use a few key functions regularly so you don't have to delve too deeply into the extensive menu system to find what you're after.
The E51 is well-equipped to integrate with corporate email systems. It supports multiple push email and remote synchronisation offerings, including Mail for Exchange, BlackBerry, Visto and Nokia's own Intellisync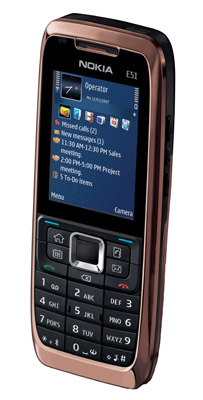 Ready for corporate email
Attachments or documents transfered to the E51 can be viewed using the Quickoffice suite of document viewers for Word, PowerPoint and Excel files. There's also a PDF reader and Zip file manager. If you want to edit documents with Quickoffice, however, you'll need to pay for an upgrade to the software (available via a link in the Options menu).
Nokia has provided the E51 with plenty of other business tools. Nokia Team Suite enables users to create groups of contacts, making it easy to send messages and emails, initiate calls to one or more of the team, and to keep notes on team communications, web bookmarks retain to the team and so on.
As well as the usual extensive contacts, calendars, notes and to-do lists you expect on an S60 device, Nokia has included Active Notes, an application where you can add notes, images, videos, sound clips, bookmarks and so on, which you can then mail to other users. A voice recorder and text-to-voice reader for texts are also useful standard S60 features included on the E51.
As usual contacts, calendar, notes and email can be synchronised to a PC using the supplied Nokia PC Suite software via the supplied USB cable, infrared, or Bluetooth.
Nokia has designed the E51 to be a phone that's easy to use and functionally spot on for business users, but which also has the flexibility to become much more. There's a Download! tool included that gives you a quick link to apps you can download for free to beef up the E51's out-of-the-box spec.
Among these are a Windows Live Messenger and Hotmail application, F-Secure Mobile Anti-Virus software, WorldMate travel and weather information app, MobiPocket Reader Pro ebook reader, Nokia's WidSets widgets application, plus a range of other tools and entertainment downloads.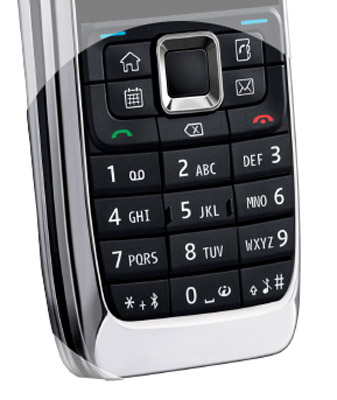 The keypad is large and responsive
There's no built-in GPS receiver on the E51, but Nokia has included its Nokia Maps satellite navigation application. This can be used for full positioning and navigation in conjunction with a standard Bluetooth GPS module. Even without a GPS module, you can get routing information or local points of interest by tapping in the relevant locations.
As well as doing the business in a businesslike manner, the E51 has a familiar selection of multimedia entertainment features. Its HSDPA capability enables fast downloads or streaming of video or audio content to the phone, although the Nokia Music Store isn't yet supported on this device.
The music player software interface offers a familiar rundown of tracks by artists, albums, track lists and genres, and supports album cover art on playback. It's simple to use – the nav-pad takes control – while the sound performance is perfectly acceptable through the supplied headphones.
The E51 uses a 2.5mm headphone jack connector rather than a headphone-friendly 3.5mm one, so an adaptor is required if you want to upgrade the sound quality by swapping the average stereo earphones supplied to a better set. You can also use Bluetooth wireless headphones with the E51 or use the built-in loudspeaker to share your tunes. You do need the headphones plugged in to act as antenna if you're tuning into the FM radio.
130MB of internal memory is built in for content downloads, although for extending the phone's storage capabilities you can add Micro SD cards of up to 4GB in capacity, fitting them into a slot under the rear casing.
The E51's Wi-Fi and HSDPA capabilities means the Nokia Web Browser doesn't drag its feet. You can view web pages in their normal full screen format, with Mini Maps helping you negotiate the pages. Pages are completed quickly on the high-speed data connections.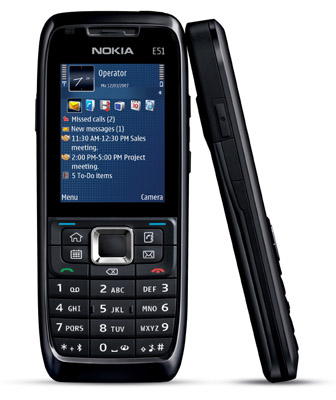 Available in three flavours: shiny silver, bronze or black
The camera on the back of the E51 is a standard two-megapixel shooter that produces average quality photos. This is unlikely to be a selling point of the E51 - its user interface isn't particularly camera-like, with most of the limited settings options listed in simple list format.
The camera achieves better results in bright lighting conditions outside, while indoors images aren't as crisp – there's no flash to help matters in low-light conditions. Video can be recorded too, though at a maximum 320 x 240 (QVGA) resolution, and is again fairly average mobile phone limited quality fare.
Nokia's figures for optimum battery life suggests up to 13 days on standby or 4.4 hours' talk time. We managed to get around three or four days of standby with an average amount of usage, although this declined with greater use of Wi-Fi, the music player and other power-hungry features. Still, intensive business users shouldn't find battery life an issue here.
Verdict
The E51 has all the credentials to make the grade as a high quality business phone, but it has much more appeal than simply a work-day handset. It has a sharp and understated design and it's straightforward to use if you want to access key features easily.
The phone's display isn't going to be large enough for some users, and anyone looking for a top-end multimedia cameraphone, GPS-equipped mobile or BlackBerry-style keyboard should look elsewhere. But the E51 is a cracking handset that is more sophisticated than it looks, with excellent business-grade features.