Original URL: https://www.theregister.co.uk/2008/01/21/review_amd_phenom_9500/
AMD Phenom 9500 processor
AMD's four-core desktop CPU squares up for a fight with Intel's Core 2 Quad
Posted in The Channel, 21st January 2008 15:04 GMT
Review Throughout last year, we ran a steady stream of news about the AMD's Phenom quad-core processor, mainly because the chip was delayed. When the launch finally took place, AMD took us to Warsaw where we were told again and again about the virtues of its Spider platform: a combination of a Phenom processor, a motherboard with an AMD 790 chipset and a pair of ATI Radeon HD 3870 graphics cards.
We were waiting for the bell to ring so we could move to the next room where there were some 40 Spider-based PCs waiting for us when it was casually mentioned that the 2.4GHz Phenom 9700 inside the test systems had been pulled at the last moment so there would only be two Phenoms at launch, the 2.2GHz 9500 and the 2.3GHz 9600.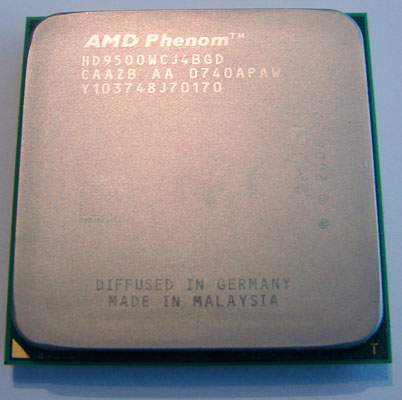 AMD's Phenom 9500: readily available
The problem, we were told, related to the Translation Lookaside Buffer and L3 cache, and was one of those naughty technical issues that would never manifest itself in the real world. However, AMD had to cover itself, so the 9700 was pulled. The nature of the problem means that it can be masked by a BIOS fix that has a performance hit of at least ten per cent, which sounds like the sort of figure you'd expect if you disabled the L3 cache.
The fact, that the 9700 wouldn't be available to the buying public until it had undergone at least one revision meant that the test session was a waste of time, as would be evaluating the 9700-based test system AMD sent us a soon afterwards. Or, rather, AMD sent a system with a Phenom engineering sample running at 2.4GHz which we assumed was a Phenom 9700.
This was silly for two reasons. First, AMD doesn't sell PCs or motherboards so all we wanted was a Phenom CPU. Second. the 2.4GHz CPU hadn't been released so there didn't seem much point in reviewing this model. Instead, we put our money on the counter and bought a retail, boxed Phenom 9500 for £155 which is a mere £5 less than a 2.4GHz Intel Core 2 Quad Q6600.
AMD lists a number of advantages for Phenom over Core 2 Quad starting with the true quad-core design - the Intel approach simple builds two dual-core CPUs into a single package. Added to that, you get 2MB of shared L3 cache, Cool'n'Quiet 2.0 technology for low-power operation, the fast HyperTransport 3.0 bus and support for 1067MHz DDR 2 memory.
A native quad-core design sounds as though it should be better than two dual-cores that have been cobbled together, but life isn't necessarily that straightforward. Core 2 has all sorts of deficiencies, including the use of a frontside bus (FSB) and a memory controller that is part of the chipset. In a server, you can hit all sorts of bottlenecks in performance when you gang up a number of multi-core Xeons, but in the desktop arena these limitations don't seem to have any effect.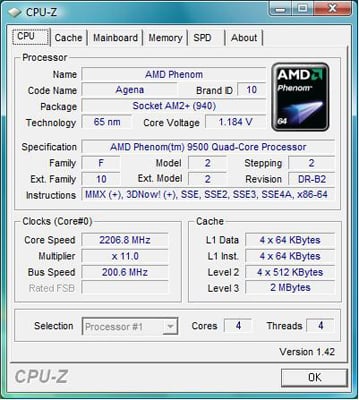 All the details
Phenom uses an AM2+ socket which needs to be matched to an AM2+ motherboard if you want to get the benefits of Hyper Transport 3.0. We used an Asus M3A32-MVP Deluxe with AMD's 790FX chipset for testing. We also threw an Athlon 64 X2 6400+ into the equation on a Gigabyte GA-MA69G-S3H motherboard, and then mixed and matched the permutations of AM2 processor with AM2+ motherboard (X2 on Asus) and AM2+ CPU on AM2 motherboard (Phenom on Gigabyte).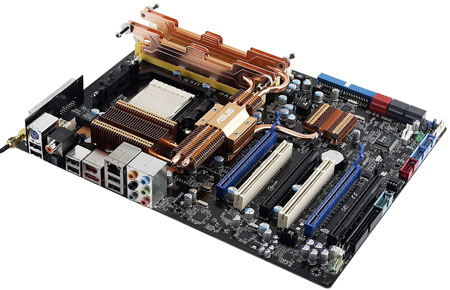 Asus' M3A32-MVP Deluxe: AM2+ socket on board
We also ran a Core 2 Q6600 on an MSI Diamond X38 with OCZ PC3-1333 memory so we could see how a comparable Intel system would perform.
The results show that the Intel system was the fastest in every respect, and that was at standard speeds when you can be sure that the 2.4GHz CPU will overclock past 3GHz with the minimum of effort. The Core 2 Quad did better than Athlon 64 and Phenom in the synthetic system PCMark05 test but in POV-Ray 3.7 the Intel processor completely eclipsed the AMD contenders.
PCMark05 Results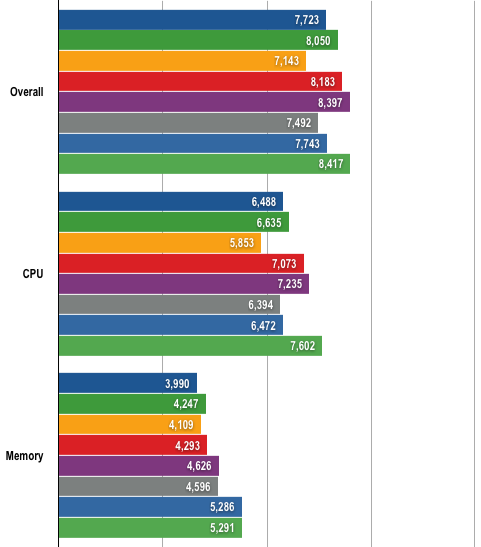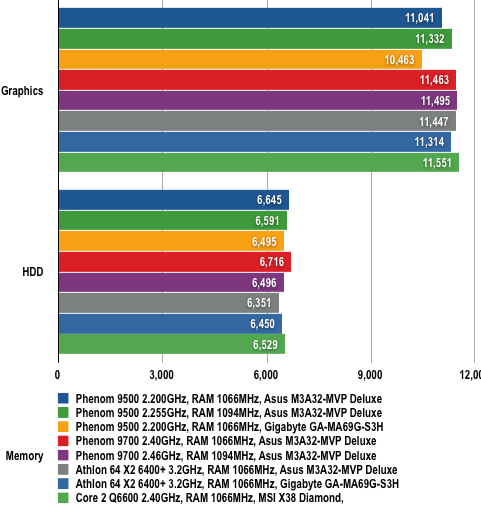 Longer bars are better
Interestingly, there was little to separate the dual-core Athlon 64 X2 from the quad-core Phenom in PCMark05 but in POV-Ray the benefit of quad-core helped the Phenom greatly.
POV-Ray Beta 3.7 Results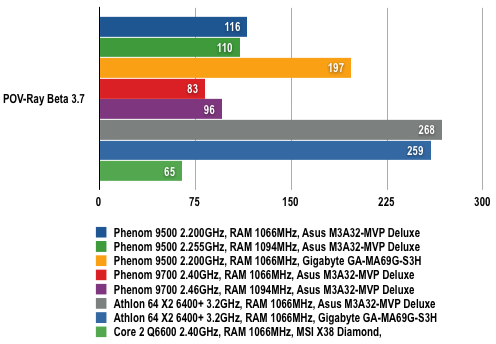 Rendering time in seconds
Shorter bars are better
It was predictable that the Phenom would lose performance when it was plugged into the AM2 Gigabyte with previous-generation AMD 690 chipset. It was something of a surprise to see that the same was true when we ran the X2 6400+ processor in the AM2+ Asus as performance took a slight hit compared to the older 690 motherboard.
3DMark06 Results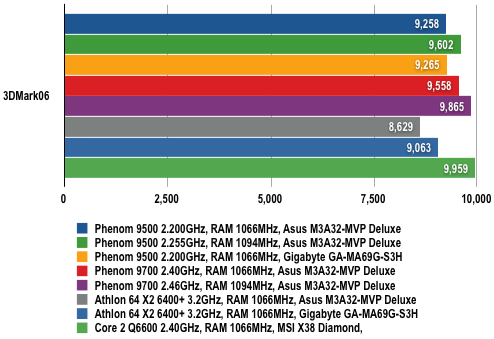 Longer bars are better
Power consumption of the Gigabyte 690 motherboard was incredibly low in regular Windows duties with both the X2 6400+ and Phenom, so that's clearly a feature of the chipset. The 790X, by contrast, draws about the same as the Intel X38 with Q6600.
Power Draw Results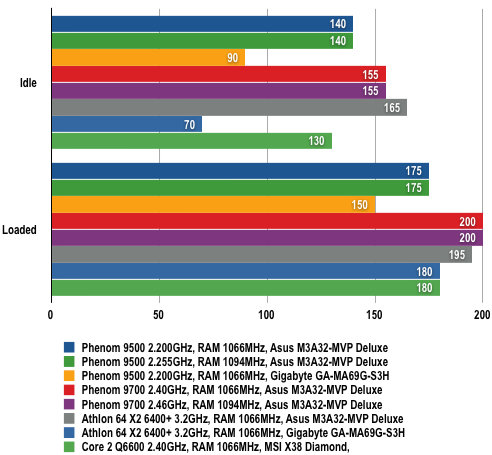 Power Draw in Watt (W)
There's a fourth element to the Spider platform as AMD has created an overclocking utility called OverDrive that seems to have a great deal in common with Nvidia's nTune 5 software. The difference is that nTune can be a truly horrible piece of software for system tuning, while OverDrive looks incredibly promising.
In OverDrive's Novice mode, the tuning is controlled by a slider that has ten positions. We worked through the options and were surprised to see how little the clocks increased at each step. For instance, level 3 raises the PCI Express (PCIe) bus from 104MHz to 108MHz, while level 4 bumps up HyperTransport from 200MHz to 202MHz.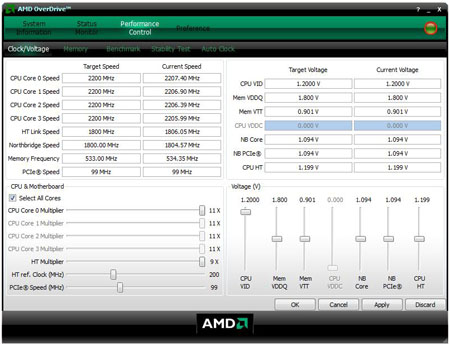 AMD's OverDrive: tweaking the CPU clock
The difference between level 1 and level 10 is that the CPU rose from 2220MHz to 2255MHz, memory speed from 1066MHz to 1094MHz, PCIe from 100MHz to 120MHz, and the Hyper Transport bus from 200MHz to 205MHz which all looks a bit feeble really. The PCMark05 score went from 7723 marks to 8050 which is rather negligible.
Overclocking the 2.4GHz Phenom raised the CPU speed to 2460MHz, the memory to 1094MHz, PCIe bus to 120MHz and HyperTransport to 205MHz with the result that the PCMark05 score rose from 8183 to 8397.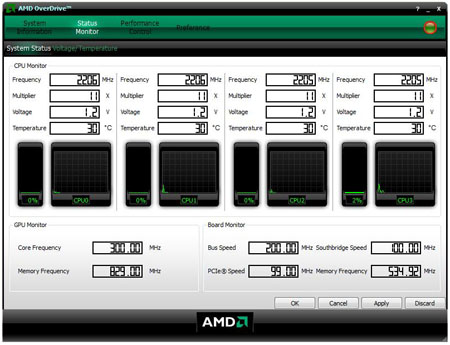 Status read-out
Naturally. we also tried the OverDrive in Advanced Mode but we found that overclocking the Phenom 9500 was very hit and miss. If you can persuade a Phenom to run above 2.6GHz you'll have done very well indeed and it very much feels as though AMD has launched these new processors at clock speeds which sound rather low but which are close to the limits of stable performance.
Verdict
AMD has clearly priced the Phenom at the same level as the Q6600 and in that respect it misses the mark as the Intel option delivers better performance at standard clock speeds and will overclock like a dream.
To add to AMD's woes, Intel is already making the transition to the 45nm 'Penryn', which will raise clock speeds way out of reach of Phenom. At the other end of the scale, Intel can use its 'faulty' architecture to dish up dual-core processors which will keep costs down while the best that AMD can do is to disable one core and release the result as a tri-core Phenom 8000.
It seems that 2008 is not going to be a good year for AMD.