Original URL: https://www.theregister.co.uk/2008/01/16/review_vodafone_usb_modem/
Vodafone USB Modem 7.2
HSDPA - and HSUPA - for the masses?
Posted in Networks, 16th January 2008 12:47 GMT
Review It's shiny, white and looks like a bar of soap. But hook it up to your computer and you can surf the internet at speeds of up to 7.2Mb/s - in theory, at least. Yes, it's Vodafone's latest wireless modem, the Mobile Broadband USB Modem 7.2.
It's cutely curvaceous, rounded at the corners, while the top and bottom panels arch gently from the middle of the device down to the edges. Even the two bulges - one on the left side, the other on the right - lack harsh angles, curving out to form flat areas for the mini USB port and the SIM slot, respectively.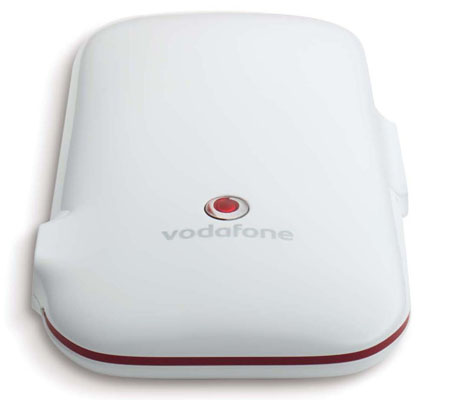 Vodafone's USB Modem 7.2: curvy
Around the middle is a red band that glows when the unit is connected to a spare USB port on your computer. There a three cables in the box: a short USB-to-mini-USB lead, an even shorter USB-to-mini-USB adaptor plug, and a much longer cable that has a mini USB port at one end and two regular USB connectors at the other, handy for folk plugging the unit into USB 1.1 ports or an unpowered USB hub.
Next to the SIM slot is a coloured LED to indicate connection status - it glows light blue if you have an HSDPA connection. And that's pretty much all there is to the hardware, which is made by Huawei, the company behind most of Vodafone's modem products to date.
The USB Modem 7.2 comes with both Mac and Windows software. The latter's installed on the unit itself, appearing as a read-only disk the first time your connect the device and remaining hidden after you install the software.
Mac owners will have to install their software off the bundled CD. It really doesn't do much more than launch Mac OS X 10.4's Internet Connect utility and set it up with the appropriate log-in information. Leopard has no Internet Connect app, but since Mac OS X 10.5 doesn't run with sufficient stability on our MacBook Pro, we couldn't try Vodafone's software with Apple's latest operating system. For 10.4 users, the software works just fine.

Bar of soap - or HSDPA gagdet?
Connected, we downloaded a 7MB file from our web server to gauge performance. We downloaded it six times, downloading the next copy after the previous one was completed. The file took, on average, 91.75s to download: an mean data transfer rate of 620.53Kb/s - a far cry from the 7.2Mb/s the modem is capable of. Peak speeds, however, hit upwards of 1.86Mb/s.
Even Vodafone admits you'll only get "typical" speeds of 1.7-5.5Mb/s, so we were just inside that range.
Downloading files over the net isn't perhaps the most scientific of tests because you can't possibly take into account the state of your connection beyond an ISP's servers at any given time, and that as much as the link maintained by the modem can affect download speeds.
But then that's true of anyone using the internet so our figures are likely to be seen by other users. The bottom line: your mileage may vary depending on what you use your internet link for.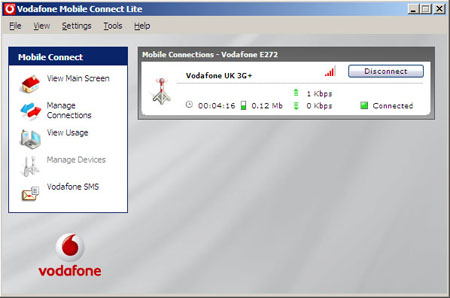 Connecting under Windows XP...
Connecting the modem to a PC brings a much wider array of functionality to the table. Plugging in the USB Modem 7.2 auto-installs the driver software, which includes Vodafone's usual text-message management software as well as the connection controller and a separate Software Update. Irritatingly, the installer slaps all these down without so much as a by your leave, so you can't choose where you want the code installed or where you want shortcut icons placed. As it is, it's accessed through a system tray icon.
Windows XP's own network connection system tray icon shows the modem connected at 7.2Mb/s, but that's clearly a pre-programmed value as we never once measured such a speed. Download tests on PC yielded numbers that matched those on the Mac.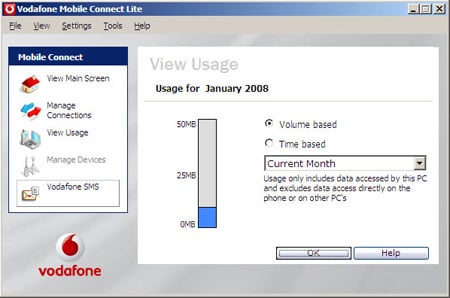 Watch that 'fair use' limit... 3GB a month, by the way
On both platforms, checking email and web browsing felt reasonably rapid, but certainly not as quick as we get when we connected to the internet over 802.11g Wi-Fi and our home 10Mb/s broadband connection. It felt like connecting to a typical public Wi-Fi hotspot. It's not the best broadband experience, but it's certainly very usable.
HSDPA is a 'bursty' technology, delivering high peak speeds rather than sustained high download rates, as our numbers show. That makes it more suitable for ad hoc web use - browsing, grabbing email and so on - rather than big-file downloading.
And upload speeds? It's something Vodafone tends not to mention, but it's there in small letters on the back of the box: support for HSUPA. If you're in the 7.2Mb/s HSDPA one, you also get 2.0Mb/s upload speeds, though again that's the theoretical maximum: according to the carrier, 1.4Mb/s a more likely real-world speed.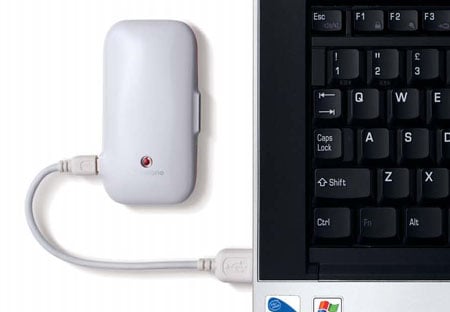 Cabled up and ready to go
A separate modem we're also trying, Novatel Wireless' Ovation MC950D, didn't register us as being in an HSUPA area, but we tried uploading in any case. FTP'ing a 7MB file took 17m 18s - an average speed of 55.25Kb/s, but we experienced peak upload speeds of up to 94.32Kb/s. That's a long way shy of 1.4Mb/s.
Since Vodafone's 7.2Mb/s HSDPA coverage isn't a widespread - it's central London and 15 airports only, as of December 2007 - if you travel, you'll quickly drop down to the 1.8Mb/s service in metropolitan areas - 80 per cent of the UK population, says Vodafone - and GPRS if you go further still. Out of central London, the upload rate's a more typical 110Kb/s or thereabouts.
Actually, some places have 3.6Mb/s HSDPA, but Vodafone bizarrely refuses to say where they are.

Vodafone's official line on expanding all these zones is that it'll review demand over the next 12 months and if other areas warrant 7.2Mb/s HSDPA and 2.0Mb/s HSUPA, it'll consider implementing these technologies. But nothing has been set in stone.
Finally, Vodafone's just released an alternative model that looks like a USB Flash drive, and that's likely to prove more popular if only for the fact it doesn't need a cable. We'll be taking a look at it in due course.
Verdict
The USB Modem 7.2 is a neat-looking add-on that delivers a decent mobile internet experience. If you have a 1.8Mb/s HSDPA modem and you're not slap bang in the middle of London, there's no need to upgrade just yet. If you don't own an HSDPA modem but you're not in the 7.2Mb/s zone, at least this boy will cope with network updates if and when they happen.