Original URL: https://www.theregister.co.uk/2008/01/15/review_netgear_eva8000/
Netgear EVA8000 network media player
Now with Matroska support
Posted in Personal Tech, 15th January 2008 13:07 GMT
Review The EVA8000 was a high-end product when it was announced, bundling HDMI with 1080P HD playback. But the video encoding world moves quickly. It may have been suitable when HD standards were emerging, but a few months later the situation looks decidedly different.
H.264 has emerged as the HD codec of choice, although you'll also find material encoded with Microsoft's VC1 codec out there as well. Both are used on HD DVD and Blu-ray Disc. MPEG 2 is still hanging in there, but for HD material it's really not up to the job.

Netgear EVA8000: no MKV support - yet
Although the EVA8000 supports a vast array of codecs, including H.264, VC1, WMV, Xvid, Divx and WMV, it's in containers where the shipping model falls short. A container format is simply a file structure for bundling up encoded audio and video. AVI is probably the best known, but others include WMV, MPEG 4 and QuickTime. The container format doesn't dictate which codec is used, so you can have an AVI that contains video encoded in Divx and another AVI with video compressed in MPEG 2, for example.
As HD content has become more widely available, Matroska - aka MKV - has emerged as one of the most in-demand container formats. Matroska has been around since 2002 and is open source, so it can be used by anyone and isn't tied to any restrictive licensing agreements.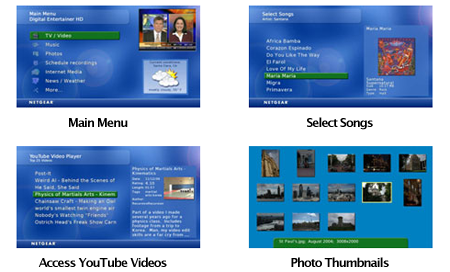 Out of the box, the EVA8000 doesn't support MKV files - you can't even see them when browsing your network because of the way the machine indexes files. However, although the last official firmware for the device, version 1.2.20, was released on 31 July, Netgear has in the meantime been actively developing a firmware update that does support MKV, along with numerous other features and fixes.
We didn't want to review the EVA8000 until support for this important format was present. So now it is, here we go...
The beta firmware is distributed via Netgear's online support forum - you need to request access to download it. An updated version is generally available every couple of weeks - sometimes more frequently - and the latest release, version 2.0.140, released 8 December 2007, not only incorporates reliable MKV support but also includes many fixes that affected stability in early versions.

Hardware wise, the EVA8000 has everything you'd want
However, although the beta firmware expands the number of file options available, it's not without its own problems - somewhat to be expected, given that it's an unfinished version. The most notable of these is that it struggles to play back high bit-rate files without dropping frames or skipping audio. Testing the device with a series of 1080p H.264 files encoded from the open source movie Elephants Dream at bit-rates from 1Mb/s to 15Mb/s showed that the maximum bit-rate the beta firmware could handle when playing back from a USB-connected hard drive was 9Mb/s. The official firmware, on the other hand, managed to keep going up to 13Mb/s before the footage started stuttering and became jerky.
While the results are a little worrying, the issue becomes much more significant when playing back material over a network. Using the wired Ethernet port on the back, playing back the files from a PC connected to the same hub resulted in a maximum bit-rate of 5Mb/s for both the beta and official firmware before the picture broke up. Using the same approach, but this time playing the files over the network with a 200Mb/s Homeplug AV connection in the middle - it transfers the network signal over the mains cabling in your home - the maximum attainable bit-rate from both firmware versions was a scant 3Mb/s.
This is slightly disappointing, since one of the major benefits of a network-enabled player is the ability to store the content anywhere in your home and stream it across the network. If you've got a wired network you might just be fine, but if you're relying on HomePlug AV, then you'll find your content choices severely limited.

Network-limited
Part of the problem could no doubt be solved by equipping the EVA8000 with a larger data buffer, but it doesn't even make the best of what it's got. When stuttering occurs, it doesn't pause playback and attempt to rebuffer, but just carries on with jerky, unwatchable video and no sound.
However, there is an area where you can't fault the EVA8000: codec support. With the beta firmware installed you can pretty much throw any file generally available at it and it'll be able to produce a picture. For a full rundown of what it can support, take a look at the table below. It shows the results of testing the player with the majority of formats you're currently likely to encounter. In the table, Y means the file played back without a hitch, P indicates that the EVA8000 could play the file but not without dropping frames, and N means that file wouldn't play at all.
EVA800 Codec Support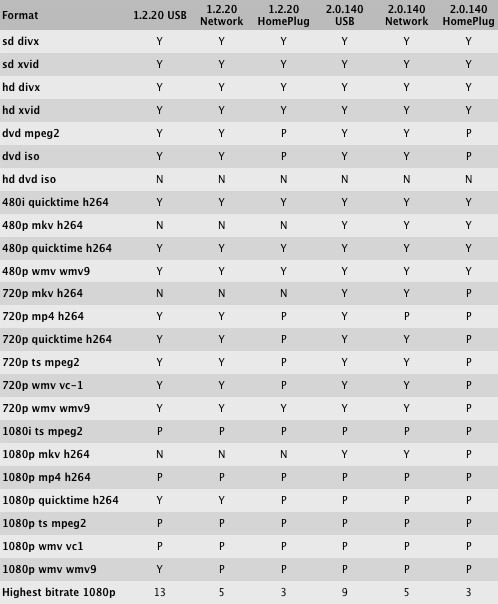 Highest bit-rate in Mb/s
Hardware wise, the EVA8000 has pretty much everything you'd want. There are HDMI and component-video ports for high-def output plus co-ax and optical digital audio out for surround sound. There's a network port and built-in wireless, plus two USB ports - one at the front and one at the back - for hooking up external storage.
The device will function happily as a standalone unit, although the set-up routine does try and push you to install the accompanying PC application to help it out. You'll also need to set up the PC side of things if you want to watch YouTube videos directly from the box - but watching squished, blocky, lo-res YouTube on a hi-def display is such a horrific experience you're unlikely to miss this functionality if you skip the PC install.
One irksome thing about the EVA8000 is the way it handles media files. It tries to index and organise everything for you, which would be acceptable if it wasn't such a time-consuming process. Scanning a 500GB network drive for content took over an hour.
Every time you add any addition files, you need to perform what Netgear terms a 'quick scan' - this can take anything up to 15 minutes. This could all be forgiven if you could simply browse the directory structure on attached drives manually, but even with folder browsing turned on you still can only see files that have been indexed.
Verdict
Netgear's EVA8000 really should be a fantastic media player, but it currently falls flat thanks to two issues. The major clanger is its lack of high bit-rate content support. There's a small chance that this could be rectified in future firmware updates, but it's unlikely to improve drastically as it's probably down to the amount of physical buffer memory available.
The second big problem is the way it handles file indexing, which is time-consuming. However, provided you keep its index up to date and don't throw any high bit-rate files at it, it's a great little player. Given Netgear's commitment so far to regularly-issued firmware updates, there's a chance the problems could be fixed in the future.