Original URL: https://www.theregister.co.uk/2008/01/14/solwise_launches_passthrough_powerline/
Solwise extends powerline with pass-through mains option
Posted in Networks, 14th January 2008 16:02 GMT
Solwise has rolled out a pass-through powerline ethernet adaptor which allows you to network through the mains without losing power sockets.
The NET-PL-200AV-PIGGY, as it's called, provides the same "SimpleConnect" push-button security configuration that Solwise's regular 200Mb/s HomePlug AV-based powerline units offer.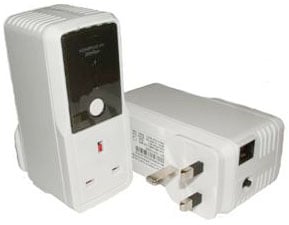 Solwise's 'Piggy': one power socket, two devices
Push the buttons on any two adaptors on your network and they - along with any other units you've already set up this way - will generate and share a 128-bit AES security key for encrypting data over the LAN.
Solwise is selling the pass-through units for around £55 - only a fiver more than the price of the regular adaptors.
Both are available now direct from Solwise and from Amazon.co.uk.
Related Reviews
• Solwise Simple Connect powerline Ethernet adaptor
• Devolo dLAN Wireless Extender
• Netgear XEPS103 powerline power brick
• Devolo dLAN 200 AVdesk HomePlug AV network adaptor
• Netgear HDX101 200Mbps powerline Ethernet adaptor