Original URL: https://www.theregister.co.uk/2008/01/11/casio_exilim_exf1/
Casio readies launch of 'world's fastest-shooting' digicam
But scales back 300fps mode
Posted in Personal Tech, 11th January 2008 12:51 GMT
CES Casio finally looks set to launch its fastest snapper yet, the Exilim EX-F1. However, it has cut back on the camera's movie frame rate since unveiling a prototype model at the IFA show in Berlin last year.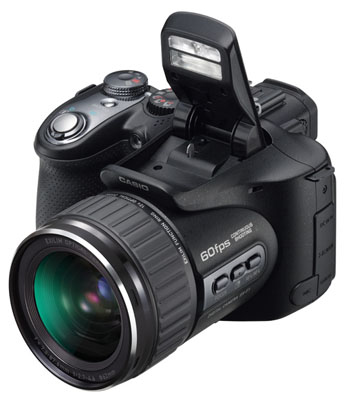 Casio's EX-F1: 300fps shooter
It was originally thought that the EX-F1 would support 300 frames per second (fps) at a resolution of 640 x 480 pixels. However, according to Casio's newly published specs for the camera, the EX-F1 will now only capture 300fps hi-speed movies at a resolution of 512 x 384 pixels.
However, HD video can also be captured at a resolution of 1920 x 1080, when rolling at 60fps, and the camera has a 1280 x 720 resolution for when working at 30fps. An HDMI cable to transfer your data from the camera to your telly is extra. So, if you don't want to fork out for the cable, you're stuck watching content on the camera's 2.8in LCD display.
Despite the absence of a spoiler, the 10.1-megapixel EX-F1 also captures still images in burst mode at 60 shots a second. This rate, Casio claimed, was unheard of until now and supposedly means the camera's able to capture motion that even the human eye doesn't see.
The built-in flash illuminates shots taken at slower frame rate, but a bonus LED illuminator is used to provide additional illumination for shots fired off at the camera's top 60fps speed.
The camera also has a 12x optical zoom, ISO 1600 sensitivity and SDHC memory card support, alongside features found in some of Casio's cheaper point and shoot snappers, such as an Auto Shutter function for reducing image blur.
There's no word yet on the EX-F1's pricing and availability.