Original URL: https://www.theregister.co.uk/2008/01/09/sony_ericsson_pv712/
A Bluetooth headset just for women
It's not for girls - oh wait, yes it is.
Posted in Personal Tech, 9th January 2008 14:04 GMT
Sony Ericsson hopes to draw the ladies in with its latest gadget: a Bluetooth headset designed with a lady's needs in mind.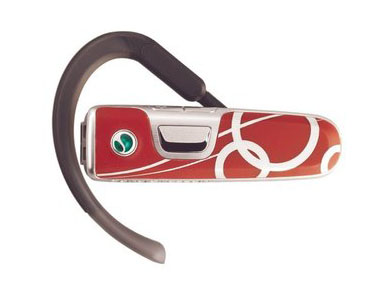 Sony Ericsson HBH-PV712: a design just for women
The HBH-PV712 Style Edition headset features several 'innovations' that supposedly make it suitable for and appealing to women. For example, it's available with up to three style-up covers (although only two are shipped as standard), designed to slip off easily and be changed to suit a women's outfit, whatever she finally decides to wear.
There's also a novel necklace carrier for the headset, which Sony Ericsson said is intended to be as equally fast to detach as the headset's covers, should that all important call come in. The necklace is silver-plated and decorated with red, silver and black 'pearls'.
And because no woman's outfit is complete without at least some sort of handbag, Sony Ericsson has thrown in a stylish carrying pouch that holds the headset and a mobile phone.
The headset itself operates over Bluetooth v 2.0 with Enhanced Data Rate, and will live for 15 hours of continuous chatter or 500 hours when it's in standby. It's also only got two operational buttons, but we're not saying anything about that.
Sony Ericsson's HBH-PV712 will be available next month, but a price hasn't been released yet.