Original URL: https://www.theregister.co.uk/2008/01/06/netgear_goes_5ghz/
Netgear extends next-gen Wi-Fi into 5GHz band
Courtesy of 'metamaterial' antennae
Posted in Networks, 6th January 2008 18:42 GMT
CES Netgear today launched a raft of 802.11n Wi-Fi networking devices that take the technology into the uncrowded 5GHz band. The new kit also incorporates clever new "metamaterial" antennae to cram up to eight aerials inside each box.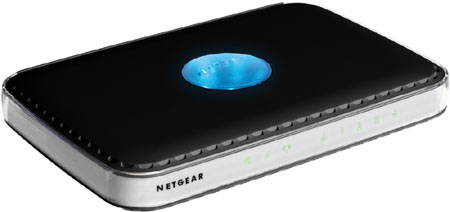 Netgear's Rangemax Dual Band Wireless-N router: metamaterial antennae inside
Using 5GHz in addition to the 2.4GHz part of the spectrum almost all currently available consumer-oriented 802.11n routers use – Apple's AirPort Extreme Basestation is a notable exception - allows Netgear's Dual Band brand kit to ignore interference from other WLANs and wireless devices. Where the busy 2.4GHz band has three non-overlapping channels, the 5GHz band has 20, so there's a lot more room for many more netwoks.
The snag with 5GHz is reduced range, but Netgear claimed its new metamaterial antennae – of which there are eight in its Rangemax Wireless-N Dual Band router – more than compensate, effectively eliminating the limitation.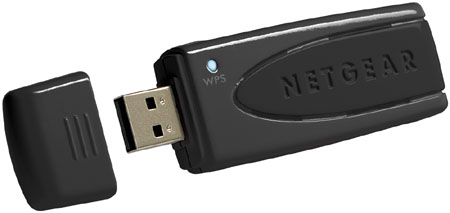 Netgear's Rangemax Dual Band Wireless-N USB adaptor
In addition to the Dual Band router, Netgear introduced a USB dongle for laptops without a 5GHz 802.11n radio. However, most notebooks that already have next-gen Wi-Fi built in do support 5GHz operation – a statement of 802.11a support is the giveaway.
Netgear's new 5GHz Wireless-N HD Bridge isn't dual-band, operating only at the 5GHz to provided a more direct, high-speed link for streaming HD content from one box to another. It'll also operate as a wireless access point and has six internal metamaterial antennae.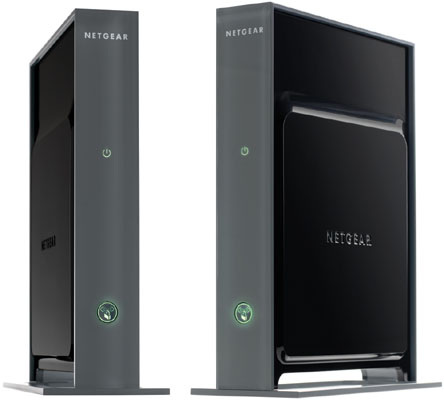 Netgear's HD/Gaming 5GHz Wireless-N kit: ready for point-to-point streaming
Both router and wireless bridge boxes support automatic WPA security set-up with the push of a single button on the side of each unit. There's no longer any need to install software or tinker with router settings to create a secure WLAN, Netgear pledged.
The HD/Gaming 5GHz Wireless-N is set to retail in the US for $130, and it'll also be made available in a $230 pack-of-two as the HD/Gaming 5GHz Wireless-N kit. The Rangemax Dual Band Wireless-N USB adaptor will cost $100, while the Dual Band Router runs to $130. A version with five Gigabit Ethernet ports will cost $160.
Netgear said all of these items will be available around the world imminently, though it didn't provide European pricing.