Original URL: http://www.theregister.co.uk/2008/01/04/review_nvidia_nforce_780i/
Nvidia nForce 780i SLI chipset
PCIe 2.0 and Penryn - bring 'em on
Posted in Personal Tech, 4th January 2008 14:08 GMT
Review Nvidia's new nForce 780i SLI chipset is heavily – that's HEAVILY – based on the nForce 680i SLI, adding just two key new features. The first is support for 45nm Intel 'Penryn' processors and the second is the addition of PCI Express 2.0 for top graphics performance. It's safe to say that the 780i SLI is Nvidia's answer to Intel's X38 chipset, but it's not a direct comparison as Nvidia is sticking with DDR 2 memory instead of making the shift to DDR 3.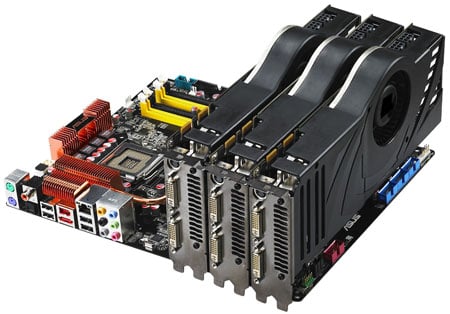 Asus' P5N-T: based on the nForce 780i SLI
The main attraction of any Nvidia chipset is support for SLI graphics. If you want to gang up a pair of Nvidia graphics cards then you need an Nvidia chipset on your motherboard, which explains the appeal of Nvidia's 600 series of chipsets. In the first instance, Nvidia launched its chipsets for AMD Athlon 64 processors and then added a memory controller to make the silicon compatible with Intel's Pentium 4. This has been changed around for the new chipset so the new 780i SLI presently is only available for Intel Core 2 processors, although you have to assume a Phenom version is in the pipeline.
Nvidia has recently announced 3-way SLI support for both the 680i and 780i SLI chipsets, but this seems like something of a distraction from the real world most of us inhabit. Three-way SLI allows you to use - yes - three GeForce 8800 GTX or Ultra graphics cards for games. The reason Nvidia chose the 'G80'-based cards instead of those with a 'G92', is that these older graphics cards have two SLI gold fingers on each card so the 3-way SLI bridge can connect all three cards together. With the single bridge on the G92 cards a different topology would be required so if you want to use a pair of 8800 GT cards you are limited to regular SLI.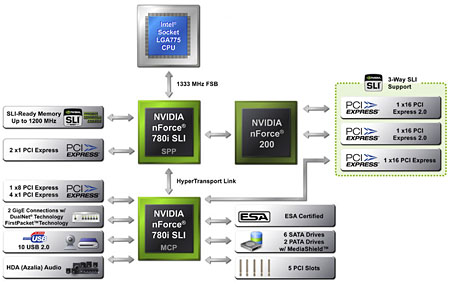 Nvidia's nForce 780i SLI
The 680i SLI chipset supplies 46 lanes of PCIe 1.1 with 16 lanes going to the two main graphics slots and eight lanes for the third slot. The 780i SLI eclipses that,with 62 lanes that are a mixture of PCIe 2.0 and 1.1. The two main graphics slots each get 16 lanes of PCIe 2.0, while the third slot has 16 lanes of PCIe 1.1, and the motherboard manufacturer then has the choice of more PCIe links using either PCIe 1.1 or 2.0.
This bizarre arrangement is explained by the block diagram above, which shows that the 780i SLI northbridge - Nvidia calls it a System Platform Processor (SPP) - connects the memory and processor and a couple of PCIe x1 slots while most of the graphics donkey work is handled by an nForce 200 chip which controls the three graphics slots. The southbridge, or MCP (Media Communications Processor), adds a x8 slot and up to four x1 slots.
In total, that's 62 lanes of PCI Express which is one heck of a large number and a staggering amount of graphics bandwidth but you have to wonder whether even the most hardcore of gamers will make use of all that potential.
Or you could look at the 780i SLI as a refresh of the 680i SLI chipset with certification for faster PCI Express and faster system memory as well as the support for Penryn processors. This approach extends to the MCP which isn't new silicon but is instead the nForce 570 SLI that has been around for well over a year.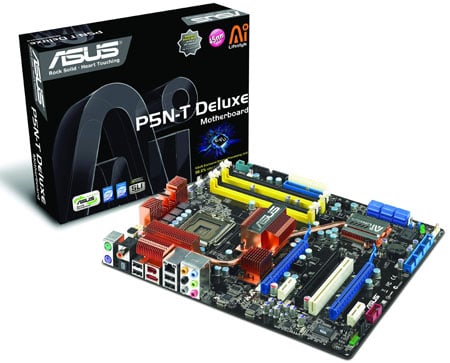 Asus' P5N-T: conventional layout
The question is whether the 780i SLI is warmed-up leftovers or a clever way of making some existing chips fit for use in 2008. To find the answer, we're comparing an EVGA 680i SLI with an Asus P5N-T Deluxe. The EVGA is an Nvidia reference board that sells for about £150, while the Asus is a 780i SLI with a price tag of £155. Not much of a difference, really.
Pricing of 680i models was always a fraught subject as the smaller manufacturers were obliged to resell reference products while bigger companies such as Asus had to pay a fortune for chipsets to use in their own designs. The result was that its P5N32-E SLI, which is a 680i SLI design, sells for £135 while its P5N32-E SLI Plus uses a hybrid chipset and is effectively identical to the 680i SLI yet it sells for £115.
We hear that Nvidia has adopted a realistic pricing policy for its new chipsets, so you don't have to pay much of a premium to get an Asus 780i SLI and that's an incredibly refreshing start to any review.
Power Draw Results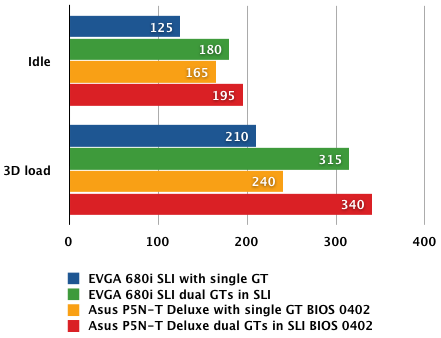 Power draw in Watts
Asus has used a passive cooling system to link the southbridge and northbridge with the power regulation hardware, and you'll also see a tiny cooler on the nForce 200 chip which is linked to the northbridge cooler by a heatpipe. The cooling set-up looks similar to the arrangement on a P35 or X38 model but there's no way you'll get away with passive cooling. A 680i northbridge hits 70°C or so with passive cooling, brought down to 40°C when you use active cooling. The 780i is even worse off as you have to factor in the nForce 200 chip which draws an additional 7W over and above the 680i SLI northbridge. Asus supplies a small clip-on fan in the package that is effective but which emits an annoying buzz.
The layout of the Asus is very conventional with the power connectors and six laid-down SATA connectors at the edge of the board. If you use two or three graphics cards then the expansion options vanish as the board will be full of graphics and if you don't want to run SLI then it's hard to see why you'd choose either a 680i or 780i motherboard in the first place.
Considering the high-end nature of the P5N-T Deluxe it's a surprise that you only get four USB ports on the I/O panel however there are two more ports on a bracket and provided you have some front-mounted USB ports on your case then all should be well. The SoundMAX integrated audio with digital outputs is a decent choice but remember, you're supposed to be using this motherboard with up to three graphics cards so the chances of using an X-Fi could be limited.
There are a couple of bits missing that we'd expect to see on a high-end Nvidia board such as Power and Reset micro buttons, a debug display and a second Gigabit LAN port.
3DMark06 Results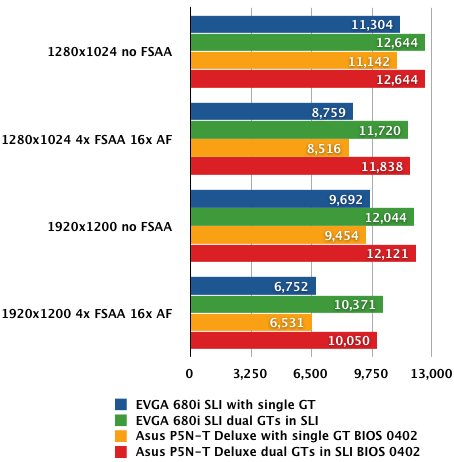 Longer bars are better
We tested the two boards with a Core 2 Duo E6750 and 2GB of Kingston DDR2-800 memory with a pair of GeForce 8800 GT graphics cards running on Windows Vista Ultimate Edition. If we had three GTX or Ultra cards you can bet we'd have used them as Asus includes a 3-way SLI bridge in the package but we don't and neither, let's face it, do you.
Crysis Results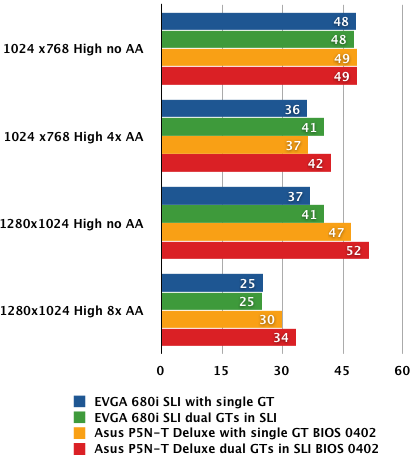 Average frame rates
Longer bars are better
In the main we couldn't separate the performance of the two platforms although the 780i SLI leapt ahead in Crysis at a resolution of 1280 x 1024. It's most unlikely this is a direct benefit of the new chipset so for the time being let's call it a quirk of the drivers.
F.E.A.R Extraction Point Results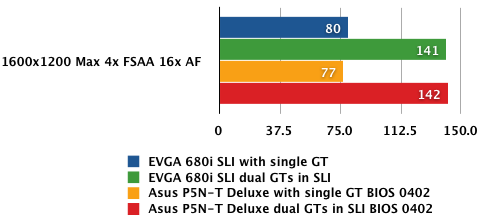 Average frame rates
Longer bars are better
The 780i system consistently drew 30W more power than the 680i which is more than we expected to see as the two chipsets are so similar.
PCMark Vantage Results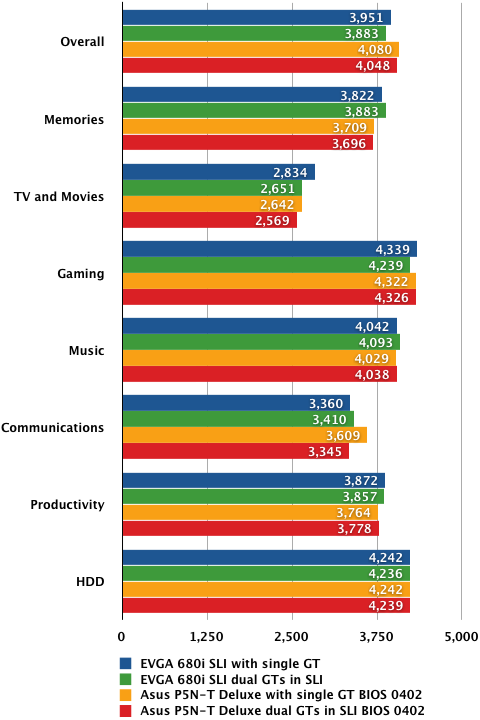 Longer bars are better
So what about the other new feature, the support for 45nm Penryn CPUs? We plugged in a QX9650 and the system wouldn't start so Asus sent us a Beta BIOS. The system still refused to start with the QX9650 so we tried the full-house QX9770 with 1600MHz FSB and the system was happy to run. Result! Unfortunately, Windows Task Manager only showed one processor core and performance was correspondingly rather poor so it's safe to say that Asus has some work to do on the BIOS.
PCMark05 Results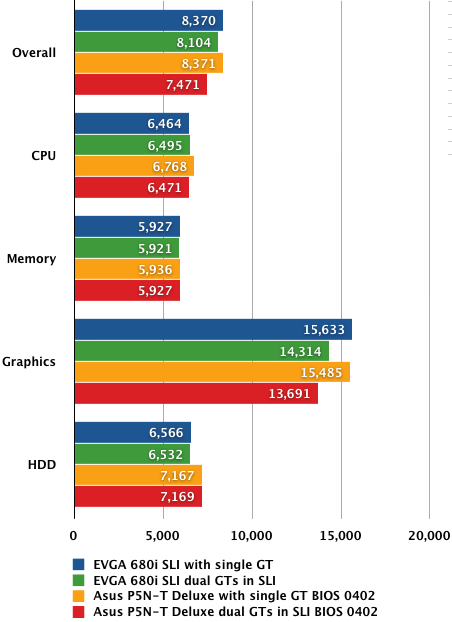 Longer bars are better
In that light, there seemed little point in spending any time overclocking as the BIOS clearly needs an overhaul. However, you can bet that it will be perfectly possible to overclock your Core 2 CPU and Nvidia graphics because they always do.
Verdict
If you want to run two or three Nvidia graphics cards in SLI with a Penryn CPU then it's an Nvidia 780i SLI chipset all the way. However, if you don't want SLI we'd advise you to stick to the tried and trusted Intel path.