Original URL: https://www.theregister.co.uk/2008/01/02/review_rock_x770/
Rock Xtreme X770 laptop with Nvidia GeForce 8800M graphics
Stellar gaming performance
Posted in Personal Tech, 2nd January 2008 16:01 GMT
Review The basic version of the 17in laptop Xtreme X770 packed GeForce 8700M graphics. Rock recently offered GeForce 7950 Go GTX graphics with 512MB of dedicated GDDR 3 memory to give your games more oomph, but that's history now, 'cause the GeForce 8800M GTX is here.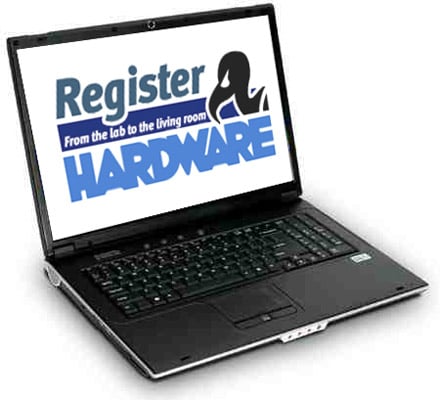 Rock's Xtreme X770: worth more than two grand?
This new chip has a great deal in common with the desktop GeForce 8800 GT and GTS that we've already reviewed here and here, and is based on the same 65nm 'G92' chip. The number of unified-shader Stream Processors has been cut to 96 - the GT has 112 and the GTS 128. The core speed has been reduced to 500MHz, down from 600MHz and 650MHz in the desktop part, and a few hundred megahertz have been clipped off the memory speed, but in the main the 8800M GTX delivers comparable performance to a desktop 8800 GT.
There's another version of the 8800M called the GTS which runs at the same clock speeds as the GTX but which only has 64 Stream Processors. However, Rock doesn't offer the GTS as an option so we'll ignore it in this review of its laptop.
Let's first get the bad news out of the way: the 8800M GTX options costs £400 inc VAT over and above the 8700M version so we're talking about a stack of cash that takes the total price of the X770 laptop to £2199.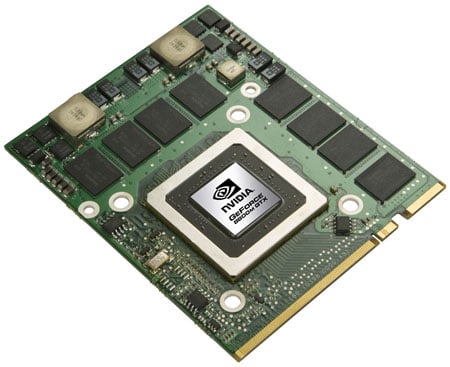 Nvidia's 8800M GTX on a MXM module
Can any laptop possibly be worth that sort of price? Rock sent us two versions of the X770 for this review. We're comparing the 7950 Go GTX version at £1916.50 with the 8800M GTX at £2199, and they're identical in every respect apart from the graphics module, the driver and the price.
In synthetic system tests like PCMark05 and PCMark Vantage there's very little to choose between the two although the 8800M graphics do occasionally gain an edge which probably says more about synthetic benchmarks than it does about 3D graphics in day-to-day use.
PCMark 05 Results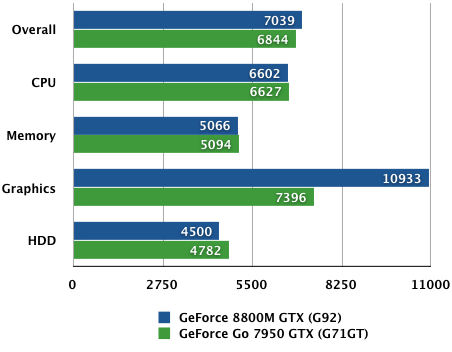 Longer bars are better
PCMark Vantage Results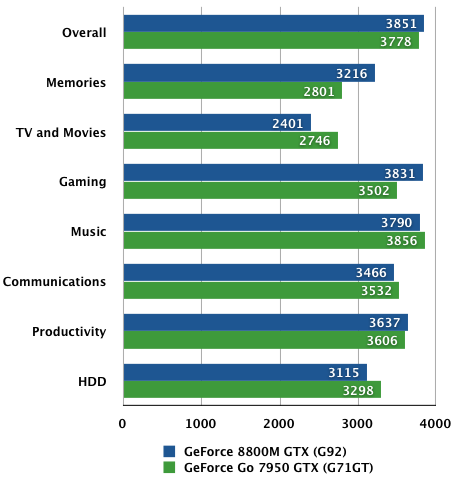 Longer bars are better
It's a completely different story in tests that put an emphasis on graphics, as the 8800M makes the 7950 Go look pathetic. In 3DMark06, the architecture of 8800M allows you to combine High Dynamic Range (HDR) lighting with anti-aliasing, while 7950 Go forces you to choose one or the other. In F.E.A.R Extraction Point, the 8800M has a small advantage but both chips do a very capable job. However, in Crysis, it's 8800M GTX all the way.
F.E.A.R Extraction Point Results

Average frames per second
Longer bars are better
Crysis Results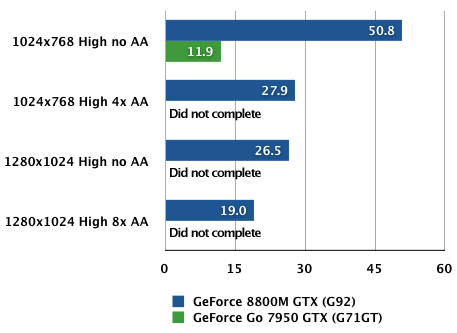 Average frames per second
Longer bars are better
3DMark 06 Results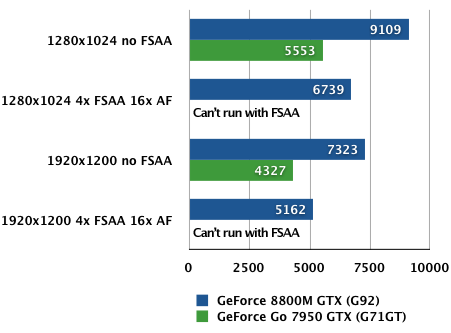 Longer bars are better
No doubt you're wondering what impact these superb graphics have on battery life but we've got a surprise for you. Both laptops use the same 4400mAh Li-Ion battery, but the 8800M GTX delivers far better battery life than the 7950 Go. We tested by running a loop of PCMark Vantage until the battery died so the graphics weren't working especially hard so we can only conclude that the 8800M is far more efficient at gating and shutting down those parts of the chip that aren't required at a given moment.
Battery Life Test

Battery life in minutes
Longer bars are better
The cooling fans make their presence felt in fits and bursts when you're performing regular Windows duties but that's as bad as it gets. During an intensive gaming session the fans don't get any noisier and the underside of the laptop remains cool to the touch which came as a very pleasant surprise.
The clue lies in the specification. The 7950 Go is rated at 45W while the 8800M GTX requires less power and only consumes 37W when it's under load which is very impressive as the 8700M GT only needs slightly less power at 29W.
Based on past experience you can take the battery test results of 1 hour 24 minutes for the 8800M and 1 hour 2 minutes for the 7950 Go and double them to get a realistic battery life in regular use so the 7950 Go is poor whereas the 8800M is just a bit low.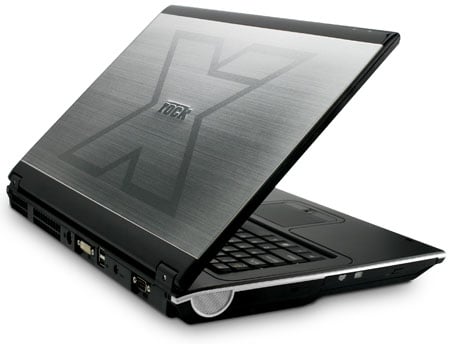 Weighty
There's no doubt in our mind that the GeForce 8800M GTX graphics are absolutely superb but what about the rest of the laptop? The use of a 17in screen results in a laptop that's big and heavy, but you need a screen resolution of 1920 x 1200 to make any sense of this sort of graphics power so Rock's choice makes perfect sense. The problem is that the X770 isn't especially portable and isn't much use on a train or plane as it takes up too much space and the battery life is hopeless.
Considering the epic price of even a basic X770 you don't get a great many features for your money. The chassis feels good and solid but the keyboard, touchpad and mouse buttons are decidedly average. Going around the ports and connectors there's a DVI - there's a VGA adaptor bundled in the box - s-video output, four USB ports, a mini Firewire connector, a serial port (!), an ExpressCard slot, modem and Ethernet. Although the chassis carries a TV aerial connector, the TV tuner is an extra that costs a further £76.
There's no flick switch to control wireless LAN or Bluetooth and there's nothing about the Rock that suggests you're using more than two grand's worth of the finest gaming laptop that money can buy.
While we're moaning about the price of extras, it'll cost you another £76 for Windows Vista Ultimate or – get this – you can pay an extra £50 for the older Windows XP Pro in place of Windows Vista Home Premium.
Mobile Nvidia Graphics Chips Compared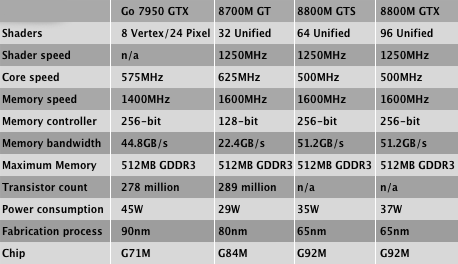 Would we buy an X770 with GeForce 8800M graphics? To be honest, no, but that's because we can't contemplate spending more than £2000 on any laptop on the market. Still, we were absolutely gob-smacked by the X770's stellar performance.
If you're tempted, you may be interested to learn that Rock offers a seven-day "peace of mind guarantee". Return your notebook within seven days and it'll give you your money back, the company says - excluding carriage charges, of course.
Verdict
The basics of the Xtreme 7700 consist of a 'Santa Rosa' Centrino foundation with Intel Core 2 Duo CPU and 2GB of DDR 2 memory, but the Nvidia GeForce 8800M graphics and 17in HD screen take this laptop to another level that offers stunning gaming performance - albeit at a monumental price.