Original URL: http://www.theregister.co.uk/2007/12/21/review_sony_ericsson_w910i/
Sony Ericsson Walkman W910i motion-controlled phone
The shake of things to come
Posted in Personal Tech, 21st December 2007 11:03 GMT
Review Sony Ericsson takes moving to the music literally with its motion-sensor based "shake control" track-changing gadgetry. But there's far more to the HSDPA 3G-enabled Walkman W910i phone than slick moves.
The W910i's slick sliderphone design also nods firmly in the direction of Sony Ericsson's W880i slimline candybar - reviewed here. At 12mm thick, the W910i is a relatively skinny slider, although with a large face - 99 x 50mm - to accommodate a sizeable display. This 240 x 320, 262,144-colour LCD also employs motion-sensor technology: in media mode, the phone switches orientation automatically between portrait and landscape views as the phone's tilted - just like Apple's iPhone, reviewed here. It's interesting to see Sony Ericsson and Nokia adopting this technology in the wake of the Apple handset.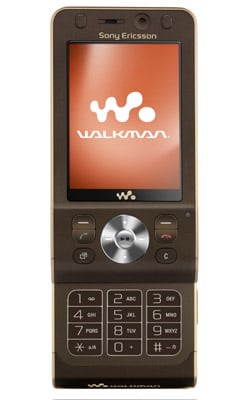 Sony Ericsson's Walkman W910i: shake to play
Aside from its motion-sensor slickness, the W910i's spec follows a familiar formula of quality music player and a spread of decent multimedia features that's made the Walkman phone brand such a hit. This particular one has HSDPA 3G - plus quad-band GSM/GPRS/Edge - which ups download and surfing speeds. There's no Wi-Fi here, however - you'll have to check out the new 8GB-packing W960i if that's what you're after in your Walkman.
Despite beefing up the shooting capabilities of recent Cyber-shot phones, Sony Ericsson has been parsimonious with pixels on this Walkman model. The camera on the back is a basic two-megapixel shooter that does without a flash or photo light. It does do video recording at 320 x 240 pixels (QVGA) at 15 frames per second, and there's a secondary, lower-quality camera perched above the display for video calling.
The W910i is a surprisingly lightweight 86g, and with its tactile rubber-feel casing, feels comfortable in the hand. It comes in several colour options – noble black, hearty red or Havana gold, depending on network – that thankfully go easy on the trademark Walkman phone orange.
The slider action is smooth and solid, while the keypad beneath is makes efficient use of large keys arranged in a no-nonsense grid. Some may prefer them raised a little higher, but we found them perfectly fine for texting.
The display dominates the front of the closed phone. Beneath this you get a silver navigation control that's also marked up with music player keys. A familiar arrangement of soft-menu keys and call/end buttons flank this, while there's the regular Sony Ericsson menu key and a Clear button.
Above the display are two unmarked keys. In standby mode, they whizz you straight to your latest photos or full camera album, broken down month by month according to when snaps were taken.
There's also a camera key on one side of the phone that switches into the shutter control when holding the phone in landscape mode. A volume rocker key doubles up as the zoom key here too, while there's a Memory Stick Micro (M2) card slot on the side which accommodates the 1GB card Sony Ericsson supplies with the W910i - although it can take cards up to 4GB.
This is where you'll be keeping most of your tunes, the internal memory being a modest 35MB. The music player is naturally the centre of attention on any Walkman mobile, and a Walkman-logoed key to the music software is usually prominent. On the W910i, however, this button is tiny, and sits on top of the phone, opposite the on/off key.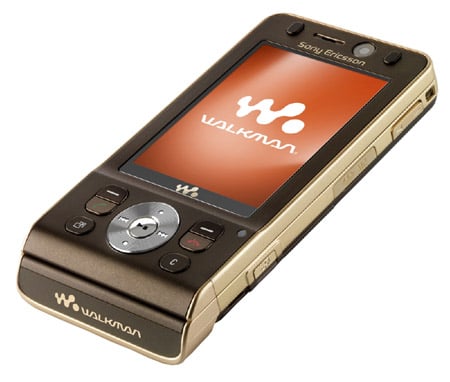 Slim for a sliderphone
But as well as zapping you straight into Walkman mode, this key is essential for getting the shake control in motion too. When the Walkman player is lining up tunes, you hold this button and give it a tilt to the right to go forward a track or tilt to the left to go back a track. A quick shake in both directions sets the player to shuffle mode, playing tracks randomly.
While that might sound easy enough, the positioning of the button makes it a bit awkward to hold and shake comfortably. It's as if Sony Ericsson has deliberately made it slightly tricky to prevent accidental shake'n'tracking. Frankly, it's far simpler to just press the forward button on the control panel – and you'll be sure you've got to the right track too, rather than accidentally shuffling or switching back a track after going forward. In short, at the moment shake control is a gimmick that you can file under 'seemed like a good idea at the time'.
Most of the Walkman player functionality is recognisable stuff, although the updated Walkman Player 3.0 software is very well presented and attractive. It supports a variety of file formats and album artwork. Music is organised by artist, album, tracks, genre and year, and you can create your own playlists. You can also add audio books and podcasts to your music line-up.
Additionally, Sony Ericsson has included a SensMe function, which can list tracks by mood. By using bundled Media Manager PC software, you can transfer music files with assigned moods to the phone. The SensMe software plots these on the display around axes marked happy/sad and fast/slow. You can move a circle on screen to a point on the chart where there's a tune plotted - a bit sad and fast, for example - and click on these tunes to create a playlist that suits your mood.
Another gimmick? Of course, and not really our cup of char, but we can see that joggers or gym bunnies might make use of the fast/happy combo.
The music performance here really is top class. The supplied in-ear 'phones are better than you'll get on many MP3 players and are capable of producing a sturdy amount of bass as well as subtlety in higher frequencies. It's a very pleasing all-round audio performance. You can tweak equaliser settings, or add MegaBass to the low end too. It'll play them through the phone's speaker too.
Strangely, Sony Ericsson has placed the headphone/charger socket on the side of the phone, which is not the best place if you've got the phone slipped in your pocket - particularly as it uses a chunky proprietary connector rather than a standard 3.5mm socket.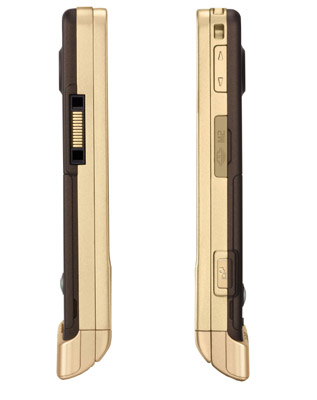 Inspired by the Walkman W880?
The supplied earphones are a two-piece set, with a 3.5mm-jack adaptor on the hands-free microphone halfway up, so you can plug in your own Sennheisers if you feel the need. We tried with our reference-quality headphones and the sound quality was excellent.
You could also use the phone's stereo Bluetooth facility to try out wireless headphones or stream to a speaker system.
As well as getting tunes out, there are plenty of options for getting music onto the phone too. The HSDPA connectivity offers theoretical maximum speeds of up to 3.6Mb/s if you're downloading tracks over the air from a network operator's music store or other source. And you can transfer tunes or video from a PC by using a USB cable and Media Manager. Alternatively, you can drag and drop tracks on to the W910i by using it in Mass Storage mode, or Bluetooth tracks from other devices. Another free source of tuneage is the built-in FM radio with RDS.
Sony Ericsson's neat TrackID song identification software is loaded onto the W910i, giving you the opportunity to find tune details easily by recording snatches of music heard around you or on the radio, and getting them ID'd over the air automatically via a short data enquiry.
The two-megapixel camera on the W910i can produce some pleasant snaps in print quality, but it's not the most specced-up shooter that Sony Ericsson produces. Pre-shooting adjustments are confined to picture size - 2Mp, 1Mp or 0.3Mp/VGA - white balance settings, a night mode, and a few colouring effects. You can opt for multi-burst shots, panorama option or a fun frames mode, and there's a timer too.
Image quality is fine generally and most users will be happy with the results, which are better than the average two-megapixel shooter, flash notwithstanding - night shots can be noisy. But there are limits to the quality of imaging that can be achieved with a fixed-focus lens, no macro and limited lighting controls. A shame that Sony Ericsson hasn't transplanted some of its Cyber-shot expertise across to its Walkman range yet.
There are basic post-shot editing options in phone, with Sony Ericsson's PhotoDJ and VideoDJ apps, and some slideshow transitions and presentation options. You can also upload images or video clips, with accompanying text, automatically to a Blogger account directly from the handset as one of the send options.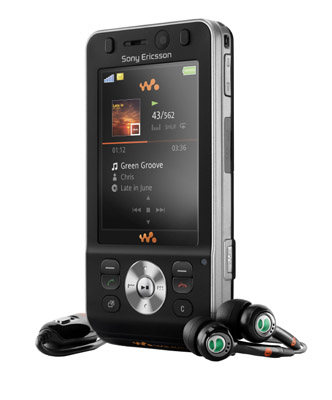 Once again, a stonking music player
Video recording is reasonable at its maximum QVGA, 15f/s setting, but as limited in quality as most mobiles. Video playback of downloaded or sideloaded content is very watchable, however, and we liked the auto landscape flipping when video is played back.
On top of improving downloading speeds, 3G here notches up the browsing experience. The NetFront browser can be pleasingly quick, particularly with HSDPA cracking the whip. Usefully, you can line up RSS feeds too if you want to get updates without having to browse all your favourite websites or blogs. Email is supported, and Sony Ericsson supplies the W910i with the usual array of organiser functions – calendar, notes, to-do lists and so on – which can be synced with a PC. There's even a musical chord teaching application, Music Mate 4 featuring a tilt-to-play virtual drum kit.
On the gaming front, the W910i supports 3D gaming, and three games are supplied: Lumines Block Challenge, V-Rally 3-D and Marbles Madness. The latter is controlled by the phone's motion-sensor – you tip the phone to control the marble rolling around the screen - which is strangely addictive.
As well as all the multimedia goodies, you get a great phone thrown in too. Voice quality on the W910i was excellent in all calls we made, with no dodgy signal levels. Battery life quoted by Sony Ericsson is reasonable, though not the longest for one of its 3G phones: standard GSM delivers up to nine hours' talktime or 350 hours on standby, whereas in 3G coverage talktime slips to three hours 30 minutes.
In normal usage, listening to the music player and playing games a lot, or using other features that work the display, are going to impact on battery life. Playing the music player alone in flight mode could give you up to 20 hours of playback, Sony Ericsson claims, but will reduce significantly standby or talktime figures.
Verdict
It's good to see that Sony Ericsson is evolving its Walkman phone range with the W910i. Shake control in its earliest implementation might be more gimmick than must-have gadgetry, but we can also see its potential. Other elements could be better – the camera and connector positioning for instance - but the W910i has got some great stuff going for it, including HSDPA. And at the beating heart of the phone is an excellent quality music player that really delivers.