Original URL: https://www.theregister.co.uk/2007/12/19/supersonic_stealth_jumpjet_f35b_rollout/
Supersonic stealth jumpjet rolls off production line
Harrier successor: very cool, but is it useful?
Posted in Science, 19th December 2007 16:11 GMT
The plane which will replace the famous Harrier "jump jet" passed an important milestone yesterday, with the first production F-35B rolling off the assembly line at US builder Lockheed Martin.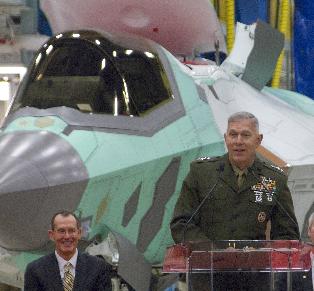 The F-35B rollout ceremony. Note the raised covers above
the lift fan and supplementary dorsal engine intakes.
Most of the F-35B's abilties have been seen previously in other planes, but never all at once. Like the Harrier, the new bird is STOVL capable (Short Take Off and Vertical Landing). It can get airborne after only a very short takeoff run, and after completing its mission - so losing the weight of expended weapons and burnt fuel - it can hover down to land on a small pad. The F-35B gets added lift from a fan mounted in a central shaft, rather than relying solely on swivelling its jet exhaust nozzles downward like the Harrier.
STOVL capability means that the jet can potentially operate from short, improvised airstrips rather than needing a proper airbase runway. It also allows launch and recovery from a small aircraft carrier of the type currently employed by several of the world's second-rank naval powers - for instance the UK and Italy, which both plan to buy F-35Bs.
In the American military, the new jumpjet will be bought by the US Marines, replacing their large force of Harriers. The jarheads* like being able to fly jets from their (comparatively) small amphibious-assault ships as well as full-size US carriers. They also value the ability to work from improvised runways, or ones in poor condition. (As an example, the Harrier was until fairly recently the only fighter cleared to operate from the poorly-maintained runway at Kandahar in Afghanistan.)
"This generational leap in technology will enable us to operate a fleet of fighter/attack aircraft from the decks of ships, existing runways or from unimproved surfaces at austere bases," said General James Conway, the head jarhead, speaking at the rollout ceremony.
"We find that capability extremely valuable."
In addition to its eyecatching STOVL ability, the F-35B also shares the attributes of the other F-35 versions; most importantly Stealth and supersonic speed, so far combined only in the F-22 Raptor uber-fighter. The revolutionary new jumpjet has already made a movie appearance, in Bruce Willis haxploitation action flick Die Hard 4.0, in which a jarhead pilot - misled by sinister blackhats into the belief that superheroic plod John McClane is actually a baddie - attempts to settle his hash, hovering about gratuitously while merrily shooting up a freeway crowded with innocent Americans.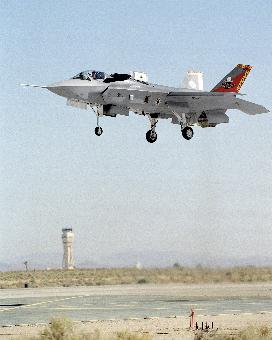 The X-35 prototype, which demonstrated that
supersonic jumpjets were feasible.
Despite being packed with sexy features, the F-35B has its critics. The vertical-thrust hardware badly limits payload and range, and eminent analysts have suggested that its Stealth coatings may not survive a pelting with pebbles and grit during a vertical landing at a less-luxurious base. Improvised basing in the field is at best a nice-to-have these days, anyway, as the Cold War threat of enemy bombing raids against airbase runways is largely gone.
As to operations from small carriers, the US Navy has a good few full-sized ones; and the Royal Navy is getting new, bigger ships which could easily launch and recover non-STOVL planes if they had the necessary kit.
The F-35B, unsurprisingly, costs more than other versions of the jet. Switching to a mix of land-based F-35As for the RAF and arrester-hook F-35Cs for the Royal Navy might well yield savings sufficient to cover the cost of catapults and arrester wires on the new Brit carriers.
This would also permit the RN to purchase and operate existing, cheap, excellent E-2 carrier radar planes to replace its current aged, badly altitude- and endurance-limited surveillance choppers.
(If the present UK carrier plan stands, the RN's AEW Sea Kings will need to be replaced with a new, unique rotorcraft which will by its nature be expensive and not very good.)
Overall, then, if the UK passed on the jumpjet F-35 it would get a lot more capability for the same money - or indeed, probably a good bit less money once the carrier radar-bird costs are considered. A shift by Blighty to the other versions might well torpedo the whole F-35B model, but the jarheads would get over it - they already operate normal carrier jets. As for the Italians, too bad.
On the other hand, the concept of a supersonic stealth jumpjet is pretty snazzy, and it does a science fiction fan's heart good to see new vertical-thrust technology being developed. Cool as it is, though, it's hard to say that the F-35B makes any military sense for the UK, and that very possibly goes for the US too.
The F-35B will now undergo a long period of tests, though the basic technology was validated by the earlier X-35 prototype platform. The aircraft is expected to enter US Marine service from 2012, followed by other customers. It will be named "Lightning II".®
*US Marines are so called owing to their passion for extremely "high and tight" haircuts. This has now been carried to the point where a fashionable marine shaves the sides of his head almost to the bare flesh, leaving a sharply-defined skullcap region of short stubble on top, mildly reminiscent of a jar with a lid on. The US marines aren't as tough as they think they are - frankly, nobody could be that tough - but even so, jocular commentary on their coiffure is normally offered only from a safe distance.