Original URL: http://www.theregister.co.uk/2007/12/18/review_samsung_t10/
Samsung YP-T10 4GB MP3 player
Another solid shot at the title
Posted in Personal Tech, 18th December 2007 12:13 GMT
Review Let's be honest, any new Flash-based 2, 4 or 8GB media player with a 240 x 320 screen has only one real aim in life: to be better than the equivalent device from that mob who slap a half-eaten Granny Smith on all their kit. So it is with the new Samsung YP-T10.
The specification sheet suggests a pretty beefed-up player. The T10 comes with an FM radio, the latest word in Bluetooth stereo, a voice recorder, a host of screensavers and display options, and a pretty generous range of format support, including WMV, JPEG, MP3, WMA, Ogg and text files.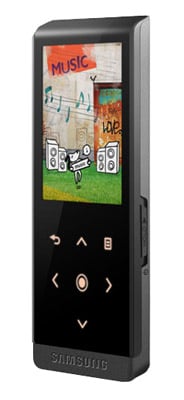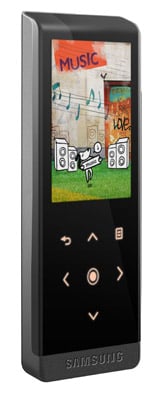 Samsung's YP-T10: small player, big spec
The T10's styling is more in line with the iPod Nanos of yore than the rather odd shape of the latest generation. Coming in at 96 x 41.5 x 8mm it's taller and narrower, but a touch thicker than the Nano, while at 43g it's also 6.2g lighter. At the bottom is a standard Samsung charger/USB connector and a 3.5mm headphones jack. The retail pack comes without a mains charger so you have to make do with charging the T10 via the bundled USB cable and a computer.
However, the unit can be charged with any Samsung phone charger. This commonality could well be a major selling point for those currently using a Samsung phone.
The only other external switch is the on/off slider on the right. Hold down for on and off, or click up to lock the controls. It's a simple and elegant solution to the whole 'how do I switch the darn thing on and off' conundrum.
Four white arrows glow below the 2in screen along with a white dot in the middle. To the left of the 'up' arrow glows the 'back' icon, to the right the 'current function menu' icon. Tapping any icon gives you an immediate response, so even without any tactile feedback using the controls quickly becomes a real joy.
Perambulation through the menu is problem free and mastered in moments - just tap an arrow to move and hit the centre spot to select. We have long been fans of the iPod's UI, but frankly Samsung now has it beaten like the family mule.
Once playing, the T10 gets better still. Fitted with what Samsung calls its second-generation Digital Natural Sound engine (DNSe2), the sound is simply superb for a portable MP3 player. Of course you get the now obligatory plethora of EQ settings, both pre-set and user-changeable, but these are frankly superfluous.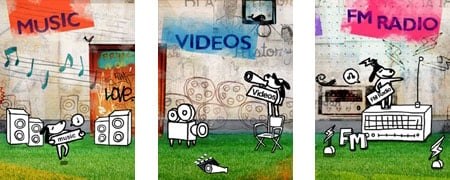 iPod-beating, no-worries navigation
Leaving the sound in 'normal', we were impressed by the sound quality across a range of musical content, from an album of Bax tone poems through a bit of opera to Springsteen's latest and a live acoustic album.
The player also has a couple of pre-set boost settings entitled 'Street Mode' and 'Clarity'. While the latter is of little use, just giving the bass a kick, the former is pretty handy as it ups the treble and pushes the vocal line forward, which is useful if you are in a Tube or on an aircraft with a constant background drone.
Under the heading 'pointless but fun', you can alter the music playback speed from x0.7 to x1.3 - we struggle to think why anyone would actually want to do this, but hey, a feature is a feature. Slowing down audiobook playback, perhaps? Unfortunately, this function doesn't extend to video.
Video playback is as impressive as audio. Videos play in landscape so you to have hold your player lengthwise to watch, but this really is no hardship and is arguably a better answer to the problem than Apple's idea of making the whole player an odd shape. And, of course, a 2in screen player is never going to be first and foremost a device for watching video.
Our player came pre-loaded with the cinematic trailer for Dragon Wars, which looked bloody impressive even with the top and bottom 15 per cent of the screen dark so as to accommodate the 16:9 widescreen image. WMV files that we copied across via the supplied Samsung Media Studio 5 software came out looking sharp, crisp and well-defined with excellent colour balance.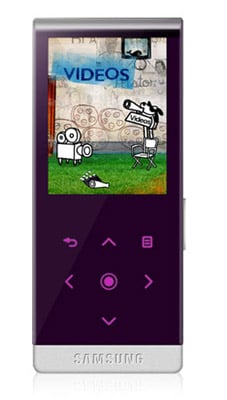 We're not too sure about the purple though...
The FM radio works just fine. The lack of RDS is a bit of a pain, but once you've programmed in your own stations in it becomes far less of an issue. The ability to record radio broadcasts is a nice bonus feature and is achieved with only two control actions.
Depending on which part of its website you read, Samsung quotes either 30 or 35 hours of music playback, and four or five hours of video playback per charge. We left ours running for 26 hours repeating the same audio track and it was still going. Performing the same test with video playback drained the battery sometime between 3.5 and four hours. Time to full charge is 2.5 hours, though it seemed to get to about 70 per cent of full charge in just over an hour.
The supplied earphones are nothing to write home about but do the job, being both relatively comfy and tuneful.
So, what about the negative points? All minor stuff. In the menus, the item you have activated is the one without the spot in the circle rather than with - a bit counter-intuitive, especially in those menus with only two options. All bar two of the screen colour schemes are horrid - they must really like pale pink, red and yellow in the Far East, while the "Sammy the Dog" screen images and animations are a little too twee for our taste. And you can't add in a memory card, so you're stuck with your 2, 4 or 8GB.
The player comes in a selection of fairly ghastly colours, so our advice would be stick with the black and go for the 4GB version, thereby saving around £25 against the "equivalent" spec Nano.
Verdict
There really is nothing to fault with this little device but some of the colour schemes. It does everything you could conceivably ask of a small media player, and is both lighter and cheaper than its main competitor.